As the London 2012 hype continues to sweep the nation, it is safe to say that it has certainly diverted attention away from pre-season preparations for many of the football's top tweeters.
Not all have been distracted by the rise of Team GB, however. Newly-promoted West Ham striker Carlton Cole has been quick to remind his followers of his hard work ahead of the new season.
Today,
WOTT
also investigates an 'addiction' admission from Joleon Lescott, whilst Bacary Sagna has found a new love of his own...
"Going to watch the Dutch hockeyladies tonight!!! #OS2012"
Tottenham new boy
Jan Vertonghen
takes in all that the capital has to offer, whilst staying in touch with his roots.
"Good luck @Ta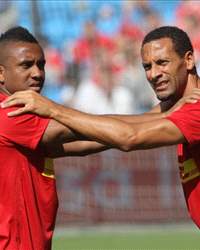 shaJonas today."
Wayne Rooney
delivers a message of support for a fellow Scouser in the hope of another gold.
"Anderson is on Instagram as Andowlove !! He just asked me to tweet you this! Funny guy!"
Manchester United team-mate
Rio Ferdinand
(pictured left with
Anderson
), however, was busy promoting social networking's newest recruit.
"Come down stairs around 9ish for breakfast the kids were playing London 2012 on Xbox, i haven't moved since. #Addictive"
Across Manchester,
Joleon Lescott
is the latest Premier League star to become hooked on the Games, as he tries to add some virtual silverware to his trophy cabinet.
"I love @official_henri lol"
"Bac your so cute !!"
Bacary Sagna
and
Henri Lansbury
share a moment. Despite talk of Robin van Persie's imminent departure from Arsenal, team spirit appears to be in good shape at the North London club...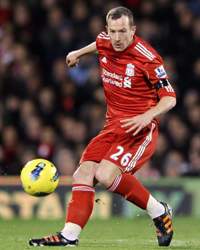 "Just finished my first training session here at Bolton. The boys here are quality and have good banter. Can't wait for the season to start"
"Time to crank it up in training for the last few weeks! Need 2 notch up my intensity, power, strength, explosiveness & Extras on the pitch!"
Bolton loanee
Benik Afobe
and West Ham striker
Carlton Cole
seem to have their heads screwed on ahead of the coming season, and won't have been the only ones running laps this summer.
"Delighted to be back in the Scotland squad been while since I played.#brazil2014"
Liverpool midifelder
Charlie Adam
(pictured right) has his sights set somewhat further into the future, though, as he looks to help his country qualify for the next World Cup.