The
Olympic Games
are nigh and whilst most Team GB players will be preparing for the Group A clash against Senegal on Thursday, some have taken to Twitter as they discuss their thoughts on the upcoming tournament.
Aside from the Olympics, pre-season training is all-systems-go, with various Premier League stars talking about fitness sessions, amongst other topics.
WOTT
investigates...
"The sta
rt of the Olympics is here, good luck to TeamGB women's v the kiwis, and bring on tomorrow #London2012 #buzzing"
Jack Butland
reveals how he can hardly contain his excitement ahead of the start of the men's football tournament.
"Beamer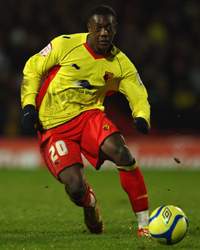 , benz or bentley!!!!"
Butland's fellow Team GB squad member
Marvin Sordell
(pictured left) wishes to discuss more pressing matters with his followers as he ponders his next set of wheels.
"Finial training
session done before tomorrows game! Now to kick back relax and rest up!! Come on the #FootballFerns! #OlyWhites are behind u"
West Brom striker
Chris Wood
shares the enthusiasm of some of his fellow professionals as he gears up for New Zealand's game against Belarus.
"Another session done the heat made it a graft, think I'm gonna need an afternoon nap, then watch a good film tonight"
Meanwhile, Wolves midfielder
Jamie O'Hara
has informed fans of his latest training session as he bids to improve his fitness ahead of the new campaign, and it appears to have taken a lot out of him!
"First football training session done! Now massage and second ru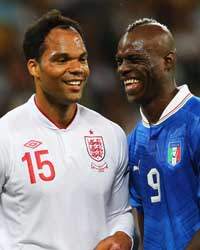 nning session starts at 2pm! #preseason #Everton"
Everton centre-back
Johnny Heitinga
gives an insight into the demanding fitness sessions at Everton.
"It's a lot easier to motivate myself for afternoon sessions when I've been told it doesn't involve running. #GreatNews"
Joleon Lescott
(pictured right), however, is enjoying a quieter day at Manchester City.
"Why can't things just be as easy as ABC."
And finally, West Brom's
Simon Cox
makes his subtle request for a Jackson Five number.