So pre-season is in full swing across the
Premier League
and the new signings are bedding into clubs across England's top flight.
Shinji Kagawa is just one of the high-profile names who have already made the jump into the division and Rio Ferdinand has welcomed the Japan international with open arms.
Elsewhere, Team GB's squad are passing the time with a game of golf, while Jermaine Pennant reveals Tony Pulis' Rocky-inspired pre-season workout at Stoke City.
Here's the best from the footballing world of Twitter on Wednesday ...
"Met our new signing Shinji Kagawa today....his locker is next to mine so I am working on my Japanese for him! Seems a nice guy!"
Rio Ferdinand stops tweeting about films long enough to help the new guy settle in ...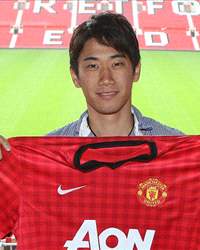 "My 1st Japanese lesson, I should have referred to him as Kagawa Shinji, which is how he will be referred to on all Man United mags/progs etc"
... and finds that Rule No.1 of foreign languages is that EVERYTHING YOU KNOW IS WRONG.
"Me n giggsy taking on bellers n rambo in the golf. Let's have it!"
Tom Cleverley pairs with Team GB skipper Ryan Giggs to take on Craig Bellamy and Aaron Ramsey in a pre-Olympics golf showdown - perhaps with half an eye on the sport's return to the Summer Games in 2016?
"Wow them 800s hurt today! #runningroundaswamptrack!"
Wolves midfielder Matt Jarvis should perhaps consider running somewhere else, then.
"Good sharp session this morning. Teeing off for my 1st ever round of golf in a bit with Micah, Caulks n Tayls. This should be interesting ha"
Marvin Sordell finishes Team GB training and embarks on his first ever game of golf. You've got a lot to learn, Marvin.
"Morning World. Just find out i was included in Fulham best XI. I want to thanks all fans for that. Bless."
Louis Saha thanks supporters, who inexplicably rated him above the likes of Eddie Johnson.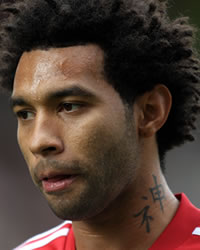 "Mask over our mouth and nose breathing in and out of tube that's hooked up to a computer after 3 mins the turn speed up every 30 secs"
Stoke City winger Jermaine Pennant reveals the weird and wonderful pre-season preparations devised by Tony Pulis and Co ...
"Then they incline the treadmill after 7 mins every minute and you just gotta go till you drop basically #breathnoooo"
No pain, no gain, Jermaine ...
"Even super johnny walters would struggle on this feel like gonna faint"
Wrong, Jermaine. Jon Walters is made of iron. Pure iron.