As Euro 2012 enters the knock-out phase of the tournament, France players put on a brave face before playing the world and European champions Spain, while England's young star Alex Oxlade-Chamberlain reveals their tactical plan.
Footballers not taking part in Poland and Ukraine also reveal how they spend their time during the off-season as Goal.com takes a closer look at the wonderous world of Twitter...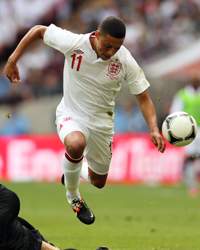 "There's no reason to have a plan 'B' because it distracts you from plan 'A'....."
I hope there aren't many Italians following England's Alex Oxlade-Chamberlain, after he lets slip Roy Hodgson's masterplan of having no plan B!
"Tonight we will play Spain, to how another face and prove that we can go further in this competition."
Yann M'Vila is looking to prove a point against the Spanish in tonight's Euro 2012 quarter-final, he'll have his work cut out keeping tabs on Xavi, Iniesta and co.
"Great day for the France team, You can and will make us vibrate!!"
Not entirely sure what Arsenal's Bacary Sagna is saying here... He wants a French victory for sure, I'll let your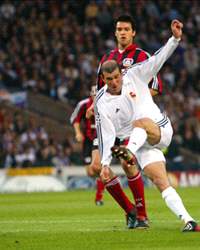 imagination work the rest out.
"Happy B'day To Zinedine Zidane and @OfficialVieira !!!"
Former Gunner Robert Pires sends his best wishes to birthday boys Patrick Vieira and Zidane. How Les Blues could do with the collossal midfield pair against Spain tonight!
"Half way round Jurassic park I turned to @Tim_Cahill and said this is rubbish then we went down last big drop thought I was going to die!"
Everton hardman Phil Neville reveals that he is in fact a big girl's blouse during a ride to the Jurassic Park attraction with Aussie team-mate Tim Cahill.
"Yesterday is history. Tomorrow is a my mystery. Today is a gift, that's why we call in the present #YOLO"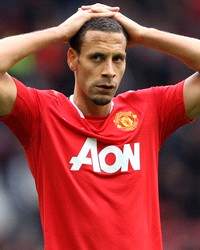 Crocked defender Kyle Walker could be mistaken for a philosopher... well, until he uses THAT hashtag.
"Tates got a girlfriend dad...and they kissed" reeeeeally, Tate have you?? "I'm not doing this dad" 3yrs old + this is what I'm getting!"
Meanwhile Rio Ferdinand has his hands full keeping up with his three-year-old's love life.
"Hope this weather picks up at centre parks in Penrith this week so need it to relax a bit."
Finally, Norwich frontman Grant Holt takes his mind off missing out on Euro 2012 by visiting Center Parcs (other short break holidays are available).