The Oranje see the historic World War II concentration camp ahead of Euro 2012 to gain some perspective, while the Manchester City defender has a nightmare on the platform
With
Euro 2012
only two days away, the
Netherlands
squad paid a visit to Auschwitz to gain some perspective ahead of their opener against
Denmark
.
Joleon Lescott's decision to take the train appeared to backfire somewhat, as British Public transport cannot even accomodate one of England's potential starting centre-backs.
Carefully hand-picked and unashamedly mad,
Goal.com
presents the latest round-up of the wonderful world of Twitter…
"We visited Auschwitz with the team today. Unbelievable, this is something I will never forget."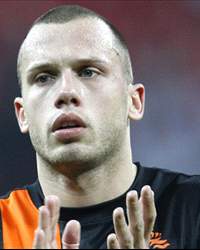 Netherlands
midfield-maestro
Rafael van der Vaart
was clearly affected by the excursion. Can't quite see how that puts you in the right frame of mind for an international tournament, but that's just me.
"In #Auschwitz with the #Holland team. Undescribable what has happened here. We may never forget. Respect."
Jonny Heitinga
also Tweets his amazement at the surroundings.
"Few of the lads having a go on the golf simulator"
Republic of Ireland
striker
Simon Cox
becomes the first international footballer to question reality. Stick to the real thing.
"Got to the station with time to spare then they change the platform with a minute to go, nearly miss it. BritishRail at its finest"
Joleon Lescott
comes to terms with the typically British transport system - it's all that Jubilee traffic. Shouldn't you be in Poland, Joleon?
"Poland Bound....."
Well, perhaps this answers my question.
Glen Johnson
confirms he truly is in
Roy Hodgson
's
England
squad. I hope those aren't full-stops of fear... (those last ones were).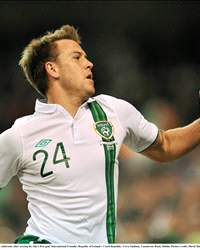 "
Just been told buy an un-named source that @seanstledger12 is paying a well known person on twitter to tweet his name for followers?"
Simon Cox
again here, letting us know that
Sean St Ledger
is fraudulently accumulating Twitter followers. I can't think of a worse crime. How dare he!
"#me #euro2012 #buzzing"


England
striker
Jermain Defoe
hints that he is ever-so-slightly excited for Euro 2012. #Me #too #Jermain.