A busy Sunday in the Premier League precipitated a quieter Bank Holiday Monday on the internet, but you can always find footballers commenting on the strange, trivial and/or incredible.
One of this column's favourite muses, Joey Barton, continued his quiet return to the world of Twitter - although, from the sounds of it, he may not be long for this world - and Robin van Persie, prolific both on the pitch and online, had some congratulating to do.
Join us as
Goal.com
wraps up the best of the football fraternity on Twitter ...
"After yesterdays physicality, I am convinced rigamortis has set in..."


Joey Barton
, making his Twitter return, feels a bit stiff after
QPR
's 1-0 win over Stoke City, but unless he's died, he really needs to improve his science knowledge.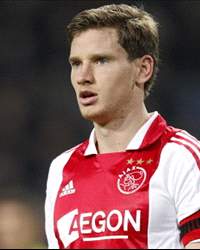 "Gefeliciteerd @Jan_Vertonghen deserved MVP of the dutch league!"
Robin van Persie
butters up Ajax defender and
Arsenal
target
Jan Vertonghen
. Getting in early to tempt the Eredivisie Player of the Year.
"'Idiots breed Idiots' think a few people on here had better either educate themselves or find a clever partner. Ur offspring awaits..."
Yep,
Barton
's well and truly back.
"Wife's just said the dreaded words "let's go shopping!" 7 days before a game I can't get out of it!!!"
Sometimes you just want a bit of 'me time', don't you,
Phil Neville
?
"What's Everyone Doing this summer Going Anywhere Dench?"
Are any holiday destinations Dench enough to contain
Emmanuel Frimpong
?
"Good luck to Blackburn Rovers tonight.. #believe"
West Brom
's
Steven Reid
will be supporting his old side Rovers in their do-or-die clash with Wigan at Ewood Park tonight.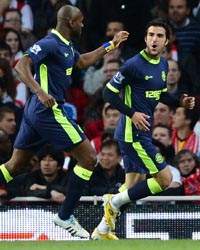 "Looking forward to game tonight, After yesterdays results Its all in our hands, We know a win and we are in the prem for another year."
Wigan
defender
Emmerson Boyce
, however, makes it plain what the Latics are after.
"Hi guys really big win for us yesterday but we have to stay focus cause we still have some work to do on sunday"
Ahead of their clash with champions-elect Manchester City,
QPR
striker
Djibril Cisse
plays a game of state-the-obvious.
"Gonna watch UFC now. chat letter"
WOTT would correct
Sylvain Distin's
atrocious spelling of the word 'later', but, erm ... he likes UFC and he's a big, big man, so we'll think better.
"Very proud of the team effort yesterday and this fantastic season so far.. Great reception of the toon army after the game..!! Thanks again"
Newcastle
keeper
Tim Krul
takes a moment to thank the Geordie faithful.