Elsewhere in the world of Twitter, Emmanuel Frimpong tries to get Pat Rice on the pitch, Patrick Vieira reflects on a massive Manchester City win and Jermaine Jenas gets wet
Roy Hodgson's appointment as England manager on Tuesday afternoon drew plenty of comment in the immediate aftermath from his West Brom squad, who saluted his work with the club and wished him good luck.
That was the big story, as Monday night's massive Manchester derby victory for City over United took a back seat - though you couldn't shut Patrick Vieira up about it.
Goal.com
runs through all the best of Twitter - be it comment on the Hodgson news or the kind of odd musings that footballers have so perfected of late ...
"Really happy for Roy Hodgson, Got to be one of the best coaches in football."
Is
West Brom
goalkeeper
Ben Foster
angling for a return from international retirement?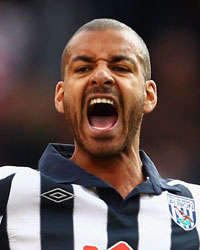 "Good luck to Roy Hodgson.. Been a pleasure working with him.. Brought the club forward massively! The club goes on.. #wba"
Fellow Baggie
Steven Reid
is sorry to see Hodgson go (no ulterior call-up related motive for the
Ireland
international, though).
"Congratulations to roy hodgson, he will do a good job for england like he has done for us over last 18 months. Great coach and a good man. "

Chris Brunt
is among the West Brom players saluting the departing boss.
"Very happy for Roy, he is a very good coach and a good man. Best man for the job!"
Mark Schwarzer
- who played under Hodgson at
Fulham
- welcomes the news.
"Not many have the experience that Roy Hodgson, proved he is a top manager at international level so don't see no reason why he can't do it for England....good choice in my opinion! Good luck and I hope I can help him in some way in the future!"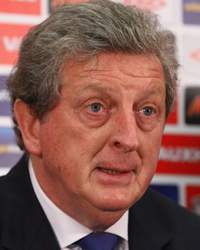 A man whom Hodgson can (fingers crossed) expect to see a lot of in the coming years is
Jack Wilshere
.
"Congratulations to Roy on the new England managers job and I wish him every success. It was a pleasure to work under him a WBA."
Back to the Hawthorns and striker
Simon Cox
pays tribute to The Hodge.
"Good luck to Roy Hodgson with his new job. Was a pleasure working with him. Hope he will do well with the english national team."
Peter Odemwingie
, too - are
West Brom
all really fond of Roy, or just pleased to see him go? Mischief.
"absolutely delighted to have won the young player of the year award the nyt!! tops of wats been a great few months for me over the moon :)!!"
Questionable English aside, congratulations to
James McClean
after a fantastic debut season at
Sunderland
.
"Seriously bored now i have gone through The Big Bang Theory from series 1 to 5... They need to get crackin' on with series 6 !!!"
Birmingham's
season isn't over yet with the play-offs to come, but
Nathan Redmond
is still restless.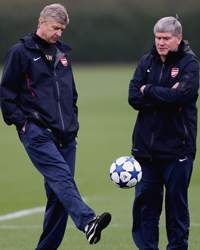 "Getting strapped up off out to run in this rain! #loverunningintherain"
Rubbish hash-tag of the day goes to
Jermaine Jenas
as the
Tottenham
man gets himself back to fitness.
"Who would
U like to be seen In the Shirt The Most At Arsenal? My ambition is to Get Pat Rice In One #legend"
Emmanuel Frimpong
wants to get
Arsene Wenger's
No.2 out on the pitch, despite him having retired decades ago.
"Yesterday was perfect. Everything and everyone came #together to achieve a fantastic result. Proud of the boys doing the double on United."
Patrick Vieira
gets all his superlatives out in the aftermath of
Manchester City's
huge win on Monday night.