With the big news on Friday that Pep Guardiola announcing that he will step down as Barcelona boss at the end of the season, Blaugrana midfielder Cesc Fabregas was among those reacting on Twitter.
Former Manchester United man Gary Neville and his brother Phil were among the admirers of the Spanish coach, while Louis Saha suggested that he could take the England job reins (although it does not look like the coach is willing to throw his career away just yet).
Elsewhere in today's edition of Word on the Tweet, Vincent Kompany praises the Europa League finalists, Rio Ferdinand entertains with his school-run antics and Ruud Gullit gives his backing to Roberto DiMatteo.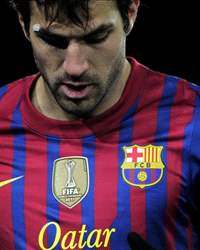 "Although I only was with him for 1 year it felt like a lot more. For me Pep was my hero as a kid and an inspiration as a manager. Thank you for the little time we spent, I will cherish it always."
Cesc Fabregas (pictured right) gushes like an emotional geyser at the prospect of Pep Guardiola leaving at the end of the season.

"The more I see of Guardiola the more impressive he gets talks sense and acts with unbelievable class and dignity."
Everton skipper Phil Neville doing his best to woo the manager publicly, in case David Moyes leaves in the summer and the Toffees need a new manager.
"Well done to Guardiola! Football that I have never seen before! Magic..."
Gary Neville also fancies brown-nosing the Barcelona boss, albeit the coach deserves most compliments streaming his way. If the Catalonian club win the Copa del Rey in May they will have won 14 out of 18 competitions entered under Pep Guardiola. Four failures?! No wonder he's been shown the door ...
"Wow Guardiola on his way out of Barcelona Fc. Is it possible to see him be in line for England manager?"
Guardiola is going on a sabbatical from coaching, Louis Saha, he has no intention of throwing his career down the proverbial footballing toilet just yet. Your Tottenham boss Harry Redknapp, on the other hand ...
"I like Pep as a c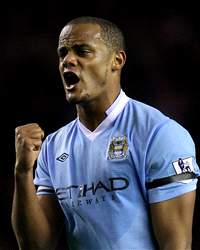 oach but I want #RDM as coach for Chelsea"
Roberto Di Matteo gets his latest backer in the guise of former Chelsea player and manager Ruud Gullit. The Dutch midfielder's managerial career is best left ignored and unspoken, however, so maybe his endorsement might not be the best thing for the current interim boss at Stamford Bridge.
"Bilbao and Atletico Madrid are probably the two teams in Spain with the most passionate fans. It will be a good final."
Vincent Kompany (pictured left), who captained Manchester City to the last 16 of the Europa League this season, praises Athletic Bilbao and Atletico Madrid for making it to the final.
"Morning guys!! Batteries fully charged, great sleep. Time 2 work now, heading to training! The harder we practice, harder will be to touch us."
I am pretty sure that Arsenal's Andre Santos said something along those lines last week before their appalling attempt at playing football at home to Chelsea last Saturday.
"Good morning :) looks like its going to be another wet day in Swansea #shock"
Is that a hint of bitterness in your virtual voice, Josh McEachran? Chelsea's on-loan midfielder has not seen much action at Swansea City since his temporary move.
"I'm doing the school run in a wetsuit + wellington boots tomorrow + any puddle I see my lil men are getting it! Teachers stay out of it it's on!
"Puddles are looking ready....Right, where is my wetsuit!!?! Brace yourselves lil men!

"Lil men got away with it as there weren't any puddles deep enough to drench the lil lunatics!"
Say what you want about Rio Ferdinand, but he is good at providing light entertainment out of mundane activities - in this case, a school run on a wet Friday morning. Sounds like his plan to soak the "lil men" was a failure. The Manchester United man will be hoping to be in more threatening form on Monday at Manchester City, you would think ...