Despite many Premier League professionals hard at work in training for much of the day, there was still a smattering of tweets from footballers across the country and worldwide.
Cesc Fabregas and Rafael van der Vaart are among those on Twitter wishing 'happy birthday' today, while Charlie Adam congratulated Fleetwood Town for almost securing promotion into League Two.
A certain Chelsea youngster also made a strong claim for greatest name in football of all time in this latest edition of Word on the Tweet.
"All the best to @ftfc tonight. Micky done a great job an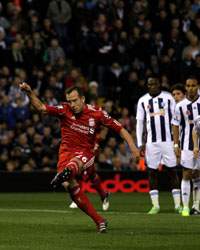 d delighted to see them get into the football league"
Charlie Adam (pictured right probably missing a penalty) congratulates Fleetwood Town and manager Mickey Mellon as the club are on the brink of sealing promotion into League Two from the no-man's-land that is non-league football. Hurrahs all round!
"Happy birthday to my good friend @Carles5puyol, 34 years old. Only 7 years to retire!"
Cesc Fabregas wishes Barcelona skipper Carlos Puyol happy birthday. I like to think that, in seven years' time, the Spanish defender will still have an enormous head of curly hair. Being a Fabricio Coloccini wannabe is better than being a baldy.
"It's a special day today!! Happy birthday and a big kiss to my wife @sylvievdervaart !!!"
Rafael van der Vaart is another footballer taking to the social networking site to say 'happy birthday' to someone, in this case his wife. I wonder if he's a right spongy husband and just bought her one Porsche instead of the obligatory two.
"Woke up this morning I realised I'm going to be 22 next month....doesn't time fly only seems yesterday when I was 18 signing for totte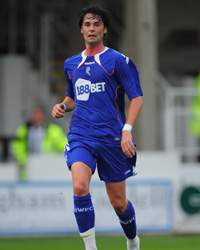 nham"
Tottenham's Kyle Walker is among the right-backs in contention for the England squad for Euro 2012, and he lets himself reminisce ahead of an FA Cup semi-final against Chelsea on Sunday.
"Dudeeeee looks like a lady!"
Stuart Holden leaves a short and simple Tweet that I like to imagine is describing his Bolton Wanderers team-mate Chris Eagles (pictured left).
"Hahaha some people think I'm stupid!!!"
Josh McEachran, I have no idea where the general public might have got hold of the idea that footballers are stupid, but I apologise on behalf of the world. Although I don't know much about the Chelsea midfielder, so they might actually be right ...
"#bestnamesinfootballhistory MINE haha"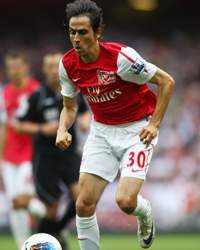 A Chelsea youngster by the name of Nortei Nortey (yep, you read correctly) made an excellent claim for the bragging rights of 'best footballing name' when the above hastag was trending worldwide.
"We are the People by Empire of the Sun. Great tune!"
Sunderland midfielder David Meyler shared his current musical favourite - as footballers just love to do over Twitter - with his followers.
"I just want to thank you all for the compliments..have a great evening everyone."
Yossi Benayoun
(pictured right) thanks his supporters for the congratulations he received on his
Arsenal
goal and performance earlier in the week. A happy note on which to end!