It's time for another look at what the
Premier League
's finest have been up to in the past 24 hours on
Twitter
.
Today's edition of The Word on the Tweet actually features some rare football-related chatter, as players reacted to Liverpool's last-gasp 3-2 victory over Blackburn at Ewood Park.
The rest, however, is more of the usual nonsense ...
"I've been locked in a room -110 degres for 3 min. Nearly naked. I never felt so cold. But now i feel refresh and ready for the last 5 games"
Newcastle
striker
Demba Ba
lets us in on the lengths to which footballers go to stay fit by providing his followers with a rather stark mental image.
"@MrsNev18 away for a few days with kids do I've just made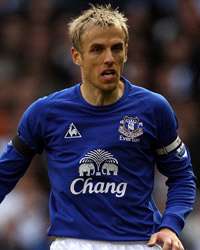 my own lunch Heinz tomato soup and a chicken caesar salad easy this cooking!"
Meanwhile,
Everton
captain
Phil Neville
seems to be coping fine in the absence of his wife.

"@fizzer18 that's great then - you can cook for your self all the time!"

"@fizzer18 whilst you are so confident - we also have a utility where you will find cleaning products!"

"@fizzer18 next to the utility we have a laundry room where you will find an iron and ironing board!"
Not that
Mrs Neville
's replies seemed to take to that too favourably ...


"Rise and Grind people"
Stoke City
goalkeeper
Asmir Begovic
has a rather unusual morning routine.
"Maxiiiiiiiiiiiii"
This is injured
Liverpool
midfielder
Lucas Leiva
's reaction to
Maxi Rodriguez
's strike last night. Given that this was his last tweet of the night it's safe to assume that, like most of the Reds' fans, he needed a lie down following the drama that ensued.

"2 - 2....my prediction is looking on point!!"
Manchester United
's
Rio Ferdinand
didn't make it to the end of the match either, it seems ...

"Hope wembley groundsman has bleach in efc dressing room sat...Gonna be some alligator trails in the bogs pre kick off #who'llbitefirst"
Kop legend
Robbie Fowler
also watched the game and he fired a rather disgusting warning shot to
Everton
ahead of Saturday's FA Cup semi-final.
"Footballs can be a cruel game at times. Great watch for the neutrals."
Whilst
Manchester United
and former
Blackburn
'footballser'
Phil Jones
was particularly upset by
Andy Carroll
's last-minute winner.

"I like #petercrouch. He is the most underrated player. He is better then most people think. Technical very skilful. I like him"
Ruud Gullit
, fairly new to Twitter, has some words of praise for
Stoke City's
gangly target man.