Also, fellow Manchester United star Tom Cleverley gets all excited watching gymnastics as City midfielder Nigel de Jong reveals just how deep the club's problems run
Despite the lack of English participation in European competition this week, the
Premier League
's finest have not let up in the world of Twitter.
As is so often the case, very little of their inane chatter relates to football. In fact, some of it is a worrying insight into the minds of those we regularly cheer on.
So, approach with caution as
Goal.com
sweep up the most interesting tweets from Friday.
"
Anyone else ever passed wind(farted) got a whiff of it and pulled a face in disgust at the smell you produced??! I just dazed myself! Errrgh
"
Wow. Just wow.
Manchester
United
defender
Rio Ferdinand
reveals the negative aspect of a high-protein healthy footballer's diet.
"don't lie @JoleonLescott , I've seen u nicking a chocolate truffle o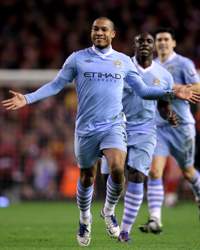 ut of my box today ! Lol
"
United
fans have been singing about rivals
Manchester City
"cracking up" quite a lot this week. Has
Nigel de Jong
revealed the fractured nature of the squad thanks to
Joleon Lescott
's thievery?
"
That doesn't read to well @NDJ_Official but, nicked a truffle out my box. And no I never you fibber. You told the tweeps about golf
"
This is
Lescott
's nonsensical reply and, no, we don't know what he's talking about either.
"Im glad to wish a Happy birthday to Fabrice Muamba but prefer to wish him a good recovery."
Tottenham
striker
Louis Saha
says what we're all thinking as
Bolton
's stricken midfielder
Fabrice Muamba
celebrates his 24th birthday today.
"Great night at cirque de soleil last night. Some of the gymnasts are unreal defo worth a watch!"
Meanwhile
United
midfielder
Tom Cleverley
might want to consider asking Cirque de Soleil exactly how they can bend their bodies at such crazy angles. Or how they run five yards without getting injured.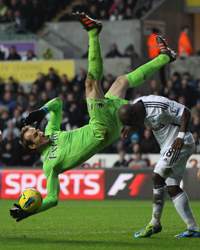 "I hate traffic jams! On our way to the airport.......finally! Ready for a tough game away to Bolton tomorrow."
Fulham
's
Mark Schwarzer
says it all about how far removed footballers are from reality as his side prepare to FLY from London to Manchester.
"Bed time. Been watching geordie shore with @ColeenRoo. Has to be funniest program on tv. Hilarious"
Ever thought that the life of a professional footballer is glamorous? Fear not, here's
United
striker
Wayne Rooney
to reveal they are just the same as you and I. But with a bigger telly.
"Bloke tweeted me on Tues and said why have you melted an LP on your head!! Funny."
The perpetually-entertaining
United
defender
Gary Neville
takes one on the chin.
"Feels great to be able to read all them abusive tweets again - I've missed not being able to read them for a week!"
Whilst a man who could also probably be described as a former
United
player,
Michael Owen
, should probably have kept quiet about being unable to see what others said about him on Twitter.