Louis Saha is the victim of a rather unfortunate comment regarding his appearance whilst Rio Ferdinand taunts Patrick Vieira and Fraizer Campbell and Joleon Lescott talk gaming
Last night saw perhaps the biggest
Champions League
tie so far this season as
AC Milan
faced
Barcelona
at San Siro.
You'd imagine a game of that sort of gravity might attract the attention of Premier League professional footballers wouldn't you? You'd be wrong.
Here is
Goal.com
's, a rather eclectic, round-up of all the
Twitter
action from the past 24 hours.

"I'm Loving Ghana But these Mosquito Bites Better Leaveityeah. Malaria Gonna Get frimponged"
Arsenal
midfielder
Emmanuel Frimpong
doesn't appreciate everything about a visit to his home country. He might want to think about 'Frimponging' that currently knackered cruciate ligament of his.
"Cameron cocks up . What do The Two Eds do. Go to Greggs for a pasty thinking its clever. Those two numptys biggest issue Labour have!"

"@fizzer18 Fancy Politics Phil. Lot going for us. Brothers, Eat Pasties, unpopular.....
"
Meanwhile, former
Manchester United
man
Gary Neville
is plotting a move into politics with brother
Phil
. If anyone can rival David and Ed Miliband...

"@Tim_Cahill Bro did u hear ur girl when we finished our little chat after school run? She said "Wow, Saha! U got big Nose" #ruthless ahaha"
Tottenham
striker
Louis Saha
should probably have kept this jibe to himself. If
Tim Cahill
didn't hear it the first time, I'm sure it'll get a regular airing during matches now.
"Picked my Pfa team of year yesterday-hart walker company Evans ekotto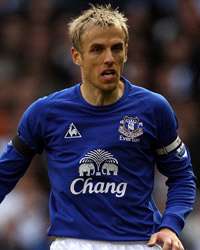 silva parker yaya bale rvp ba-what u think?"
Phil Neville
tweets his picks for the PFA team of the year, revealing that he backed
Robin van Persie
for the 'Player of the Year' award and
Sergio Aguero
for the 'Young Player of the Year' award.
"@therealstevenpi what's ur team-Alan Donald Jonty Rhodes Lucas radebe jacque kallis mokene Gary bailey"
Before rounding on team-mate
Steven Pienaar
and querying whether the South African simply picked a number of his famous sporting compatriots.
"@fizzer18 haha see u got jokes 2day
"
Nice to see
Pienaar
was suitably amused.
"Why is Viera so concerned with Man Utd....2 comments in a week or so....c'mon maaaaaan let it go! #opinions #ilovethisgame
"
Rio Ferdinand
shows his lack of concern over recent comments from
Manchester City
development officer
Patrick Vieira
suggesting that
Manchester United
get favourable treatment from referees.
"Up all night with my kids! 1 of my lil men + my lil girl just got runny noses+coughs in time for school holidays, great timing kids! #caked"

"I'm going to discuss going into 'isolation' for the next week at home....can't take no chances with these kids at this stage of the season!
"
Before revealing just how far he is willing to go to ensure that his side lift the Premier League title at the end of the season. Poor kids...

"Catching up with @FraizerCampbell tomorrow when we go head to head on the new maps for Call of Duty Modern Warfare 3 #spon"
Joleon Lescott
and
Fraizer Campbell
are set to put football aside and do battle in a slightly different arena.