Much like with other serious
England
announcements in the past, interim boss
Stuart Pearce
did not get a chance to publicly reveal his captain for Wednesday's friendly against the Netherlands before Twitter beat him to it, and a whole host of footballers reacted to
Scott Parker
being chosen.
Admittedly, the choice is, in theory, only for the one game, but shock that Liverpool's Steven Gerrard was not named was fairly widespread.
Nevertheless, reaction to the Tottenham midfielder skippering the home nation was swift and, mostly, congratulatory - here is
Goal.com
's summary of the best comments from the social networking site.

"Congrats to Scott Parker on being named captain for tonights game. A great honour + one I'm sure he'll cherish. 2-1 win I'm thinking!"
Former
England
captain and
Manchester United
centre-back
Rio Ferdinand
wished the holding midfielder the best of luck against the Dutch at Wembley.
"Congrats to Scott Parker. Great honour."
Michael Owen
, another
United
man, gave a short, simple and snappy well done to Parker.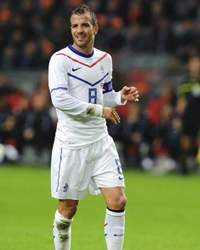 "Congrats to my teammate Scott Parker on becoming England's captain for tonight's game against Holland. Sure he's proud! #honour"
Rafael van der Vaart
(pictured left), Parker's team-mate at
Tottenham
, will not feature in tonight's friendly match with the Dutch because of an ankle injury but wished the player well.
"Congratulations to Scott Parker being named captain for his country, he wears his heart on his sleeve. #everyplayersdream"
Everton
attacker and
Australia
international
Tim Cahill
also wished the former West Ham United man all the best.
"Scotty Parker great choice for me...top leader, top man and been the best English midfielder all season! Deserves it! Good luck mate!"
Arsenal
and fellow
England
midfielder
Jack Wilshere
adds his name to the ever-expanding queue of congratulations.
"Scott Parker ahead of Steven Gerrard.........I'm speechless. #whatafarce"
First with the negativity, one-time
England
player
Joey Barton
does not hold back with his thoughts.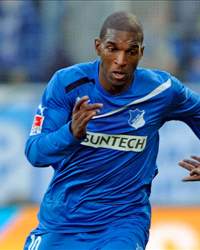 "I respect Parker as a player, good midfielder .. But we are talkin about Steve G here..
"I see it already happen Xavi laughing in his mind standing infront of Parker before the game with the refs thinking "Who's he?". Somebody in my mentions said Parker had 10 caps and Gerrard 89 caps.. WELL !!! I got 40 caps for Holland.. I think I should atleast wear the band once don't u think?"
The comments were most definitely tongue-in-cheek, but
Hoffenheim
winger
Ryan Babel
(pictured right) certainly offered a different slant to the rest of the congratulations murmuring across the web.
"Where are we with the England captaincy again? It doesn't matter, except when a player you don't rate gets it? Is that about the size of it?

"As a Scot, my anticipation of England's Euro 2012 campaign is approaching fever pitch already. It's going to be hilarious."
Goal.com
's very own
Steven Saunders
gives an outsider's opinion on those slamming the choice of Parker.
"Is Kenny going to make a t-shirt about this too?"
Another
Goal.com
lackey,
Alex Young
, wonders if
Liverpool
boss
Kenny Dalglish
is going to resort to tried-and-tested tactics to speak out about
Steven Gerrard
's supposed captaincy snub.