COMMENT
By Ben Hayward | Spanish Football Editor
From the sublime to the ridiculous: Lionel Messi did it all in 2011. The brilliant Barcelona forward really did leave the Fifa Ballon d'Or voters with no choice but to award him with his third successive golden gong on Monday. And make no mistake: this was the best one yet.
The fleet-footed Argentine has been the best player in the world for some time now. So much so that he is not only compared to his contemporaries, such as Ballon d'Or rivals Xavi and Cristiano Ronaldo, but also to the all-time greats. And many top pundits have already deemed him the best player in history, playing for the finest football team the world has ever seen.
Such claims are of course difficult to justify: nobody has seen all of the world's best players in their pomp, while comparing different generations is a tricky task given the inevitable changes in the game over the last century.
In terms of the Ballon d'Or, Messi already looks to be blowing away his rivals. This win takes the Argentine to three straight successes, bringing him level with three-time winners Johan Cruyff, Michel Platini and Marco van Basten. Leo, though, is only 24 and according to Cruyff, will go on to claim six or seven Golden Balls before the end of his career. He may well do, but such comparisons are complicated because the Ballon d'Or was previously only open to European footballers, and that ruled out arguably the two best-ever players: Diego Maradona and Pele.
Debates will run and run, with some suggesting Messi will never be considered truly great until he can inspire Argentina to a World Cup win, even though that seems wholly unfair, while others will claim he can only produce such form because he has been blessed with team-mates such as Xavi, Andres Iniesta and now Cesc Fabregas.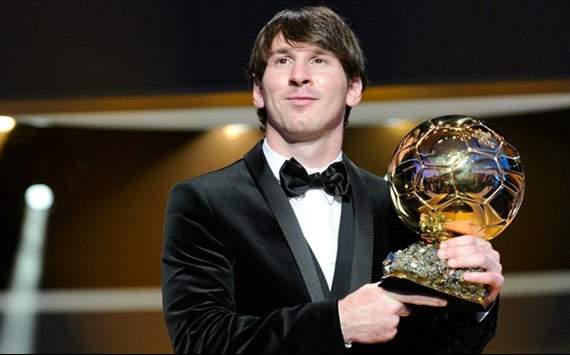 Another year, another Ballon d'Or | Messi with the 2010 trophy


But does any of that matter, anyway? Leo is a simple soul, a humble human being focused on winning games for club and country. And he understands that with collective success comes individual recognition, not the other way around. "Winning individual prizes is nice," he has said. "But what matters to me is winning trophies."
Five more of those have been accumulated in 2011, with Barca claiming La Liga, the Champions League, the Spanish Supercopa, Uefa Super Cup and Club World Cup. And the Argentine, naturally, has been instrumental. "Without Leo," coach Pep Guardiola admits, "none of this would be possible."
Guardiola has converted Messi into a false nine in the centre of Barca's three-pronged attack, from where he can do even more damage than before. And the goals came thick and fast in 2011. All in all, there were six hat-tricks and 59 goals for club and country, including an incredible 55 in 57 games for Barcelona. But there were also assists aplenty, and many more memorable moments, too.
The Argentine's wonderful goal against Arsenal at Camp Nou inspired a second-leg comeback in the last 16 of the Champions League after the Catalans had lost 2-1 in London, and his stunning solo effort later in the competition ensured passage to the final as he hit both in a 2-0 win over Real Madrid at the Santiago Bernabeu. And there was another superb strike in the final as Barca played Manchester United off the park in a 3-1 victory at Wembley. Never scored against a Jose Mourinho side? Never scored in England? The year 2011 was one for burying such statistics. In some style.
LIONEL MESSI FOR CLUB & COUNTRY
IN 2011


MORE ON
LIONEL MESSI


| | | | | | |
| --- | --- | --- | --- | --- | --- |
| Competition | Games | Goals | Assists | Bookings | Trophies |
| La Liga | 36 | 31 | 16 | 2 | 1 |
| Cups | 10 | 12 | 4 | 4 | 3 |
| CL | 11 | 12 | 5 | 1 | 1 |
| Internationals | 13 | 4 | 10 | 1 | 0 |
| Total | 70 | 59 | 35 | 6 | 5 |
By the end of 2011, Messi had emulated team-mate Pedro's feat from 2009 as he scored in all six competitions in a calendar year. There were disappointments, too, as the 24-year-old was left impotent again with Argentina, unable to inspire his national team to success in the Copa America in his homeland. And there were tears as Barca lost out to Real in the final of the Copa del Rey in April.
The positives, however, far outweight the negatives for a majestic Messi in 2011, as he left his opponents in his wake and put his pretenders to the sword; he was key once more as Barca defeated Madrid - and Cristiano Ronaldo - 3-1 in the league in December and sensational against Santos as Neymar was subdued in the a 4-0 Club World Cup final defeat a week later. Earlier, in August, he had netted three and assisted two of the five goals scored by Barca in the 5-4 Spanish Supercopa success over Madrid; he then scored one and set up the other as the Catalans claimed the Uefa Super Cup with a 2-0 win versus Porto. And it doesn't get much better than that.
Indeed, his peerless performances will live long in the memory of both Barca enthusiasts and football fans across the world. Whether he is the best in history is another debate for another day, but in 2011, Leo Messi was the best in the business, the brightest beacon in a brilliant Barcelona side. A shining star which could not be eclipsed, only admired. So sublime, it was ridiculous.
Follow Ben Hayward on