COMMENT
By Stefan Coerts

In 10 World Cup appearances, Netherlands have made it to the semi-finals on five occasions. Yet they have left each and every one of those tournaments empty handed.

Holland were beaten in the final in 1974, 1978 and 2010, while they were eliminated in the semi-finals in 1998 and 2014.

Although they generally head into each tournament as one of the favourites, Netherlands have never won the World Cup – the only one of the major footballing nations not to have done so.

Under Louis van Gaal's wings, the dream was alive and kicking in Brazil, only for Sergio Romero's heroics in the semi-final penalty shootout defeat to Argentina to bring their competition to an abrupt end.

Their dramatic last-four defeat led to question marks over their mental strength and some have even suggested their tendency to stumble at the penultimate hurdle is a psychological issue.

Yet that might be too simple a claim to make after Oranje's relatively successful World Cup campaign in Brazil.

Unlike previous tournaments, there was little room for optimism in Holland ahead of the tournament and general consensus was that Van Gaal and his men would face a tough task to survive the group stages. Yet they managed to make it to the semi-finals against all the odds.

One could therefore argue that Netherlands overachieved at the 2014 World Cup and that their exit was the logical result of their lack of quality compared to the other teams battling for World Cup glory.

In fact, Van Gaal even admitted ahead of the tournament that Oranje were inferior to a number of nations, stressing that it would be hard to reach the final four.

"We consider ourselves as outsiders. We have introduced a lot of fresh young blood into the team and played really nice football and scored a lot of goals in the qualifying group," the Holland coach said.

"However, the semi-finals will be a really hard goal to achieve. According to the Fifa ranking, we are eighth or 10th. It doesn't matter which, but we are not one of the favourites.

"I view Brazil and Argentina and - from Europe - Spain and Germany as the favourites."

Van Gaal's assessment of his squad was by no means an attempt to downplay expectations, merely an accurate valuation of his side's potential instead.

Whereas the aforementioned countries all boast various world-class players, Netherlands only have Robin van Persie and Arjen Robben who are worthy of the superstar tag. The large majority of Van Gaal's squad still ply their trade in the Eredivisie and those who do play for clubs in a major league do so at relatively modest sides.

Beating Spain 5-1 in the group stages was a huge accomplishment, but the game was not as one-sided as the final result suggests. Things could very well have gone differently had Jasper Cillessen not made a brilliant save to deny David Silva with the score at 1-0, only minutes before Van Persie levelled the scoring to turn the game on its head.

Wins over Australia and Chile further boosted Holland's status as one of the teams to watch, yet things got more complicated in the knockout stages.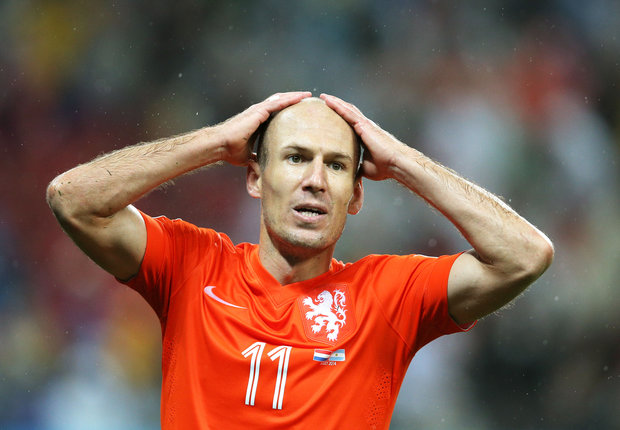 More heartbreak| Robben in despair as Holland crash out against Argentina


Netherlands flirted with elimination in the round of 16 against Mexico, but late goals from Wesley Sneijder and Klaas-Jan Huntelaar eventually saw the Dutch reach the next round.

They once more struggled in the quarter-finals versus Costa Rica and needed penalties to make it to the final four. Another difficult game then awaited against Argentina and this time Oranje's luck ran out.

A psychological issue? No. The logical result of a difference in quality between two sides – even if the game itself was remarkably close.

It had become quite apparent in the group stages that Netherlands were heavily reliant on Robben and Van Persie, so the obvious way to stop Oranje was by stopping their two stars.

Mexico did just that for 88 minutes, before Huntelaar stepped up to save their skin. Tim Krul then did the same against Costa Rica, yet there were no more miracles against Argentina.

Netherlands overachieved for weeks, but every fairy tale ends at some point. For the Dutch, this point was reached in the semi-finals.