By Stefan Coerts in Brasilia
Even though Netherlands came incredibly close to winning the World Cup just four years ago, all the post- tournament talk was not about their narrow loss in the final against Spain, but about the way the Dutch had behaved in the showpiece in Johannesburg. Holland were found guilty of making a number of reckless challenges throughout the game - epitomised by Nigel de Jong's vicious kung-fu kick aimed at Xabi Alonso's chest.
Ever since, the combative midfielder has been associated with his tough-tackling style more than anything else. Forgotten is the fact that De Jong played a major role in his side's path to the final with his leadership, his interceptions in midfield and his accurate passing. For any random fan, De Jong was the 'thug' who misbehaved and got away with it.
Fast-forward four years and De Jong is once more making a big impact at the World Cup, only this time he's not making the headlines for his reckless tackling, but for his fine performances instead.
The attacking partnership of Arjen Robben and Robin van Persie – as well as supersub Memphis Depay – have been taking much of the plaudits in the past few weeks, while De Jong's contribution to Oranje on their way to the round of 16 has been overlooked.
Admittedly, harrying opponents in midfield, making interceptions and winning tackles remains de Jong's core business, but he's been incredibly important in possession, too.
Robben and van Persie might have been the stars of the show in the spectacular 5-1 win over Spain on matchday one, yet is was De Jong who won 80 per cent of his duels and had a passing accuracy of 81.3% to help the Oranje take the initiative after a difficult first half.
The AC Milan man then went on to impress against Australia in Holland's hard-fought 3-2 victory, winning all of his three tackles as well as making two crucial clearances, while his passing accuracy was once more close to 80%. Finally, in the 2-0 win over Chile that saw Louis van Gaal's men secure top spot in Group B, the former Ajax star had a passing accuracy of 82.3%.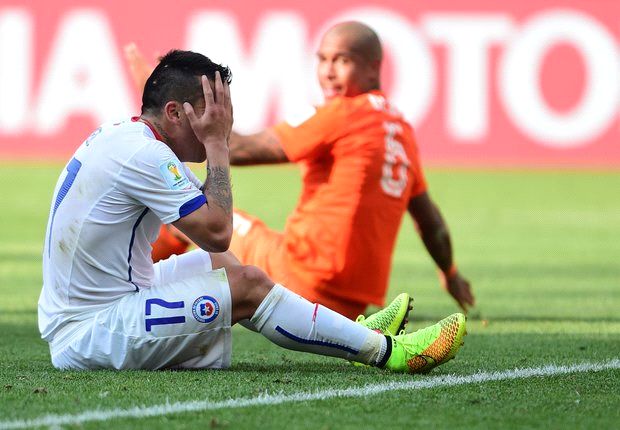 Desperation | Chile's Gary Medel struggled to come up with an answer to De Jong's energetic display


Even more than the 22 balls recovered by De Jong over the past three games - more than any other Dutch player - what catches the attention most is his calmness on the ball, with the holding midfielder rarely losing possession.
De Jong's average passing accuracy of 81% beats that of the more creative Sneijder by eight percent, even if they have both had close to 100 passes so far this tournament. Normally, one would expect the Galatasaray man's passing accuracy to be slightly lower than that of de Jong as he tends to take more risks with his creative passes, but just 10% of Sneijder's passes were long – and thus risky - balls, against de Jong's 21%.
It's therefore fair to say de Jong is arguably Holland's key figure in midfield - and not Sneijder or Jonathan de Guzman, who has featured for just 140 minutes.
Admittedly, Robben and van Persie have been Oranje's undisputed stars so far this tournament with their goals and breath-taking actions, yet one should not forget De Jong's significant role in the Dutch's success so far.
The 29-year-old became somewhat infamous in South Africa four years ago. But in Brazil, De Jong has proven to be much more than a midfield bully.