Part I: 'It could be a white elephant' - Magic Manaus faces stadium dilemma
Sidniz Filho is the technical director of the Estadio Ismael Begnino, one of two Fifa-standard training pitches built in Manaus ahead of the World Cup.
His centre, as well as the Estadio Carlos Zamith in the east of the city, was renovated at a combined cost of R$28m (
€
9.5m) and it was hoped that England, Italy, Portugal and the United States, among others, would use the facilities ahead of their matches in the city.
But they have not been used once. Privately, you can sense Filho's disappointment and annoyance. In a recorded interview with
Goal
, he would only go as far as to say: "It would have been a great opportunity for the best teams in the world to train here, for local people to enjoy, they would have enjoyed watching them, would have enjoyed watching them train alongside our fans."
Fifa are currently in charge of both training pitches, but the lack of communication between the federation and the local authorities has caused confusion. Representatives from world football's governing body had only arrived to inspect the facilities after the World Cup had started, and nobody knew even on the day itself if the United States players were going to train there. Staff were hurried to fill soap dispensers in the bathrooms and the military were brought in to provide extra security during the afternoon, but the Americans never arrived.
Furthermore, when reporters from
Goal
tried to gain access to the Ismael Begnino pitch, we were barred by a private security guard contracted by Fifa, later told that no access would be granted and that the technical directors are not able to give interviews - having already spoken to Filho in his office.
A few days later we easily gained access to the second facility, which boasts massage tables, a media 'mixed zone' and a 5,000-capacity stand, and spoke to Filho's colleague, Raniere Pereira Parente.
He told us that just one member of staff from Italy and Switzerland came to look around his facility, and decided not to use it.
"They were impressed but they didn't use it," he said. "They thought that this region of the country is poor. They thought, 'Can Manaus really host these facilities?' They thought that things weren't ready. They felt that the traffic wasn't being organised by the government, made better. After this they thought there's no way to train here.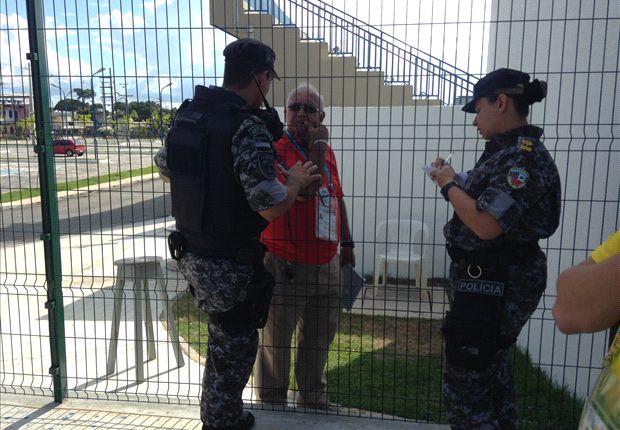 No-one home |
Security guards continue to monitor the empty grounds

"We, the state government, we are satisfied that we are contributing to what was required of us by Fifa. I'm a professional, I'm a teacher of physical education, and I feel frustrated that we couldn't help in the training.
"These are two different feelings we have. There's the part from the state, and there's me that I was hoping to see the trainings happen here. For this reason I feel frustrated."
Both Parente and Filho are confident, however, that the two smaller stadiums will be maintained using funds generated by local teams playing in Serie D, the fourth division of Brazilian football.
It is exactly this kind of approach which has caused large scale protests in other parts of the country, but curiously Manaus has barely raised its voice. There has been just one demonstration here during the tournament, consisting of 20-30 people as the rest of the city celebrated Brazil's opening victory against Croatia.
A monorail was supposed to be built to take fans directly to the stadium, but plans were scrapped three years ago. The second idea was a high-speed bus route, but the authorities got as far as painting the blue lines on the roads around the stadium before deciding not to continue.
Sam Schramski, an American-born sociologist living in Manaus, explains that the people of the city would have every right to feel short-changed.
"I think that one of the big deals with the funding of the stadium here and of other facilities is that a lot of people would like to know if that money was well spent and if it might have been better spent on other things, for instance public health facilities, hospitals, teachers and the like," he told Goal.
"There's always a lot of concern when there's a big sports project, whether the World Cup or the Olympics, and you are seeing that in Brazil as a whole, but in Manaus you are seeing that to a lesser degree. I think people have these concerns but it's not nearly as public as you might see in other cities.
"I think they are just as valid as they would be in Sao Paulo or Rio, but I think that they are not expressed for a variety of historical and sociological reasons. But in terms of concerns I do think people do have those concerns, but they say them under their breath, they say them more privately."
At the moment, the wonderful people of Manaus feel proud that to have been at the centre of the football world, even momentarily.
Over 50,000 fans have been to the Fifa Fan Fest at Ponta Negra so far, Brazil are performing well on the pitch, and thousands more supporters from many different countries pack out the Praca de Sao Sebastiao next to the historic Amazon Theatre to watch matches on the big screen, dance and drink long into the night.
Right now the party is in full swing. Let's hope it's not followed by an almighty hangover.