The 26-year-old midfielder is happy that he passed up an opportunity to head to the United States as a teenager after earning an unlikely spot in El Tri's starting line-up
COMMENT
By Tom Marshall
If Mexico midfielder Jose Juan Vazquez had not been a footballer, the 26-year-old would likely now be in the United States.
The player had a simple but life-changing decision to make as a teenager when his brother asked him to join him in traveling north of the border and leave his community of Roque, Guanajuato behind.
"I didn't see any future here [in Roque]," Vazquez admitted to
ESPN
earlier in 2014. "I was in the street and [my brother] just had his backpack and said: 'What's up? Are you coming or staying?'"
Vazquez thought about it but declined. He has been richly rewarded for his decision since, especially in what has been a dream year.
Brazil 2014 was never supposed to be Vazquez's World Cup. Mexico's holding midfielder, standing just five-foot-five, came into the tournament on the back of consecutive Liga MX title wins with Club Leon but, at the turn of the year, he had never been called into a national team squad, not even the domestic-based one that beat New Zealand to book
El Tri
's place in Brazil.
Two years before Mexico's critical game against Croatia on Monday, Vazquez had not even played one minute in the Liga MX and had only just won promotion to the first division with Leon.
But when Jesus Zavala had a nightmare match against the United States in April, Juan Carlos Medina got injured before the warm-up games and Hector Herrera proved a much better bet in a more attacking midfield role, Vazquez's opportunity arrived.
"There have been circumstances that opened up the possibility [of him playing] and he has 100 per cent taken advantage," said Mexico coach Miguel Herrera on Friday.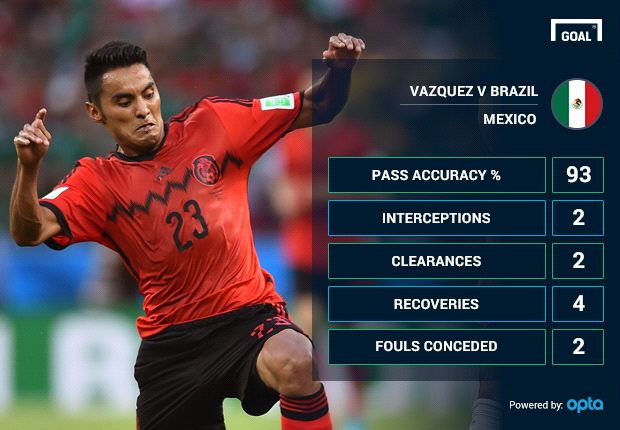 Goalkeeper Guillermo Ochoa took the headlines against Brazil on Tuesday for his saves in a goalless draw but Vazquez was also sublime, covering 6.25 miles over the 90 minutes and positioning himself well to counter the significant threat that the host nation possess.
There may have been complaints about Brazil's creativity from the local press but that was at least in part due to Vazquez's performance. At the other end of the field, 'Gallito' - 'Rooster,' for his hairstyle as a baby – came as close as anyone in a Mexico shirt to scoring with a couple of long-range efforts.
It has not been an easy road for Vazquez to get into the position in which he is now, from a childhood tainted by poverty.
"It was very sad, not having enough to wear, not having enough to eat," he recalled. "They were very difficult and sad moments."
Vazquez worked in the fields, a bakery and even as a laborer as an adolescent in order to "earn bread each day". Even when he first trained as a youngster at nearby second-division club Celaya, he admitted that he did not feel comfortable due to other kids having better trainers, more money and nicer clothes.
"It made me embarrassed and I thought: 'This isn't for me,'" he added.
As they did for the Brazi matchl, on Monday, locals in Celaya will gather around a big screen that the municipal government has erected especially to watch the hometown hero.
They will cheer on Vazquez attempting to stop Real Madrid's Luka Modric, new Barcelona signing Ivan Rakitic and Inter's Mateo Kovacic from controlling the midfield and, if Gallito plays anything like he did against Cameroon and Brazil, he will again be one of Mexico's heroes, even if he is an unlikely one.