In terms of organisation and fanaticism, the fans of the
Nigeria
national team are certainly up there with the best in the world.
Thanks to the support and backing of the Nigeria Football Supporters Club (NFSC), followers have been able to arrange travel with the Super Eagles all over the planet, bringing with them a unique, vibrant atmosphere to each and every city and stadium.
Armed with their percussions and trumpets, they turn Nigeria's matches into a musical carnival - with tunes ranging from the religious to the secular - as they urge their heroes to victory.
One of their most popular songs is Sa Ma Sin Wa Lo (loosely translated into 'Lead us into battle'), always the first tune to be played when a match kicks off.
Dressed in their inimitable green and white, the supporters chant the opening song accompanied by a marching band as they get into the spirit of the game. Instantly, the vibes are felt all around the stadium as the prayerful support encourages the players.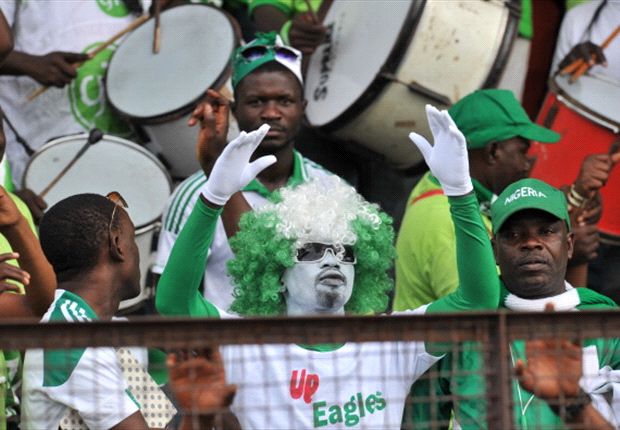 One love | It's one big party in the stands for Nigeria fans
Nigerian players have regularly spoken of the positive influence that this intense music has on them on the pitch. Goalkeeper Vincent Enyeama recently described the fans as a "massive inspiration". Even when the Super Eagles are losing, the level of support from the stands rarely drops.
"All we are saying, give us one goal" is a popular chant in such circumstances. The incredible support of Nigeria's fans was recognised this January by the Confederation of African Football (CAF) as the NFSC were named the best supporters in Africa during the annual awards ceremony.
Nigeria hope to challenge for a place among the big boys in Brazil this month and, regardless of how well they do on the pitch, expect the NFSC to create one hell of a party in the stands and on the streets.
This is how Nigeria supporters share their football experience. Now it's your turn to show your passion for 2014 FIFA World Cup Brazil™ with Hyundai's Pin Your Fan Park. Create your own Fan Park by sharing live footage of you enjoying the 2014 FIFA World Cup Brazil™. Post your supporting message, upload photos and videos and make football playlists at worldcup.hyundai.com