COMMENT
By James Corbett
Football is finally coming home. 2013 might be the year that we sit back and celebrate the 150th anniversary of Association Football and hail England's great cultural gift to the world, but it is also the year when it begins its journey back to its spiritual home.
Brazil is set to dominate the global sporting agenda for the next four years and it is now – the year before the World Cup and three years before the Rio Olympics – that it will start to take hold of our back pages.
If 2014 is the year of the feast, then 2013 is a period of anxious and possibly frenetic preparations for the two greatest sporting shows on earth.
But amidst the expectation, all is not well. Last summer Fifa's secretary general Jerome Valcke caused an outpouring of national consternation when he said that Brazil's World Cup organisers needed "a kick up the backside". Despite the outrage at his outspokenness, there was much truth in an observation about a tournament that is riven by logistical challenges. Not since the United States hosted the World Cup in 1994 has the tournament been staged over such a geographical sprawl.
"Our three challenges are airports, airports, airports," said the Local Organising Committee's (LOC) operations director, Ricardo Trade, last year. In so doing he signified how the World Cup has become far more than just a sporting show: it has become an occasion where massive infrastructure overhauls precede a country opening itself up to the world.
THE MAN OF 2013 - JEROME VALCKE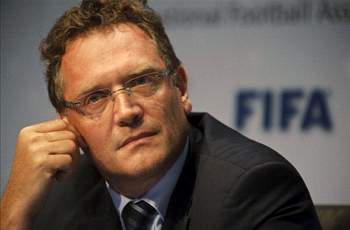 Jerome Valcke is likely to be the busiest man in world football in 2013. He was Sepp Blatter's surprise appointment as general secretary in June 2007. Just seven months earlier he resigned from his previous role as Fifa's marketing director after being damned by a New York court for 'lying repeatedly' over a contentious sponsorship deal.

Surviving such a scandal was a good apprenticeship for his role as Fifa's effective CEO. As 2013 beckons, not only does Valcke have Brazil to worry about, but will also keep in view the controversy-ridden tournaments that lie ahead in Russia and Qatar. On top of all this he has to maintain the daily running of Fifa as its effective CEO too. Some say that Valcke will succeed Blatter as Fifa president and with an election only two years in the future, the first politicking for that prize will already be underway.
Brazil's challenges have been heightened by the decision to increase by 50 per cent its number of host cities. Fifa wanted eight, but the disgraced former head of Brazilian football, Ricardo Teixiera, successfully lobbied for 12. Teixiera, who was subsequently forced to resign after it was revealed he took more than $10 million (€7.6m) of bribes from the collapsed sports marketing company ISL, has since been accused of taking backhanders in the host city selection process. Whatever the truth behind these fresh allegations, his legacy is a tournament even more vast than first envisaged.
The significant transport and infrastructure investments needed to make this work have been slow in coming: it has been claimed that just one Real in 20 promised for these upgrades has been delivered. "There are countries which suffer natural disasters and need to reconstruct everything on an emergency basis," said the president of Brazil's association of architects and engineers, Jose Roberto Bernasconi, earlier this year. "We create our own emergencies without any need to," he added.
Some of the looming sense of an organisational and PR disaster has dissipated since the fall of Teixiera, with Valcke last month claiming "all the projects are proceeding well and we have reached cruise speed." The real test will come in June when Brazil hosts seven visiting nations – Spain, Italy, Japan, Mexico, Uruguay, Tahiti, plus the winners of the Africa Cup of Nations – in the Confederations Cup. Although it is basically a glorified test event, the eyes of the world will be firmly on Brazil, and both the LOC and Fifa will be desperate for things to run smoothly.
All prospective World Cup hosts - even well prepared ones, like Germany - encounter high levels of scrutiny and pessimism in the 18 months leading up to a finals. Certainly the 2010 hosts South Africa did, although the subsequent tournament confounded all the doomsayers.
It gets to use some of its excellent but since under-used infrastructure when it hosts the Africa Cup of Nations – stepping in for post-revolutionary Libya - in January. Zambia will seek to defend the crown it won so dramatically last time out, and with traditional big guns like Egypt, Cameroon and Senegal all absent, fortune may again favour a smaller country.
In June, Israel hosts the Under-21 European Championship and a month later Turkey is the stage for the Under-20 World Cup; both are excellent showcases for the talent that may explode in Brazil 2014. In 2009 Germany beat England 4-0 in the final of the Under-21s. Twelve months later, four of those victorious players were in the team that hammered England again, 4-1 in Bloemfontein.
Domestically, the dynamics of the transfer market are likely to change again. The Premier League's staggering new broadcasting deal kicks in at the start of the 2013/14 season and will see the Premier League winners bank £100m (€122m) for the first time. But even finishing rock-bottom of the league will see £50m (€61m) in earnings, and as such will make even the likes of Wigan and Reading – assuming they maintain their top-flight status this year – among the richest clubs in the world.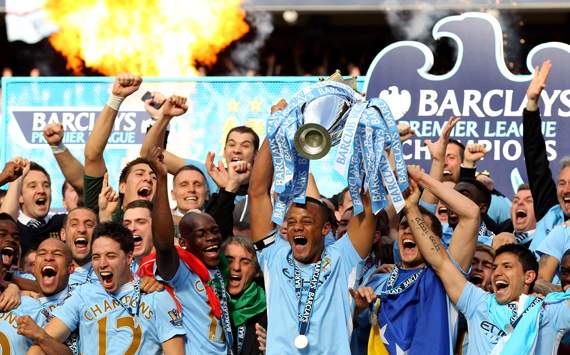 Rich pickings
|

Uefa's Financial Fair Play measures could affect Manchester City's plans
The challenge facing clubs is to ensure that this increased wealth is not just swallowed up in higher wages. Talks are ongoing about fixing some form of salary cap in the Premier League. At the same time those near the top of the table will be trying to adhere to Uefa's Financial Fair Play (FFP) measures so that they can continue to be allowed to compete in European competition. The claims emanating from Manchester City earlier this month that their 'mere' £100m (€122m) loss set them on course to somehow meet their FFP obligations suggests that some clubs' interpretations are creative to say the least. There may be legal wranglings with Uefa in the year ahead.
Fifa also faces many challenges beyond the preparations for Brazil as it seeks to reinvent itself after the succession of corruption scandals that have scarred its name for years. The Independent Governance Group, which has operated under the watch of Swiss law professor, Mark Pieth, is due to conclude its work in May. But the promises of reform and greater transparency are likely to be scuppered, with those close to the process saying that the reformists have been frustrated by some members of Fifa's executive committee. One feels that there are too many skeletons in the closet for football's world governing body to properly embrace reform unless there is a full sweep of the old guard.
Finally, some cause for celebration. On October 26, 1863 representatives of a dozen southern England-based football clubs met at the Freemason's Tavern, a central London pub, and thrashed out a codified set of rules for the rough and ready game they played. One hundred and fifty years on, the world will celebrate their gifts to the world – Association Football and the Football Association – with a series of England friendlies against Brazil, Scotland and Ireland, as well as the Champions League Final returning to Wembley.
Follow James Corbett on