COMMENT
By Liam Twomey
As he leads
England
out at Wembley on Friday evening,
Wayne Rooney
may well reflect on a week which began with an impressive display for
Manchester United
, peaked with the news of a second child on the way and culminated in the captaincy of his country in a World Cup qualifier, and ask himself why life cannot always be this good.
Of course, in reality footballers are no more impervious to the whims of fate than the rest of us. Six-figure weekly salaries, lucrative bonuses and sponsorship income can buy just about anything except a trouble-free existence, and Rooney's journey to this point has been more turbulent than most.
It is his boon to be the most gifted English footballer of his generation. But it is also a burden, and one which he has not always borne well, for club or country. Petulance, injuries and controversies, both personal and sporting, have all on numerous occasions over the years threatened to overshadow his supreme talent.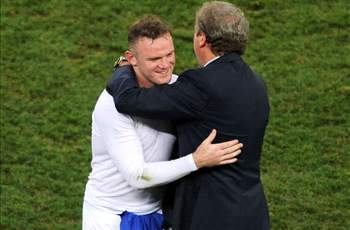 "The fans, since I've been involved with England, have been fantastic" - Rooney

Many United fans have never viewed their idol in quite the same light since the transfer request debacle of October 2010 and, while his comments about the England faithful on being awarded the armband against San Marino - "The fans, since I've been involved with England, have been fantastic" – are welcome, they do not entirely erase the harsher sentiment expressed to a TV camera following the Three Lions' desperately dour draw with Algeria in the World Cup of 2010.
But if any United followers do have a less-than-stellar opinion of Rooney, they can at least console themselves with the knowledge that they have generally enjoyed the better half of his enigma.
He has won every trophy there is to win at Old Trafford and is well on course to become the club's all-time record goalscorer before he hangs up his boots. His only international achievement of note is the dubious distinction of being the most red-carded England player ever.
This summer, after watching the nation's talisman once again fail to justify the hype at a major international tournament which formed the culmination of one of the most prolific scoring seasons of his career, former boss Fabio Capello witheringly remarked that his former charge "only plays well in Manchester". The criticism stung precisely because it carried a certain resonance.
At club level, Sir Alex Ferguson has employed both carrot and stick expertly to keep Rooney largely on the rails, and used his influence to try and limit his mercurial star's exposure to the harsh and unblinking glare of the spotlight.
For England, however, no such guidance is ever forthcoming, and consequently he often gives off an uncomfortable and even vulnerable air.
Now 26, Rooney is still trying to grow into a player and a man capable of justifying his impossibly high billing as his nation's footballing messiah. He is not Lionel Messi or Cristiano Ronaldo, and will most likely never scale such exalted heights. But there have been tentative signs that a maturing process, belated though it may seem to some, is taking place.
Only two bookings for United in the entirety of last season hinted at a dramatically improved temperament. The dismissal on England duty for kicking out at Montenegro's Miodrag Dzudovic was a foolish and ultimately costly relapse, but for once indiscipline proved the anomaly.
On the whole, Rooney allowed himself to forget everything and focus on his football, and reminded everyone that he is, in fact, rather good at it. A tally of 38 goals in all competitions would be astonishing in almost any other era, but remains impressive in this one.
While admittedly less spectacular than past campaigns, United's talisman enjoyed the most controlled and efficient season of his career.
So far this term it is Rooney's versatility rather than his goals which are the true testament to his phenomenal ability.
The summer arrival of Robin van Persie surely answered any lingering questions he had about the club's ambition, but it also meant he could no longer feel untouchable in the side. Moved back into an attacking midfield role he has, rather than sitting and cursing his lot, allowed himself to be reborn as United's likeliest successor to Paul Scholes.
Against San Marino goals will once again be the order of the day. Yet against such paltry opposition, England fans will not be content with such a return. They will want to see a team performance of style, energy and verve. But even more, they will want to see the leadership, class and fire behind the eyes of a captain whose ability must be harnessed if success is ever to be more than a distant dream.
Follow Liam Twomey on