COMMENT
By Ronan Murphy
"All that is important is the result."
That was the standout quote from Giovanni Trapattoni's post-match interview last night. After a late comeback against Kazakhstan, the Republic of Ireland sit second in Group C, three points closer to the 2014 World Cup. Fans in Wales, Finland, Northern Ireland, Norway, Slovenia and Turkey would be envious of their position after all losing their opening games. Yet Irish fans are not happy. Before the game, people were calling for Trap's head, and despite the win, their pitchforks are now even sharper. But is there an alternative to Trapattoni's much-maligned system, and, even if there was, is there a viable option out there to deliver it?
The answer is that there is not. People complain about Trapattoni and his tactics, but would the inclusion of Ciaran Clark, Wes Hoolahan, Andy Reid and Darron Gibson under a different manager see Ireland get significantly better results? In the past two qualifying campaigns, Trap has lost just two matches. That is a record any manager would be proud of.
Trapattoni is a manager with pedigree. He is a proven winner. He has had two decent qualifying campaigns with Ireland so far. If the FAI was to follow the desires of Richie Sadlier and sack him in the morning, there would be few capable replacements. Joe Kinnear is a name always bandied about when there is an Irish managerial appointment. David O'Leary was sacked after just seven games managing Al-Ahli in the UAE. And Mick McCarthy, a man appointed to the role 16 years ago, would be a regressive appointment.
There is no point in thinking Ireland could get a bigger or better name as manager. The only reason Trapattoni is there in the first place is down to a private investor. The FAI is burdened with debt and can neither pay off Trap if they give him the boot, nor afford to buy out a club manager's contract. That removes people like Chris Hughton and Owen Coyle from the equation.
And would they even want the job anyway?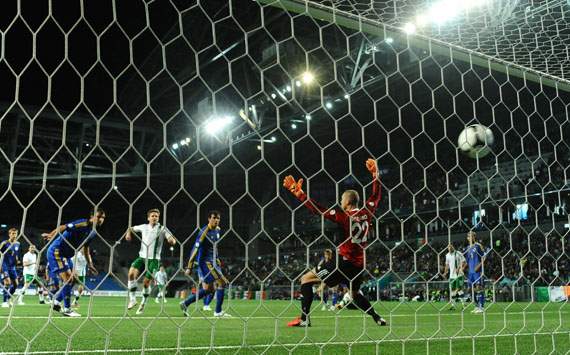 Late Late Show | Doyle's winner put a gloss on a poor Ireland display
Trapattoni is far from the perfect manager. But he is the best Ireland are likely to get at this moment in time, and despite the undoubtedly dismal nature of last night's win, there were actually some positives to be taken that could be lost among the frenzied response. James McCarthy was a bright spark in midfield. His passing was more varied and more accurate than we ever see from Glenn Whelan or Keith Andrews. McCarthy is a player brimming with confidence who can pick out a team-mate, and this was shown many times during the game, particularly when he played Aiden McGeady in with a cheeky chip over the full-back.
With Damien Duff gone, McGeady was forced to do almost everything in an attacking sense last night. Although his first touch let him down on a couple of occasions, he regularly beat his marker and put the ball into the box time and time again. He worked tirelessly to get Ireland back into the game, and at times he looked frustrated with himself and his team-mates, but he never gave up.
Four of Ireland's last five goals have come from forwards. Each of those four goals has come from the foot or head of a different forward. Ireland may not have an abundance of talent in all areas of the pitch, but up front, Trapattoni is over-saturated. Robbie Keane was largely anonymous last night, but he is almost always reliable when it comes to winning and taking penalties, while Shane Long and Kevin Doyle work hard and get the rewards. Simon Cox also knows where the goal is, and when played up front, gets efforts away. Jon Walters has not scored since the Estonia play-off, but the big man offers Ireland something different if a more direct approach is needed.
The direct approach, admittedly, was used far too often against Kazakhstan. They are theoretically a weaker football team than Ireland, and the Boys in Green should have been able to pass them into submission. However, time and time again, the ball went long from Keiren Westwood, Stephen Ward, and John O'Shea, totally bypassing the midfield. Although Simon Cox worked hard in wide midfield, the position does not come naturally to him, and the team as a whole only started to play good football towards the end of the game when they converted to a 4-3-3 set-up.
Trapattoni's 4-5-1 saw Ireland retain the ball better in the friendly against Serbia, and the 4-3-3 for the last 20 minutes last night allowed us to repeatedly put pressure on the defence. This is something that needs to be further explored against Oman on Tuesday night. Trapattoni can then use three forwards, but with two as proper advanced wingers rather than having one as a wide midfielder. McCarthy and McGeady will provide creativity in midfield, while Whelan can play a more defensive role.
There are options there for Trapattoni to build on, and there were positives to take from last night's match. The biggest of all was that Ireland won and now have three points on the board.
All that is important is the result.
You can watch Ireland's friendly with Oman on Tuesday exclusively live through Goal.com in the United Kingdom and Australia. Click here to subscribe.