ANALYSIS

By Daniel Edwards | South American Football Editor
As is natural with any attempt at jamming the chaotic, dynamic world of football into a neatly-defined linear chart, the

Fifa

World Ranking have attracted their fair share of derision and disdain across the years. Even a seemingly positive outcome of the calculators' machinations can attract sneers; witness English newspaper
The Daily Mail
and their disbelieving coverage of England staying ahead of Italy as the 'fourth' best team in the world for compelling evidence that, to some, the list currently headed by Spain is little more than a joke.
Across the Atlantic Ocean in Brazil, however, nobody is laughing. Accustomed to leading the rest of the planet when it comes to mastery of the round ball, the people of the South American nation woke up on July 4 to terrible news. Not only were

Neymar

,

Thiago

Silva & Co. not considered the best in the world - which was no surprise - but for the first time in history, they found themselves out of the top 10 according to

Fifa

.
As the hosts of the upcoming 2014 World Cup, the
Selecao
have for the past year seen no competitive football, something that weighs heavily in the governing body's ranking calculations. This has a decisive bearing on the list, especially with their European and South American rivals engaged in top-quality football which counts for far more in the eyes of

Fifa

.
While Italy and England, two of the highest climbers in June's changes, were harvesting points thanks to their exploits at
Euro 2012, Brazil could only point to two friendlies played - and lost - against Argentina and Mexico - in their tally. Furthermore, that pair of defeats occurred with a team designed for the upcoming Olympics,

shorn

of over-23 players and who nevertheless gave two sides ranked in the top 20 extremely competitive matches. Mano

Menezes

' team are raw and inexperienced, but steadily improving and the last thing needed is panic.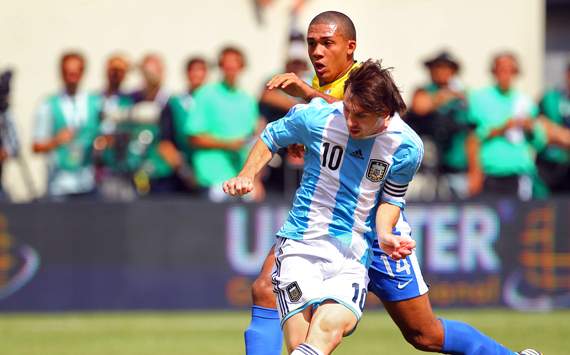 The Executioner |
An inspired

Messi

netted three to condemn Brazil to defeat in June
The Brazilian media, however, somewhat predictably went for a rather gloomier picture. "Going down",
Globoesporte
, the country's biggest news network, splashed across the website's front page in an apocalyptic reading of the latest standings. All reflecting an 11th position which is the worst fate suffered by a Brazilian squad since records started in 1993. Comments beneath the piece were no less extreme, calling for the head of Mano as soon as possible if, in a speech that has become depressingly well-repeated over the last year - the nation is to be saved from 'shame' or 'humiliation' in 2014.
In a country where symbolism is king - witness the devotion to the
Canarinha
yellow shirt brought in after the 1950 World Cup, where the lack of national sentiment attached to its white with blue trim predecessor was blamed for a final defeat against Uruguay - it is perhaps no surprise that the fall in a ranking system paid little heed in many parts of the world should provoke such ire. For that reason it is worth analysing where it has 'gone wrong' from those heady days of April 2010, when Brazil sat at the pinnacle for the last time.
BRAZIL'S FIFA UPS & DOWNS
Year
1993 (Aug)
1994-2001
2001
2002-07
2007
2008
2009
2010
2011
2012 (Jan)
2012 (July)
Position
8
1
3
1
2
5
2
4
6
6
11
Change +/-
n/a
+7
-2
+2
-1
-3
+3
-2
-2
0
-5
What has followed from that point, and in all honesty even beforehand, is a series of mediocre Brazil teams that have failed to either set the pulse of their fanatical home support racing, or consistently win football matches. A painfully average World Cup campaign in South Africa ended in a timid quarter-final exit and the end of

Dunga

, followed by promises from successor Mano that the essence of Brazilian football would once more triumph over the pragmatism and caution of the previous coach.
What we witnessed could not have been further from that rose-tinted vision. The
Selecao
limped to a last-eight elimination in a 2011

Copa

America that was every bit as banal as the campaign fronted by

Dunga

12 months previously. Just one victory and three draws were achieved before they bowed out on penalties to Paraguay, a team that reached the final of that tournament not having won a single game within the 90 minutes.
A whirlwind tour of friendlies following that

Copa

, oscillating neatly between victories deemed meaningless and defeats or draws deemed devastating, have done little to convince either the media or the public that the 2012 class, just 24 months before the start of a home World Cup in which victory is expected as a birthright, are up to the task. Wednesday's damning calculations do nothing to ease this fear.
Are we currently looking, then, at the worst Brazil team ever to represent the
Pentacampeao
? Let us take a moment to step away from hyperbole and back into reality. With stars such as

Thiago

Silva and David

Luiz

at the back,

Kaka

,

Neymar

, Hulk and

Ramires

further up and a raft of youngsters just itching to make their name, this is not by any means a bad team.
For that matter, nor was the class of 1974 who failed to emulate Pele and retain the World Cup in Germany. Only a Netherlands squad widely regarded as one of the greatest ever to step onto a football pitch managed to take down a team that contained the talents of

Jairzinho

,

Rivelino

and

Botafogo

legend Paulo

Cezar

: although the third-place play-off was also surrendered to Poland.
Surely then the team of 1990? Another side infamous for their underachievement while wearing the sacred colours. A last-16 exit and, worse of all, one sealed by defeat against arch-rivals Argentina means that the side coached by

Sebastiao

Lazaroni

and his ill-fated 3-5-2 tactical

tinkerings

was consigned to the darkest corners of Brazilian football history. A team that contained the likes of

Romario

,

Dunga

,

Bebeto

,

Taffarel

,

Aldair

and

Careca

, though, was far from short on talent.
'Going down',

Globoesporte

, the country's biggest news network, splashed across the website's front page in an apocalyptic reading of the latest standings
Few remember or want to remember that having waltzed through a tricky group with three victories, only a super-human effort in goal from Sergio Goycochea, the woodwork and terrible finishing, followed by Diego Maradona's magic opened the game up for Claudio Caniggia and sealed a completely undeserved 1-0 victory. In a tournament that has become notorious for negativity and cynicism, Brazil were desperately unlucky not to progress into the latter stages and have a real shot at the title.
The bottom line is that, no matter how insistently the domestic media tries to paint their team as failures, Brazil can never be written off. Two years still remain until play kicks off in Rio,

Sao

Paulo and across the nation to mark the return of a tournament considered Brazilian property merely in the temporary hands of Spain, Italy, whoever. The time to judge will come, when the
Selecao
attempt to finally lay to rest the ghosts of 1950,

Alcides

Ghiggia

and the
Maracanazo
by lifting the World Cup a sixth time.
There is still a lot of work to do for Mano's men before that, many questions surrounding the team with precious little time to find the answers. But it is not the time for desperation and worthless self-flagellation over the latest ranking, it is time to find practical solutions where it counts, on the field of play.
And if the faithful back in Brazil are still not convinced, they can always look to the history books for a silver lining. When the

Fifa

ranking first appeared officially in August 1993 the
Selecao
were a lowly eighth, just as one Carlos Alberto

Parreira

walked through the door. Less than one year later,

Dunga

was holding a fourth World Cup trophy high above his head in the United States. A more encouraging omen for the 2014 hosts as they face up to the ignominy of number 11 would be impossible to find.