TIDYING UP ALL THE LOOSE STORIES IN FOOTBALL THIS WEEK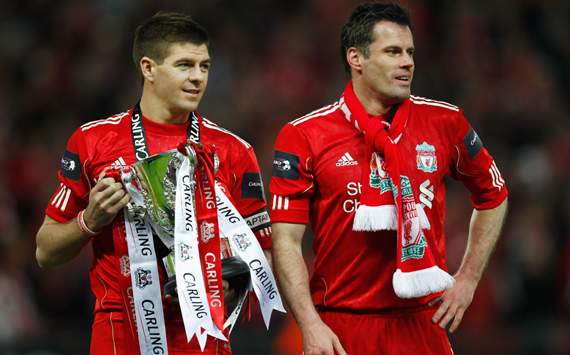 GERRARD & CARRAGHER RAISED CARROLL CONCERNS
As one-club men who have clocked up nearly 1,300 Liverpool first-team appearances between them, Steven Gerrard and Jamie Carragher are revered figures at Anfield.
Manager Brendan Rodgers was so keen to tap into their local knowledge when he took over as manager earlier in the summer that he sat them down and asked what they thought of each individual player in the Liverpool squad.
A source told
The Sweeper
: "The idea was for Brendan to get Gerrard and Carragher on board and show them he values their opinion.
"Brendan had them in and went through each player one by one. He said, 'Do you think x or y is a Liverpool player or not?'"
It is understood that Andy Carroll was one senior player whose capability was questioned while misgivings were also expressed about Daniel Agger's mentality and fitness record.
Subsequently, Carroll was loaned out to West Ham United on the penultimate day of the transfer window while Agger's long-term future remains in doubt after Manchester City failed to match Liverpool's valuation of the centre-back.
"Brendan has given Gerrard and Carragher a lot of responsibility," the source added. "He recognises how important it is to have them as allies, especially as a number of high-profile former players have been asking how he is manager of Liverpool."
- Wayne Veysey | Chief Correspondent
KABOUL SET FOR LONGER SPELL ON SIDELINES
Tottenham players were all smiles this week as they were finally able to enjoy the facilities at the club's new state-of-the-art £40 million training complex.
But defender Younes Kaboul was not so happy after making a slow start to his recovery from surgery last month on a knee tendon injury that the club believe will keep him out until the New Year.
The France international has told friends he fears the initial four-month prognosis for his recovery is optimistic and believes he faces an even longer spell on the sidelines.
At least he can undergo his rehabilitation using some of the best facilities in Europe in the Hotspur Way gym and hydrotherapy pool.
- Greg Stobart | Correspondent