TIDYING UP ALL THE LOOSE STORIES IN FOOTBALL THIS WEEK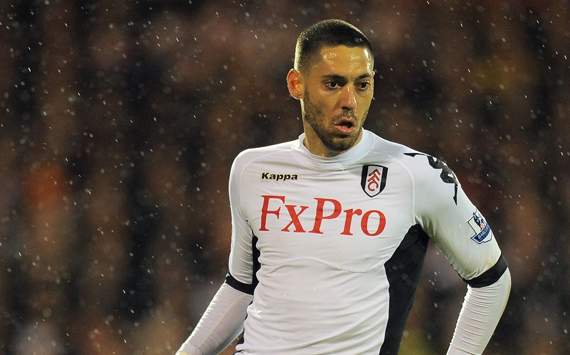 FULHAM TO WITHDRAW DEMPSEY DEAL OFFER AS RIFT GROWS
Martin Jol made no attempt to disguise his disdain for Clint Dempsey's pre-season conduct during an incendiary media briefing on Friday.
The west Londoners have fined Dempsey for refusing to play for the club again following Jol's claim that it would be "impossible" to keep last season's 23-goal top scorer at Craven Cottage.
As revealed by Goal.com earlier this month, Dempsey has been training on his own after making it clear he does not want to play for the Londoners again while waiting for a move to Liverpool to materialise
.
The Sweeper can also reveal that Fulham are ready to withdraw their offer of a new three-year contract with an option for a fourth year.
Dempsey rejected the deal earlier in the summer but the club said it would remain on the table until his future was sorted.
However, the attacking midfielder, whose current deal expires in a year, has infuriated his employers to the extent that they are having second thoughts about extending his spell at the club should he not switch clubs by the end of the window.
Jol claimed it was "embarrassing" that Liverpool had failed to follow up their sustained interest in Dempsey with a concrete bid.
The Sweeper has learned that Dempsey was so confident he would be leaving Craven Cottage that he asked for permission to return to pre-season four days late last month, a request that was reluctantly granted by the club.
Jol's anger emanates from the 29-year-old telling him at the end of last month that he did not want to go on a week-long pre-season training camp to Switzerland, which led to a heated debate between the player and manager at the training ground.
With Liverpool undecided whether a move for Dempsey is right, even at the £5-6million mark at which Fulham would be comfortable selling, Everton and Aston Villa could be encouraged to follow up their enquiries with a formal offer.
There is also interest in the midfielder from Italy, with Juventus, Napoli and Milan among his admirers, although it is understood that the American would prefer to stay in the Premier League rather than move to Serie A.
TOTTENHAM FAN GRANTS VAN PERSIE ACCESS
Live filming can be a precarious business, and that was the case on Thursday morning when Robin van Persie arrived at London St Pancras train station en route to Manchester to complete his move from Arsenal.
Sky Sports News had been tipped off about Van Persie's arrival from Brussels and approached the station authorities to gain permission to use their cameras on the site.
Officials were initially reluctant to allow the TV station to film, claiming footage of a footballer walking through St Pancras was not in the public interest.
But one senior official relented because of his north London allegiance. "I'm a Spurs fan, I hate Arsenal," he is believed to have said before turning a blind eye to the soon-to-be-ex Gunner's appearance.
Follow Wayne Veysey on