TIDYING UP ALL THE LOOSE STORIES IN FOOTBALL THIS WEEK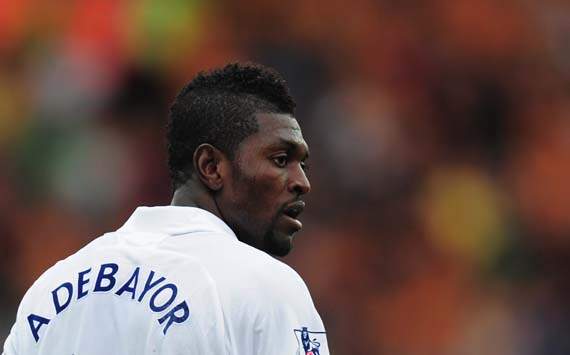 ADEBAYOR SWITCH SET TO GO DOWN TO THE WIRE
Emmanuel Adebayor's move to Tottenham has dragged on well into August because of his financial demands.
The Sweeper
understands that there is no immediate end in sight to one of the summer's principal transfer sagas and that the deal is likely to go down to the wire, perhaps even to the final days of the transfer window when Spurs chairman Daniel Levy tends to conclude so much of his business.
Nevertheless, all parties are confident that Adebayor will back down and be a Tottenham player on September 1.
As revealed by Goal.com last week
, the striker has threatened to pull the plug on his move to White Hart Lane unless he is directly handed the £4 million transfer fee that Spurs have agreed with Manchester City.
He wants to effectively leave the club he joined for £25m from Arsenal in 2009 on a free transfer even though the package on the table matches his current £170,000-a-week City deal.
The Premier League champions have agreed to subsidise his basic Spurs salary, which will be supplemented by a £5m signing-on fee, to offload him from a squad from which he has long been frozen out of by manager Roberto Mancini.
Adebayor has threatened to stay at City and see out his contract, which has two more years to run, but the club are refusing to bow to the Togolese's demands and give up any of the transfer fee to him.
It is increasingly likely that the 28-year-old will begin the new season on the sidelines at City as the long-running affair continues to draw out.
Adebayor's stance has frustrated Andre Villas-Boas, the Tottenham manager, who has been preparing his team for the new season with only one senior striker in Jermain Defoe and has even used Gareth Bale at the point of his attack during pre-season.
SENDEROS PAVES WAY FOR ANOTHER INJURY
Philippe Senderos has suffered his fair share of misfortune with injuries during his career.
But
The Sweeper
has learned that the accident-prone Fulham defender reached a new low in pre-season when he fell off a pavement and twisted his ankle.
As a result, Senderos has missed Fulham's entire pre-season programme and he is unlikely to be fit in time for the new campaign.
It is a blow for the Swiss, who had hoped to break up the club's established centre-back partnership of Brede Hangeland and Aaron Hughes.
LONDONER KEY FIGURE IN LIVERPOOL NAMING RIGHTS PLAN
Liverpool's principal owner John W Henry raised the prospect this week of the club selling the naming rights to Anfield.
This comes following a considerable shake-up of the commercial staff this summer, which followed on from the appointment of Olly Dale 12 months ago as the club's UK-based senior vice president for international sales.
The Sweeper
has learned that Dale, who was poached from Fulham, was employed directly by Liverpool's Boston-based owner Fenway Sports Group to lead the club's search for a naming rights partner to finance their stadium plans.
Dale is based in south-west London but has been spending most of his time in Liverpool as the club step up plans to redevelop Anfield.
Follow Wayne Veysey on