COMMENT

By Daniel Edwards in La Plata
As referee Raul Orosco blew the final whistle to bring to an end a tense 0-0 draw between
Brazil
and
Venezuela
, the difference in the reactions between the two teams could not have been more marked. The Selecao, inheritors of a tradition of five World Cups, eight
Copa Americas
and unequalled prestige in the world of football, trudged off the field dejected and with heads bowed. The boos and whistles of the Verdeamarelho support accompanied them, stinging the ears of
Mano Menezes
' side as they failed to impress on their 2011 Copa debut.
The Venezuelan national side, meanwhile, were in no such hurry to return to the dressing rooms. They grouped in the middle of the stands and applauded the thousands of fans who had travelled the length of South America to follow them in Argentina. Their affection was duly returned with a standing ovation, from the passionate followers of a nation that has had little to cheer about inside the white lines of a football pitch.
Long regarded the minnows, the cannon-fodder, an easy three points on their home continent, a battling draw from Cesar Farias' men is yet another indication that, in the land where baseball is king, the beautiful game is finally managing to make an impression.
The coach himself was certainly in agreement when he saluted his charges after the encounter. "No doubt, this was a historic match in the Copa America," he told reporters as the euphoria of a point against Neymar and Co. still flowed through his veins.
"When we had the chance to play, we played; and when we had to be gladiators in defence we rose to the challenge."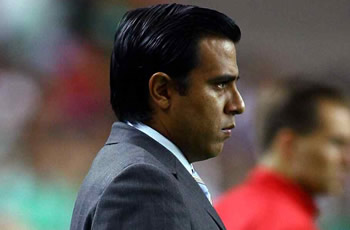 Fantastic Farias | The baby-faced coach had every right to be proud of his side's effort
Venezuela were helped by an insipid performance from their rivals. For all coach Mano Menezes' wishes for a return to flowing, attacking football, too often the ball was bogged down in the middle of the pitch, and the team's virtuoso attacking talent was reduced to playing kick-and-rush, on the break football. Robinho and Dani Alves down the right were particular culprits in failing to get the game going, while too often Santos star Ganso was an exasperated figure as the ball pinged around him at a pace he clearly was not comfortable with.
These things do not occur in a vacuum, however, and much credit must be given to the sheer heart and commitment shown by Venezuela.
More than anyone else on the pitch, central midfielder Tomas Rincon was outstanding in tenaciously breaking up the play, as after several scares in the first 45 minutes Venezuela suffocated their opponents' ability to break forward in numbers. The 23-year-old Hamburg star was described as having "20 lungs" in a profile penned by
La Vanguardia
, and few in the Estadio Unico would doubt that having watched a tireless, exemplary display of enforcing the midfield. Ramires and Lucas Leiva certainly will not be forgetting the name any time soon after a handful of bruising encounters in midfield.
There were heroes all over the pitch on Sunday evening - goalkeeper Renny Vega was another star after a string of top-drawer saves - and left one of the most passionate supporters of Venezuelan football absolutely thrilled. President Hugo Chavez is currently recovering from cancer surgery, poignantly meaning that the man who has done more than anyone to transform the Vinotinto from a sporting joke to a serious challenge was not present in Argentina to see the fruits of his labour.
It was this polemic figure who pumped resources into improving stadiums and infrastructure, and who brought Diego Maradona to the nation to enrapture the people. The sea of blue, yellow and red flags inside the Estadio Unico on Sunday, and the pure emotion of their final whistle ovation, implies that his efforts have not been at all in vain.
Hugo even managed to send a message to the people and his team in the hours before the game, as he continues his convalescence in Cuba. "Brazil are trembling, because the Vinotinto are coming! We shall overcome!" was the president's bombastic address via Twitter, and the fierce patriot can only be proud of how the 11 men on the Unico pitch represented the Bolivarian Republic.



"A tremendous game by Venezuela, we are proud of all you guys! Congratulations to coach Cesar Farias

."



- Chavez salutes the Vinotinto heroes via Twitter

One result does not by any means make a team, and Paraguay and Ecuador will present their own difficulties as two very tough prospects for Farias' men. It is indisputable, however, that things are changing. After hosting the Copa in 2007 and recording their first victory since 1967 - eventually finishing sixth in the tournament after bowing out against Uruguay in the last eight - one can only see a gradual, if noticeable, growth in the country's football scene.
Quality players such as Rincon, Salomon Rondon of Malaga and Twente's Roberto Rosales have Venezuela's immediate future on the pitch firmly secured, while Yohandry Orozco and Luis Manuel Seijas are just two of several immensely talented youngsters waiting patiently in the wings. In Farias they are also blessed with a brilliant young coach - he is just 38 years old - who against Brazil demonstrated that he knows just how to cut down a more illustrious rival to size through tactical subtlety and awareness.
Off the pitch, meanwhile, the sheer number of fans present in La Plata point to a growing appreciation of the sport amongst the general public; even if they were inflated by Argentine well-wishers demonstrating an impeccable example of
Schadenfreude
in gleefully enjoying the toils of their rivals.
Major League Baseball stars such as Elvis Andrus, Martin Prado and Felix Hernandez may currently occupy the pantheon of Venezuelan sporting idols, but all indications suggest they may soon have to accommodate their compatriots who favour their feet over a bat and catcher's mitt. 'El Presidente's' idols are the talk of the Copa America after frustrating Brazil, and their future looks ever more secure as a growing force in South American football.