By
George Ankers
Look Mou's back

O, happy day! Run next door and give your neighbour a hug! Run back out into the street and give that street urchin sixpence to buy himself a Christmas turkey! Skip through a field singing 'Three Little Birds'! Jose Mourinho is coming home, everybody!
Like him or loathe him (and, seriously, come on; you like him), the Portuguese's imminent return to English football can only be an exciting thing.
WWLTW
has not been this giddy since they started making new episodes of 'Futurama'.
GETTING THE BAND BACK TOGETHER
WHO'LL JOIN MOURINHO AT CHELSEA?

CHIEF SCOUT: ANDRE VILLAS-BOAS

The presumably-then-teenage Villas-Boas's scouting dossiers were invaluable to Mourinho's Stamford Bridge success. Given that his job was essentially to play 'Football Manager', the 35-year-old should be able to fit it in around his full-time Tottenham job.

LEFT-BACK: WAYNE BRIDGE

Want to avoid even the slightest hint of the player power that has flourished since Mourinho's departure spilling over? Undercut John Terry's authority by re-signing his handshake nemesis. It might even make the 'Captain, Leader, PR Disaster' do the decent thing and take off.
CENTRAL MIDFIELD: FRANK LAMPARD

Some idiots are about to let the veteran go on a free transfer this summer - what a coup it would be for Chelsea to snap him up on the cheap.
Mourinho, of course, invented the concept of the manager when he first joined Chelsea in 2004. Previously, clubs had been coached by pale, mute worm-people who shunned the media and dully accepted the results that were dealt to them by fate.
But then he strode into the spotlight (Porto who?) and smashed down the barriers for bosses. Mourinho has proved that managers can gouge each other's eyes but also talk about omelettes. He wore laundry bins like he wore his fine coats. He made management sexy.
Without his presence, the English game has struggled, so desperately missing a maverick genius to take his place. The most charisma that the Premier League has mustered in his absence has been Paul 'Captain Monotone' Lambert.
Do we deserve better? Please; have you seen the state of the game in this country? But do we want better? Of course we do. And Jose wants it too.
"I want to be where people love me," he told
ITV
on Tuesday before the broadcasters remembered that they had left the oven on and fled before he could finish his sentence.
Then you've chosen right, Jose. You can come home. Come home and imply that our referees are in a conspiracy to heap misery upon you and your brave players. Come home and grind out more 1-0 wins in triumphant tedium. Come home and call your colleagues "voyeurs" again. It's OK. You can do that here.
We've kept Paulo Ferreira warm for you.
Photo of the week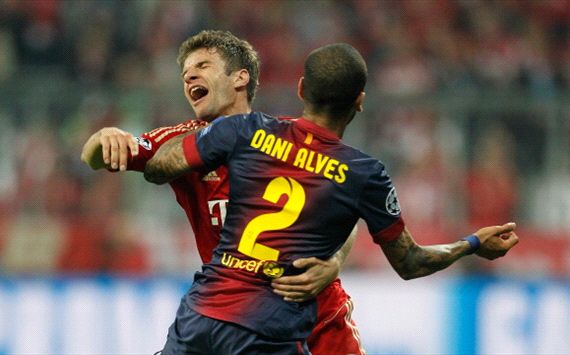 It takes two to tango

More like UFA, eh?
For an organisation calling itself the Professional Footballers Association, demanding your money back from a comedian who was hired to tell jokes and did exactly that does not seem particularly professional.
For an organisation composed of current and former footballers, the lack of appreciation for a good scouting network is bizarre. Only the briefest of internet searches would have revealed what kind of comedian they were booking in Reginald D Hunter.
For an organisation ... OK,
WWLTW
doesn't have a third prong that particular argumentative fork. Suffice to say that the PFA's un-nuanced, head-burying stance on the issue of racism and its conduct towards Hunter is even more of a joke than Clint Hill's snub by the awards voters.
The fashion police are nowhere when you need them
It strikes
WWLTW
as foolish and irresponsible for Liverpool to unveil a red home kit for next season. What if Luis Suarez thinks it's ketchup?
Gareth Bale's next award triumphs
| | | |
| --- | --- | --- |
| Women's Footballer of the Year | TIME Person of the Year | Britain's Got Talent |
| | | |
| "I must say I'm quite surprised ... but I'll take it" | More than any politician, humanitarian or innovator, Bale's chase-and-poke comedy goal against Wigan truly spoke to the state of humanity at this moment in our evolution | "OK, I don't mean to be rude, Gareth, but I've gotta say, I've never seen anyone sing 'La Marseillaise' on a unicycle before. A thousand per cent yes" |
Follow George Ankers on