By
Tom McKeown
Football: Not the new cricket

It's official: football is the new cricket. No, not really. Not the trousers and the tea anyway.
While the powers-that-be worried technology could end up turning a 90-minute match into a full-blown five-dayer as we scrutinise every kick or tackle (these are of course, in Bobby Zamora's case, one and the same), those fears have been allayed by one revelation: Technology is actually quite good these days.
Cast your minds back to World Cup 2010 and THAT Frank Lampard goal-that-was-but-actually-wasn't for England against Germany, which ultimately ended in a crushing [score censored for fear of crying] win for the auld enemy. Oh, the heartbreak!
WWLTW
wore black for some time after that, although it was quite slimming.
A nation screamed at the television as the mind - and physics - bending
Jabulani
somehow flew over the line only to bounce back out.
A serious appeal from Goal.com


This is a Goal.com appeal for help with a serious illness.

One that Premier League stars such as Adel Taarabt struggle to deal with every week: A fear of footballs.

It can strike at any time and has been known to divide families and friends.

With a donation of just £75,000 a week you can make these people's lives much, much easier.

Thank you.
If only there was some clever way we could have avoided that misery. If only that goal had been given, we may have endured that familiar, heart-warming comfort of a defeat on penalties instead.
Although Sepp Blatter has made more U-turns than a nervous learner driver over the issue, we are about to see someone changing something in football for the first time since black boots became unfashionable.
"Hawk-Eye" may be the name of a character in
The Avengers
– one who is far too friendly with a certain Scarlett Johansson for
WWLTW
's liking – but it's also the name that will settle many a thirty-second argument in the pub, given its "millimetre accuracy"...
Two men are at their local watering hole, watching their teams play each other when the dreaded did-it-or-didn't-it-cross-the-line scenario occurs.
"That was over the line!" says one esteemed gentleman.
"It most certainly was not, my good man," replies the other, offended by such a suggestion.
Cue replay showing it was indeed over the line. Originally offended gentleman harrumphs in resignation. End scene. Exit to much applause.
That sort of embarrassment will be a thing of the past. We'll have nothing to argue about, and the world will become a den of iniquity where we all sing in harmony and...oh, wait, so there's still the problem of offsides, red cards, handballs, penalties, why TV directors won't show pitch invaders etc...I suppose that'll do.
Somewhere, anyway, Roy Carroll is counting himself very, very lucky.
Photo of the week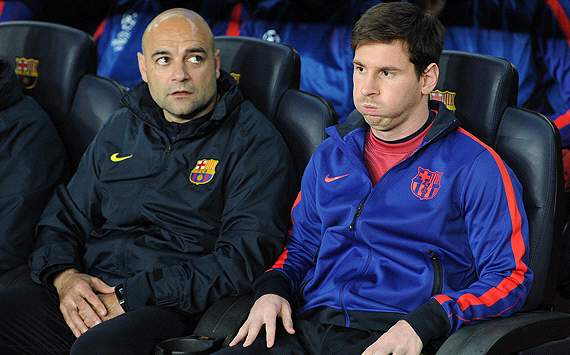 "Told you I could fit all those Maltesers in at once..."

BVB? More like Me, Me, Me
And the award for "Match Report-buster of the Week" goes to Jurgen Klopp's men for their, quite frankly, selfish late double to cap a miraculous comeback against Malaga and book their place in the Champions League semi-finals.
Everyone was ready to pack up and pat the southern Spanish team on the back for a superb result in Germany. But, with shades of 1999, Klopp's men had other ideas. The Sheringham and Solskjaer of 2013, though, are a certain Marco Reus and Felipe Santana, who prodded home from what seemed like millimetres out. (I can't be sure of the distance; ask Hawk-Eye.)
Klopp wasn't one to be outdone by goings-on on the pitch as he gave one of the greatest television interviews of all time. His facial expression on being told Santana's winner was offside looked like he'd just been told for the first time that Santa isn't real.
(He is real, kids, honest.)
LEAKED: PAOLO DI CANIO'S TO-DO LIST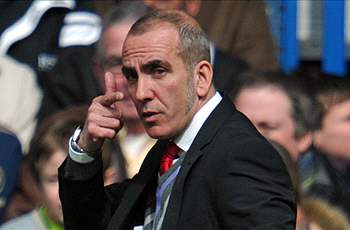 1. Sort out the defence and strikers
2. Buy new jumper
3. Maybe avoid using the right wing too much
Street Xavi
Barcelona are very clever. They can draw two games and still be called winners. Absolute genius. Move over, Einstein, Newton & Co.
Things threatened to get a bit...ahem...messy (sorry) for the Catalan giants when Javier Pastore put £150 million "plucky underdogs" PSG in front on aggregate, but Pedro's left foot did the job as they drew their way to glorious victory.
Lionel "The Next Messi" Messi apparently doesn't even need to be fully fit to inspire his team to victory. Most humans need functioning limbs to walk or run, let alone kick a football, but not this man.
However, it was another diminutive Barcelona man in the form of Xavi, clearly fed up of Messi's regular entries into
Ridiculous Footballing Records Monthly
, who chalked up a stunning stat of his own as he completed 96 passes out of 96.
100 per cent passing accuracy. 100%. Only in the realms of video game-dom has this sort of stat been achievable, and that's only when
WWLTW
sticks the difficulty on 'Semi Pro'.
Follow Tom McKeown on