By
George Ankers
European games need a rule change

After a curiously bipolar set of European matches, some have begun to ask: Is it time to abolish the away goal?
Uefa's in-vogue method for deciding tied aggregate scores does appear to be falling out of fashion like Bambi in a Vivienne Westwood dress.
There are fair criticisms; is it a bigger achievement to score away from home or to keep a clean sheet? Arsenal arrived at Bayern Munich as serious underdogs and produced a fine performance to win 2-0, yet it was not enough.
What else we learned this week...


It is official: Getting promoted from the Championship is the worst career move you can make as a manager. First Nigel Adkins, now Brian McDermott. Reading's timing is the strangest yet; had owner Anton Zingarevich only just noticed that McDermott was bald or something? Time to put your house on Sam Allardyce looking for a new house of his own this summer...
And then, when it got to extra time at San Siro, why should Tottenham have half an hour longer to score a game-changing away goal? Uefa's argument is that it is offset by the hosts having 30 minutes more in front of their home crowd, a rebuttal made laughable by the fact that fewer people attended the game than went to see Danny Dyer's latest "film", 'Run For Your Wife'.
All this is well and good but are we addressing the real problem? The Gunners might feel hard done by, for example, but
WWLTW
posits that it should have been illegal for them to be able to qualify after a first-leg performance such as theirs. Perhaps it is time to abolish the first leg altogether.
William Gallas, too, should certainly not be allowed to do ... well, whatever that was ... and still qualify. Therefore, second legs are clearly not appropriate barometers of worthiness to progress and should also be removed.
Now in a position in which no actual football matches can be played, European tournaments are free to be decided on a fairer basis, such as who has the nicest kit. Good news for Sporting Lisbon, then.
Photo of the week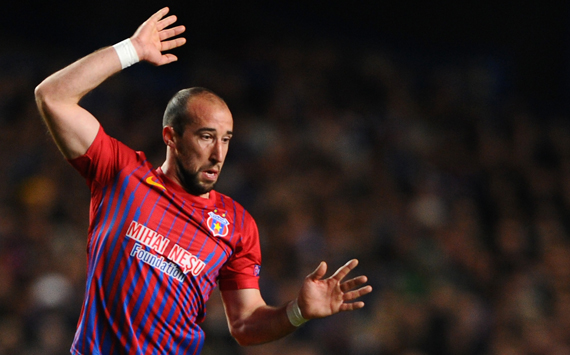 Iasmin Latovlevic's pioneering 'jazz-hands' marking technique left a lot to be desired

Hodgson goes back to the future
Marty McRoy did not understand how he had gone back in time to 2009 – something to do with Psycho's DeLorean – but there he was. All the proof he needed was the form of Rio Ferdinand.
Not that he could admit it, of course; when the young and impressionable-looking defender gave him a friendly look, McRoy yelled "footballing reasons!" and scampered away, scared of interfering with the timeline.
It was only when he looked at the newspaper cutting that he had brought back with him that Marty realised what was going on. Where before the back page had sported a picture of him announcing his England squad to the press, now his image was starting to fade...
What we will learn this weekend...


After Rickie Lambert scores five against Liverpool, Roy Hodgson admits that he is physically incapable of seeing the Southampton striker. "I'm terribly sorry for Rickie but whenever I look at where he allegedly is, all I see is a fuzzy blur in the air," explains the England boss. "I just wouldn't feel comfortable selecting a player whom I am unable to fundamentally perceive."
"By freezing Rio out, I've eliminated myself from my job in the future," McRoy breathed in shock. "Somehow I have to ask him back to the ball again or I'll never have existed! Great Scott!" Then he paused. "Well, Scott's actually pretty average now and wouldn't be playing if Sandro were fit. Not sure I can make that work as a catchphrase, though..."
Football needs to dream bigger
Twitter got itself in a tizzy on Wednesday when
The Times
claimed that a group of Qataris are pushing ahead with plans to form a 'Dream Football League', in which the planet's most glamorous clubs are invited to the Middle East every other summer and given £175 million each to play out a 24-team tournament.
If true, this would be more a nightmare than a dream,
WWLTW
agrees. But this column's misgivings go deeper than simply the idea of the sport being drowned beyond recognition in money (perish the thought!).
WWLTW
's main worry is for these mysterious Qatari backers and how they sleep at night; this "dream" of theirs seems spectacularly boring. If this were really a dream, the wealthy benefactors would be up front themselves, riding a unicycle into the box before slotting home and taking the trophy out of their sock to kiss.
Where is Cristiano Ronaldo morphing into Rod Stewart as he celebrates the cliched injury-time winner? Where is Leonardo DiCaprio driving a train through the pitch? Where is
WWLTW
's old French teacher hitting it with a [That's enough – Ed.].
Follow George Ankers on