By
George Ankers
The blame game
Rafa Benitez had his "FACT moment" on Wednesday night when he called out fans for their chants and his superiors for branding him "interim". The supporters popped right back with renewed venom, insisting that Chelsea's problems are his fault, not theirs.
But just who is to blame for the Blues' blues?
WWLTW
examines the many people responsible...
Firstly, Roman Abramovich is to blame. He should not have hired Rafa, of course, but he should not have bought Chelsea either. Had he invested in Cardiff City instead, the Blues would not be in this mess right now and the Welsh side might still have an identity.
What we forgot this week...


Why did we ever love Dimitar Berbatov in the first place? Alright, he can score volleys against Stoke City that appear to bend reality in front of your very eyes. But first the hand-drawn 'Keep Calm' T-shirt to celebrate scoring against Southampton earlier this season ... and now grinning complicitly as Fulham take their turn milking the Harlem Shake publicity cow. Where has the unknowable intellectual gone? The chain-smoking enigma? Bring that man back.
Benitez is to blame, too. For taking the job in the first place, for his terrible substitutions and squad use, for choosing an away night in Middlesbrough to castigate the fans. But mostly for wearing an orange tie to his first match.
The supporters are also responsible. They should be singing songs about David Luiz's hair or how Frank Lampard is so much better than Jody Morris, not implying that there is anything wrong with being a waiter.
John Terry is to blame for no reason other than that he is John Terry. Just look at him.
Barack Obama must take some of the flak. None of this season's disappointments had happened before he took office.
Pope Benedict XVI is obviously aware of his culpability in Chelsea's slump and has taken steps to rectify it. Since his announcement that he was to retire on February 11, the Blues' record is (P5 W3 D1 L1), a win-rate of nearly 10 per cent better than their pre-Papal record. Thank God for that, eh?
Photo of the week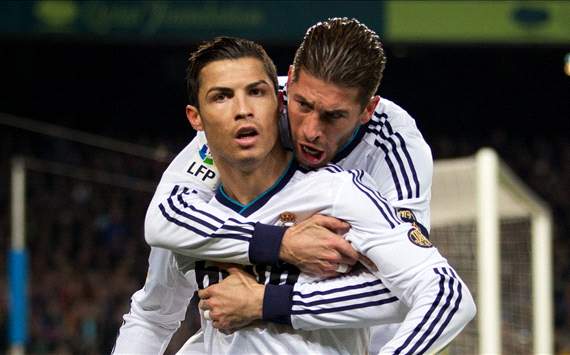 Cristiano could not understand why his 100mph piggyback ride was scaring Sergio

Immortal. Inspirational.
You have to be an extraordinary person for people to want to make a statue of you. It comes as a reward for incredible service (or tyrannical dictatorship). It is earned through many years of effort, through humility and loyalty.
Or you could just buy one.
In retrospect, Mario Balotelli could have chosen a better day to commission a statue of himself for his own house. As it transpired, news broke of his bronze cast on the same day when images emerged of the likeness being prepared by Arsenal of Dennis Bergkamp.
What we will learn this weekend...


Is there really a 'Chelsea curse' perpetrated by West Brom? The last two Blues managers lost to the Baggies in what proved to be their final Premier League match in charge. Now, after Rafa Benitez's furiously sensible monotonirade, there remains every possibility that he could be given the trebuchet treatment by Roman Abramovich if things go south. Is "boing boing Baggies" the modern era's "eye of newt, toe of frog..."?
You might argue that the two stories showed an unfavourable contrast between the professional footballers of 15 years ago and the self-obsessed man-children of today – but
WWLTW
disagrees.
Now that he has a statue of himself, Balotelli can look at his likeness every day and be inspired to recreate it. Unless Arsenal are planning to have Bergkamp come out of retirement to emulate ... actually, hang on a second. We might be onto something here.
Managers: Not irrelevant
And they said Pep Guardiola had it easy. It turns out that even a team as good as Barcelona need a coach.
With Tito Vilanova recuperating, the Catalans have had to turn to Jordi Roura to keep things ticking over for the time being. Thanks to the steady promotions up the ladder for Barca staff which saw first Guardiola and then Vilanova rise through the ranks, the former scout is now in charge while his de facto No.2 at this point is presumably the bloke who comes in occasionally to fix the coffee machine.
A club who regularly endure worse Februaries than a 13-year-old without a Valentine's Day card, the Catalans capped off a bad month with a rudderless Clasico stinker at Camp Nou.
But, for Real Madrid, was it worth reaching the final of a decidedly sub-Champions League competition at the expense of making Guardiola's old team look even better? This particular rivalry is 90 per cent trash-talk, after all.
Follow George Ankers on