By
George Ankers
AC Bradford
As the English television commentator screamed that "AC Milan have a shock goal at the San Siro!",
WWLTW
had to take a moment to realise that he was not joking.
With Sky Sports broadcasting so many Barcelona games that every man, his dog and his dog's fleas watch the Catalans beat some La Liga no-hopers 6-0 every week, surprise is perhaps understandable. There must surely, however, be some middle ground between expecting a Barca victory and reacting in dumbfounded awe to a club who won the Champions League as recently as 2007 scoring a goal at home.
Indeed, we have already witnessed Bradford City of League Two beating multiple Premier League opponents to reach the Capital One Cup this season to less fanfare than Kevin-Prince Boateng's opening goal. Clearly, Bantams fans can take great heart from the fact that commentators see them as more predictable winners than Milan nowadays.
What Fifa learned this week...


Goal-line technology is actually necessary after all! Fifa has been slower to take action on the issue than an indecisive snail but finally it has been confirmed that World Cup 2014 will see all controversy finally removed from football forever. Well, close enough, anyway.
Well, Milan may not have the titanic power of Bradford but
WWLTW
reckons they did just fine anyway. Stephan El Shaarawy, who appears to have sold his hair to the devil in a footballing Faustian pact, particularly caught the eye.
In the A-Z of European football, though, B is for the Plan B that Barcelona do not have. The hosts did their homework and played the way that Inter and Chelsea have done before, but better. Barca, at some point, should probably start to see this coming.
It could, of course, be that they simply did not want to do anything about it. It has been speculated that Wednesday's win bought Milan owner Silvio Berlusconi the equivalent of £3 million of campaign finance as he attempts to defy sense and win back the Italian prime ministership. Was this just the Catalans' way of avoiding legal loopholes on foreign political donations?
Mikael Silvestre is still alive!
Sometimes you do need a reminder.
Photo of the week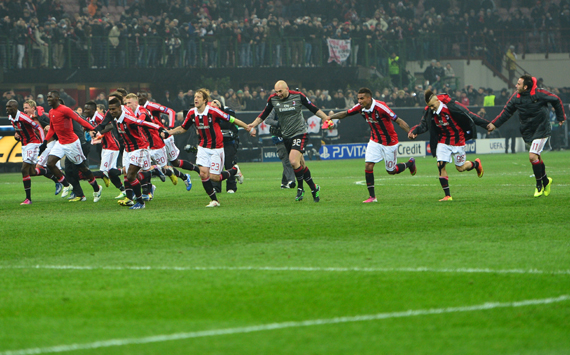 Revealed: The right formation to stop Barcelona scoring

Kolarov: The deadpan Balotelli
When Mario Balotelli left Manchester City at the end of January,
WWLTW
hardly knew what to do with itself. Who else in the Premier League could possibly provide anything like the comic joy that the crazy striker brought to the table?
It turns out that we did not have to look very far. Aleksandar Kolarov's dry, slightly confused recitation of 'Jingle Bells' in one of the club's pre-Christmas advent calendar videos was funny at the time but was unable to emerge from Balotelli's shadow.
But now, with Mario gone, the City left-back is really starting to indulge his gift for deadpan hilarity. When the club published their own version of the 'Harlem Shake' dance meme, they showed players and staff throwing all kinds of wacky shapes in strange costumes. Except for Kolarov, standing stock still with his arms folded, staring down the camera in stony silence. His indifference accentuated the silliness around him into outright brilliance.
What we will learn this weekend...


Time to sort the Roger Federers from the Greg Rusedskis as we gear up for a game of Rumour Tennis on Sunday. As the battle between Manchester City and Chelsea shifts in momentum from one side to the other, so the stories linking both clubs to Malaga boss Manuel Pellegrini will phase in and out of prominence. Except, in this Grand Slam, the winner will most likely be given to whoever wants it least.
Nobody could ever directly replace Balotelli.
WWLTW
understands that now. It is time for a new hero to rise. A man of few words but constant LOLs. Aleksandar Kolarov, you have been chosen. Do not let us down.
All grown up
Nearly a year since his mercy-killing at Chelsea, toddler managerial savant Andre Villas-Boas looks to be growing up at Tottenham.
It might not have been the most glorious of performances away at Lyon, Scott Parker might be more limited than a two-year-old at Alton Towers and the squad may have less depth than a Danny Dyer performance but it was still a thrilling victory in Europe.
Having won it all at Porto at an early age, the Portuguese is now firmly in his managerial adolescence and it shows in a team made in his own image. Brad Friedel's 'what-are-you-talking-about' celebration towards Lyon fans at the end of the match was a superbly teenage piece of trolling.
Sincerity might be hard to read from
WWLTW
but well done, Andre. It is genuinely nice to see you shutting up those early-season critics. Now, if we can just convince everyone to call you by your proper name rather than the childish 'AVB' nickname...
Follow George Ankers on