By
George Ankers
Debate over ... for now
In recent years, the question of "is David de Gea any good?" has been more divisive than a junior-school maths syllabus. Oh, the countless pubs trashed in scuffles between quiff-sporting Spaniard-sympathisers and furious detractors sporting Anders Lindegaard tattoos across their chests.
The media narrative on the Manchester United goalkeeper has been up, down, left, right, dissected and reassembled so many times that
WWLTW
occasionally needs a reminder: He's just a keeper who plays football and makes saves and stuff. And what a reminder we got on Wednesday.
At the Santiago Bernabeu, De Gea showed his big-game mettle with a series of excellent and increasingly unorthodox stops. His native country swooned. His adopted one murmured, "oh," and followed suit.
Why was anyone surprised? When the youngster joined United, the club were triumphantly hailed for investing in a kid who could be the bright future of goalkeeping. Then they complained that he wasn't the present.
What Rafa learned this week...


When you've been playing for 70 minutes and nothing - nothing - has happened, Yossi Benayoun is not the answer. Oscar - the scurrying inventor, the joydribbling funforward, the scampering anti-Grouch - is. WWLTW thought this one went without saying but then it sat through Sparta Prague 0-1 Chelsea on Valentine's Day. All things considered, this column would have preferred to messily break up with a dearly loved partner than to have watched that tripe. Please, Rafa Benitez, let something good have come of it.
Football is a young man's game, sure, but De Gea is still only 22. If you don't think that 22-year-olds are immature ... well,
WWLTW
is 22 and – spoiler alert – there's a Pokemon joke a bit later on.
But now De Gea has grown up. The Bernabeu made a man out of him. Undisputed No.1 now. No more arguing. Yeah? Well, no.
WWLTW
likes the kid but there's more chance of Michael Buble releasing an album of Slayer covers than the Red Devils glovesman being left to do his job in peace.
Everyone already knew that De Gea could make great saves; he's been doing that for ages. Against Madrid, everyone got so carried away with the spectacle of them that they didn't even realise that the hosts never actually preyed on his weakness, claiming crosses.
So everything's fine and dandy for now – but just wait until Peter Crouch gets in the mixer again. Then we can go through the whole darned debate all over again.
Photo of the week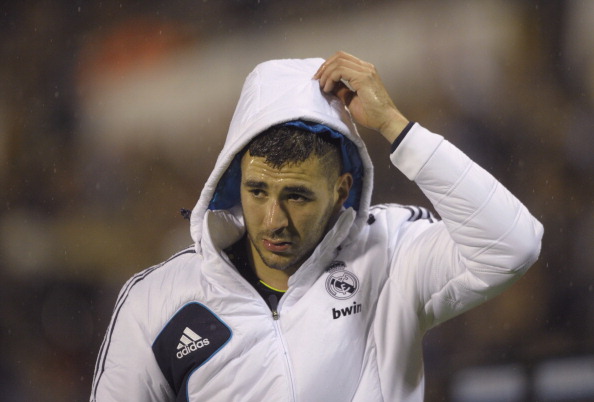 "The mean kid in goal wouldn't let me score! Nobody understands my pain!"

Shakhtar 2-2 Dortmund: The game no-one watched
If a game of football is played and nobody tunes their TV to the right channel to watch it, does it make a sound?
On another day, in another life, Shakhtar Donetsk v Borussia Dortmund would have been THE game. Two teams breaking out of the hipster-sphere, playing thrilling football in a high-stakes match? Blockbuster stuff! Everyone wants a piece of the action!
But it was Wednesday. Real Madrid were hosting Manchester United at the Santiago Bernabeu. Everyone – everyone – watched that instead. There are games that you can't turn down and that was one of them.
Some people would have you believe that there were fans who watched proceedings in Ukraine. Some, incredibly, will claim to have attended the match as a material witness. Perhaps even you, dear reader, believe that you have done one of these things. Open your eyes. Trust no-one. Of course you didn't. You like football.
What we will learn this weekend...


He's not proved to be Champions League-standard. We now know he's not Europa League-quality, either. If Fernando Torres can bury another goal against Brentford on Sunday, maybe it'll be time to admit that the once-great strikefailer may now be just another League One trundler. It could be just the move he needs - after all, Rickie Lambert and Grant Holt powered their way up through three divisions after first bombing expensively at the top. That was a lie, but the point stands.
With an audience of zero (
ZERO.
), how can we know that anything happened at all at the Donbass Arena? Did it really finish 2-2? Was it as exciting as they all said?
Did anyone actually play any football at all or did the two teams take advantage of the opportunity to have a massive Pokemon tournament and then make up a scoreline 90 minutes later? That, at least, is what
WWLTW
would have done. It sounds like Mats Hummels won.
How to be a winner
Is your life getting you down? Struggling to meet your goals? Unfulfilled professionally and unlucky in love? Call William Gallas – he'll turn you around!
But don't take
WWLTW
's word for it – the man himself knows the score. "I played for Chelsea from 2001 until 2006 and I won some trophies there, so I know what you have to do," William told the
Evening Standard
. He knows what you have to do. He can help you.
So don't delay! Pick up the phone and order the William Gallas motivational DVD today, plus personal consultation for bargain rates of just £100,000 per week! William can teach you life-changing strategies like "let Gareth Bale sort it out". What are you waiting for?
Follow George Ankers on