By
Matt Scott
Balotelli is thinking of others over Christmas
On the face of it, Mario Balotelli's scrap with Roberto Mancini on Thursday may have appeared to be the idiotic and petulant final straw that should see the Manchester City man deservedly booted out of the club.
But was it?
The 22-year-old ended up rucking with his boss after Mancini fumed at a late tackle from the striker on Scott Sinclair, instantly making the former Swansea winger as relevant at the Etihad Stadium as he has been all season.
If Sinclair wants a move away from City, he is now in the shop window to gain one. If he wants to force his way back into the City team, he is all of a sudden fully in the thoughts of the manager - and it is all thanks to Saint Mario.
What Alan Pardew learned this week...


If you are going to take a punt on a striker that you think could spearhead your chances of surprise success, do not give him an easy way out. You got £35 million for that useless one not long ago. Y'know... what was his name?
No longer is the winger's jungle-dwelling beau the toast of the Sinclair pad. Scott is back at the top of the mound again.
Nobody has got into the festive spirit like Balo. His absence through 'illness' has allowed Edin Dzeko and Sergio Aguero to regain their form and ripple the net with regularity over the next few weeks.
If City go on to regain the Premier League title thanks to the Bosnian-Argentine axis that their current success is built on, Balotelli's gracious concession from the first-team picture will be to thank.
The selfless star has even let fellow former Inter hot-shot Obafemi Martins get down and busy with his sister. What a guy!
Even after scrapping with the boss, Balotelli took the higher ground and immediately left the training ground. Ensuring that he did not catch attention in his camouflage-coloured car and blending into the surroundings with ease - such maturity!
If any of this does not convince you that Mario's actions have been for the greater good, that up-standing pillar of Italian community Silvio Berlusconi is likely to be Balotelli's next boss. And the king of bunga-bunga would not hire someone for bizarre and twisted reasons. Would he?
Photo of the week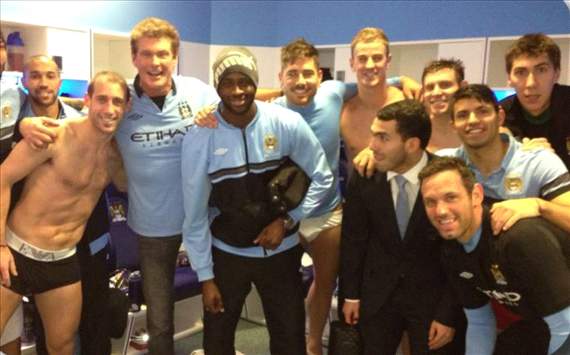 No chance of any Kitt for Pablo Zabaleta.
He's not the Messiah, he's just a selfish striker
Finally, Liverpool have a forward!
Daniel Sturridge is the man riding into town to save the goalscoring day and give Luis Suarez someone to actually pass to, rather than running through entire defences before potting goals home, although he has proved pretty nifty at doing that.
Sturridge was the original Theo Walcott, moaning about wanting to be moved from the wing to a central striking role before the Arsenal man made it popular this season, which might be a glimpse into a worrying future at Anfield.
What we will learn this weekend...


The FA Cup is dead. Manchester City's Under-16 side will beat Watford's promotion-chasing stars 18-3, a slight shock will be seen at the Amex Stadium, where Newcastle United (forced to field their Under-16 side and Steve Harper through injuries) will succumb to Brighton.
Studge successfully moaned his way into a massive contract at Stamford Bridge, before moaning his way out of the team and into another massive contract at Anfield.
With the England man clearly not being a fan of playing anywhere other than exactly where he wants to, and Suarez playing so well just where that happens to be,
WWLTW
can't help but think this could go down the tubes quicker than the Uruguayan in the penalty box.
It is easy to picture Sturridge doing his own version of Neville Southall's sit-in protest and refusing to leave the opposition six-yard box if Brendan Rodgers has the audacity to ask him to play anywhere near the flank.
When the cameras roll into Melwood for the second series of 'Being: Liverpool',
WWLTW
can just see the 23-year-old sitting in the changing room with his arms folded and face screwed up because the television people turned down his idea for becoming the guest director for each episode and insisting that his face be visible in at least 84% of the show's running time.
Get the popcorn out folks, it could be excellent car-crash viewing.
Silly season is back with a bang
Clubs turning down free transfer deals for Wesley Sneijder? Puh-lease.
Michu being targeted for £30 million by Real Madrid after 18 months of being good with average teams? Come off it.
AC Milan actually having the money to sign anyone in January? Now you are being stupid.
Ahh the transfer window. Like a comfortingly bonkers bag of frenzied frogs - it is good to have you back. Now let the fun begin.
Follow Matt Scott on