By
Matt Scott
WWLTW has had enough
The end is nigh for Sir Alex Ferguson. After an awe-inspiring managerial career spanning four decades at Manchester United alone, the Scot will bow out as arguably the best the game has ever seen.
So, sensing retirement on the horizon, the cantankerous old git is determined to rub everyone up the wrong way as much as possible until he does jack it all in.
Having won all there is to win with the Red Devils, the 70-year-old is now going about finding new ways to make the game entertaining for him as he sits snoozing into Mike Phelan's shiny dome.
Quite simply, United and their puce-faced emperor are taking the proverbial out of the Premier League, and
WWLTW
is ruddy-well sick of it. Last season's second-best finish was a ploy to lull everyone into a false sense of security, which continues to be exploited this season.
What Paul Lambert learned this week...


The best way to bounce back from an eight-goal monstering at the hands of Chelsea is NOT playing second-highest-away-scorers-in-the-league Tottenham at home and fielding one striker, sitting eight men on the edge of your box and saying 'C'mon then, take your best shot'.
The Old Trafford outfit have conceded the first goal in eight of their 19 league games this season, because winning from a level score is suddenly beneath them.
Robin van Persie, not content with topping the scoring charts, has also hit the woodwork more than twice as much as anyone this season. Yes, very nice Robin we can all see just
how
accurate you can be, now pack it in and just score will you?
The Red Devils have completely sacked off defending this campaign, Patrice Evra has already scored more goals than he ever has in a league season before, now that Sir Alex has allowed him to wander around impishly at the back, not putting a tackle in on anyone.
If that didn't take the biscuit and convince you that we are all being taken for a ride by everyone in the red half of Manchester, then how about this...
In the first 20 Premier League seasons, United scored a meagre seven own-goals at Old Trafford. They have already chucked
FOUR
into their own net at home just this term!
This 'well-if-you're-not-good-enough-to-score-then-we'll-do-it-for-you' approach is down-right disgusting, and it is as saddening as it is maddening to see the other 19 top-flight teams being so easily taken advantage of.
The look on poor Alan Pardew's face as he trudged off the pitch on Boxing Day, having been suckered in to the latest mean-spirited Old Trafford loss, totally ruined Christmas in the
WWLTW
house, Mrs
WWLTW
has not stopped crying since.
Sir Alex even wants to bring in Robert Lewandowski, as he perfects his juggling act with five world-class strikers, because having four is just SO 1999
.
WWLTW
cannot wait to see this absolute chancer United now have in charge finally booted out of the game with all his medals clanking behind him.
Photo of the week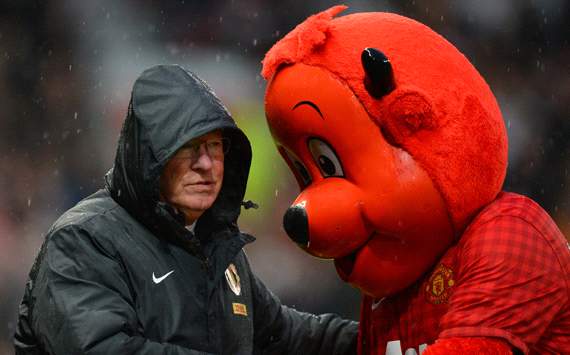 "Move yourself, Fred the Red, I'm off to give Mike Dean a headache."

Panto season is sweeping the Championship
Roll up, roll up! Venky's Comedic Productions proudly brings to you...
The tip of the Berg
! An all-new Pantomime show to thrill and delight this festive period!
Follow this marvellously heart-wrenching tale as a small community has their identity and soul stripped from them in the most humiliating of circumstances!
The evil Shelby Singer and his poultry-producing pals sweep into town, overthrow the current government, promise a return to glory, with a new buck-toothed icon to lead them there, but in reality deliver David Goodwillie (
Ed: whose name didn't need panto-ing up any more
) and a sorry drop to the doldrums.
But wait! Their pillar of hate, Steve 'Hong Kong Hangover' Kean, initially threatens to revolt and side with the local peasants, bringing hard-working grafters to aid the cause and at least make it back to the top table!
That won't do! So he must be disposed of and a new man, 'Hateful' Henning Berg, is placed in charge of the town, once again unleashing misery and desperate sadness, to really put the 'black' in Blackburn.
What we will learn this weekend...


Rafa Benitez is the single greatest manager Chelsea have had since Avram Grant - the last Blues boss to go to Everton in the Premier League and not come back having been beaten by David Moyes' hard-nosed Toffees. Which is obviously the barometer used to measure Stamford Bridge supremos...
To make sure this bungling idiot does not get ideas above his station like 'HKH', he is binned with urgency, just 57 days into his rule, as the nation once again belly laughs at the pathetic town.
What will happen next in this seemingly never-ending cycle of doom?! Catch VCP's next production -
You don't have to be Di Matteo to work here, but it helps
- to find out!
Berbatov has lost his mojo
WWLTW
has always been a massive fan of Dimitar Berbatov.
The languid Bulgarian plays the game as if wearing the softest sheepskin slippers and smoking the finest, smoothest and tastiest pipe tobacco - exactly how this column is written each week.
But after rediscovering his purring brilliance this season for Fulham - probably the most #chic club in all of England - the No.9 went and ruined it on Boxing Day.
'Keep Calm and [Do Something]' merchandise should only be seen on middle-aged, middle-class housewives' diary covers, aprons and cake tins Dimi. Now hang your head in shame. And burn the t-shirt immediately.
It wasn't even printed properly for goodness sake.
George Ankers is away. The lazy so-and-so.
Follow Matt Scott on