By
George Ankers
Slap-slap-kiss
They love to hate to love each other. It's animal attraction. Rafael Benitez and Chelsea simply had to get it together eventually.
We've all seen that couple, or at least watched Reese Witherspoon play one half of it at some point. They butt heads as soon as they meet each other. The sparks fly and you could cut the tension with a haddock.
"You have no passion!" cries Rafa (most likely the Witherspoon part). "Yeah? Well, you're a fat Spanish waiter!" yell the furious football club, before making air-quotes with their fingers and snarling: "FACHT."
What football still hasn't learned...


When Sebastian Giovinco put a meanginless third goal past Chelsea on Tuesday and celebrated by taking off his shirt, WWLTW just wanted to set something on fire. If players really cannot learn that indulging a totally unnatural reflex (seriously, WHO ACTUALLY DOES THAT?) will get you a yellow card, then they deserve to be shot. With a blunderbuss. That fires actual, dragon-sized dragons. Right in the groin. No exceptions.
And who could forget the memorable occasion when Benitez called Chelsea "putrid, bottom-feeding scum"?*
But even through all that, there remains a sizzling chemistry. Everyone can see it but the two of them.
In February last year, Chelsea broke up with Andre Villas-Boas and got very drunk indeed. "Hey, Rafa," they slurred to Ms Witherspoon. "Don't tell me you haven't noticed that there's something here. How about it? Just a quick go?"
"Ew," came the response and they didn't talk to each other for a while. But the Blues kept burning through beaus, even well-mannered Robbie who looked like Mr Right.
And they couldn't fight it any longer. The fighting is always loudest just before they inevitably fall into bed together and so here we are. That doesn't mean that it's going to end well, though.
*If you can remember this, seek help.
Photo of the week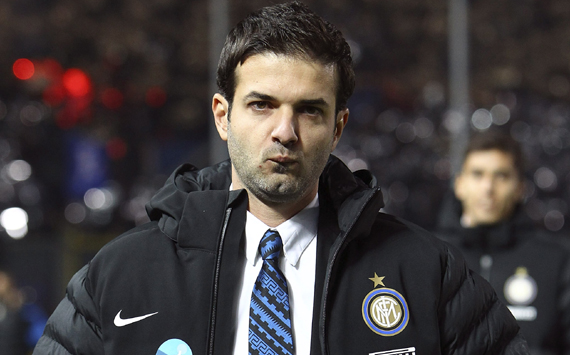 Ben Stiller does 'Blue Steel' in the first publicity still from the upcoming 'Zoolander 2'

Manchester City's Barcelona revolution continues apace
The appointments of Ferran Soriano and Txiki '-Txaka' Begiristain high up in the Manchester City food chain have already made a serious impact,
WWLTW
is pleased to report.
As Sheikh Mansour and the Abu Dhabi United Group (what a reggae band, by the way) dictated, Roberto Mancini has set up a team owing so much to Barcelona in all but the most insignificant ways.
The imitation was almost spot-on. A terrible start against Real Madrid – check. A 'false nine' – check, although in this case it means nine people falsely claiming to be any good at football.
Not bothering with defenders and deploying midfielders there instead – well, only 50 per cent on this one. The rabble who clowned around at the back on Wednesday were not midfielders but, on that evidence, you could hardly call them defenders either. It's a start, at least.
What we will learn this weekend...


Time to see how well 'never-been-booked' Gary Lineker deals with criticism. As complaints over 'Match of the Day's' vapid "analysis" increase, the mild-mannered, not-actually-the-problem-with-the-show presenter may end up cracking and just furiously yelling "BANTER BANTER BANTER" over anything that a confused Alan Shearer tries to say. Thereby making the programme 1000 times more insightful...
Is there any undue fuss around the Etihad Stadium – or 'Camp No', as it must soon be knowingly titled – about exiting the Champions League so early? No, not really. Barcelona would not have qualified by using the likes of Aleksandar Kolarov so progression would have gone against the new City model.
All they need now is to start campaigning for Mancunian independence, bring out a horrific away kit or two and bang! An utter mess
que un club
.
He's just too Giroud for you
In a week during which many yelped topically about stability being the key to success, it might be worth making sure that none were writing off Olivier Giroud as a donkey at the start of the season.
After taking some time to get used to life in a new country, it turns out that the man who fired the Ligue 1 equivalent of Fulham to last season's title is actually very good after all. Who could have guessed?
The Frenchman provided aerial assists worthy of the RAF as he helped Arsenal beat his now-rubbish former side (funny how those two adjectives go together). Bring back Thierry Henry? Why? The Gunners have got themselves some shiny, new va-va-BOOM.
Follow George Ankers on