By
George Ankers
The English get lost in translation in Europe
It was the best of times, it was the worst of times. With the exception of the first six words, Charles Dickens was spot on when he wrote that lengthy essay about English teams' performance in this week's Champions League fixtures back in 1859. ('A Tale of Four Clubs' Embarrassment' was later heavily altered in the editing process by meddling publishers and became 'A Tale of Two Cities'.)
Yes, England has had few more disastrous weeks in Europe than this. Premier League sides did so poorly that the best British performance in the continent's marquee competition came from a Scottish team. Who lost.
Across the board, there were humiliating performances. Yes, even you, Manchester United. Scoring three to come back against Braga is fine but if the Red Devils meet, say, Real Madrid in the knockout rounds, Cristiano Ronaldo would score more in their now-traditional 20-minute defensive naptime at the start of games than he did in all his years at Old Trafford put together.
On the other side of Manchester, maybe City were a tad unlucky to lose to Ajax. Unlucky, that is, in that they deliberately employed a manager who, when the chips are down, acts like a seven-year-old Harry Redknapp. "We're losing?" cried Roberto Mancini in Amsterdam. "Better bring on six forwards, sacrifice my entire midfield and play a defensive system that my players openly admit to not understanding!"
What Arsenal fans learned this week...


Qualifying for the Champions League then being so half-heartedly inept once you get there is way better than winning a trophy! Thanks, philosophical gurus Ivan Gazidis and Arsene Wenger. That must have put a lot of Gunners supporters' minds at ease. It turns out they're happy after all - they just didn't realise it. Y'know, because of all the losing.
Chelsea rocked up to Donetsk still delightedly braying their unending drone of "Champions of Europe, we know what we are". They then proceeded to offer a performance that suggested quite the opposite, as the Blues appeared to have not the faintest clue as to what they were, whether Shakhtar might be quite good after all or even what a football looks like in the first place.
Arsenal, meanwhile, put the "so poor" into "soporific". What's more, they clearly can't spell "soporific". Embarrassing.
But that's OK. It's clearly all just a translation issue. Most of those crazy foreigners don't even speak English - and apparently they don't play English, either! This country, of course, invented football and therefore if English clubs don't bother defending then nobody's supposed to bother defending.
What's that? You don't believe us? Fine! You can't stop our clubs from qualifying – because we quit! How'd you like THAT, Europe? Wait - wait! Don't leave us behind...!
Photo of the week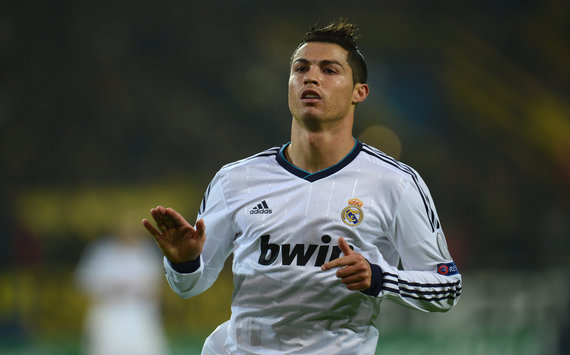 "Don't worry, guys. Manchester City are too bad for this to be a problem."

Steven Gerrard is the next James Bond
Lifelong Liverpool fan Daniel Craig thought that he'd avoided giving the game away this week when he "jokingly" mentioned that Steven Gerrard would make a good James Bond. Citing the midfielder as "a good leader", the current 007 star was hiding in plain sight some massive news.
WWLTW
can confirm that Gerrard will indeed be the next man to play Bond.
How did this column uncover this information? Well, don't ask it how, but
WWLTW
has obtained a copy of the script for the next film, provisionally titled 'The Capital One Cup Is Not Enough'. Read on...
SCENE ONE – ANFIELD. NIGHT. LIVERPOOL have just lost 4-1 to CSKA ODDJOB in the EUROPA LEAGUE. STEVEN GERRARD enters the dressing room, where M (played by RAFA BENITEZ) is waiting.
M: Good evening, Mr Bond. Shaken or stirred?
GERRARD: Ehhh ... disappointed, mainly. We've come into the game wanting to win and we've not done that. It's not pleasing but the lads have got character and we'll try and bounce back, like.
Suddenly, there is A CAR CHASE. This is the opening scene of a BOND MOVIE, after all.
What we will learn this weekend...


Starting the likes of Steven Gerrard and Luis Suarez against Anzhi will definitely prove to be a masterstroke ... for Everton. Canceling out the advantage of the Toffees likely being without Marouane Fellaini and Steven Pienaar by tiring out your own key men in a competition which you will later sacrifice in order to ensure a last-minute European qualification place? There's no way that that could backfire on Liverpool.
SCENE TWO – OPENING CREDITS. SHIRLEY BASSEY clears her throat for the BOND THEME. She is then knocked to the floor by STEVEN GERRARD.
GERRARD: I said, I want to hear Phil Collins! NOW!
SCENE FOURTEEN – LONDON. DAY. STEVEN GERRARD decloaks the INVISIBLE BOND CAR and steps out to meet Q (played by ROY HODGSON).
Q: Hello, Mr Bond. We need you to investigate a shadowy group of Ukrainians who have infiltrated London. They're planning to plant a bomb in the nets at Wembley! Actually, it might be a ball. We're not sure. Either way, we recommend a stealthy approach – make sure you act as if you haven't even turned up at all.
GERRARD: Will do, boss. Got any useful gadgets for me?
Q: Try this for size. On the outside, it looks like a simple, outdated midfield partnership with Frank Lampard that will never work. On the inside ... well, it's the same on the inside. But nobody would suspect that we would ever try that trick again – not after the Rustenburg mission - so that could work to your advantage.
SCENE THIRTY-FOUR – SECRET SPECTRE SPACELAB. It is neither DAY nor NIGHT because it's in SPACE. STEVEN GERRARD has been apprehended by SPECTRE and brought before BLOFELDAN RODGERS.
What else we learned this week...


The endless discussion of who will sign Harry Redknapp may yet prove to be more annoying than the endless discussion of who Harry Redknapp will sign. Already, the deadline-day devotee has been frantically linked with QPR, Blackburn, Ipswich, Leicester and even Southampton! Please, Crystal Palace - WWLTW is begging you to just hire the man already and spare us all the "it's a triffic club" interviews which are surely just around the corner.
GERRARD: Blofeldan! Do you expect me to talk, boss?
BLOFELDAN: No, Mr Bond, I expect you to dive!
GERRARD: Never!
STEVEN GERRARD gives a KNOWING WINK to THE CAMERA.
GERRARD: Eh, since you've captured me, boss, fancy telling me your evil plan?
BLOFELDAN: You can't fool me that easily, Bond!
GERRARD: I brought an American TV documentary crew with me!
BLOFELDAN: Oh, why didn't you say so before? Very well then – allow me to explain how I will RELEGATE LIVERPOOL FOOTBALL CLUB! A-HAHAHAHA...
Will Steven Gerrard escape the nefarious clutches of Blofeldan Rodgers and foil his dastardly plot? Is the Bond girl, Fernando Torres, as loyal as she appears? And since when could Stewart Downing do THAT? All these questions and more will be answered in THE CAPITAL ONE CUP IS NOT ENOUGH – in cinemas 2015!
Follow George Ankers on