By
George Ankers
The inside scoop on St George's Park
As England prepare to take on San Marino and Poland, the FA has been trumpeting its newly opened St George's Park facility with the really big trumpet that it saves for extra-special occasions. We're talking Wynton Marsalis proportions of trumpeting. It's a big deal.
Understandably, the FA bigwigs have been enthusing at length about the various pitches, coaching provisions and swanky offices on the new campus. And that's all very well.
But, for a reported £105 million in costs, you would expect more than just that – and
WWLTW
can now lift the lid on the full extent of the project in Burton-on-Trent. This column worked its extensive list of insider football contacts, struck out, then broke in under cover of darkness, armed with night-vision goggles, a notepad and the truth.
It really is quite something. Looking around the shiny new centre,
WWLTW
could not help but be impressed by the thought that went into every detail.
A notable addition to the high-tech medical centre is a sealed, soundproof module with soft, squishy walls and great acoustics. In it Ashley Cole will be permitted to scream and shout whatever obscenities he needs to get out of his system without needing to take to Twitter.
What England learned this week...


However will they cope without John Terry at centre-back? Never fear, Three Lions fans - Chris Waddle thinks that Steven Gerrard will drop into defence to provide the answer. WWLTW looks forward to seeing the Liverpool captain's partnership with Peter Crouch, shielded by holding midfielder Theo Walcott, bring World Cup success in Brazil.
The Emile Heskey Memorial First Touch Development Area, already dubbed 'Shinland' by the England side, will see players' feet clamped to the floor in total darkness. Balls will then be shot at them at pace until Sven-Goran Eriksson jumps out of a secret door to his Annex of Swedelove, proclaiming: "Eureka!", at which point the drill is complete.
There's a creche for Raheem Sterling's ever-expanding stable of children. And another creche for Raheem Sterling.
The media training zone seems fairly standard of most football clubs. It consists of a dimly lit cinema room with the Hypnotoad from 'Futurama' projected onto the wall and David Bernstein's voice looping on the speakers, reciting: "We're taking each game as it comes ... execute our skills ... JT's an inspiration".
Congratulations are in order, then, to the FA.
WWLTW
is glad to report that the adequacy of St George's Park has successfully guaranteed triumph in Brazil in 2014 to end nearly 50 years of hurt. IN-GER-LAND!
Photo of the week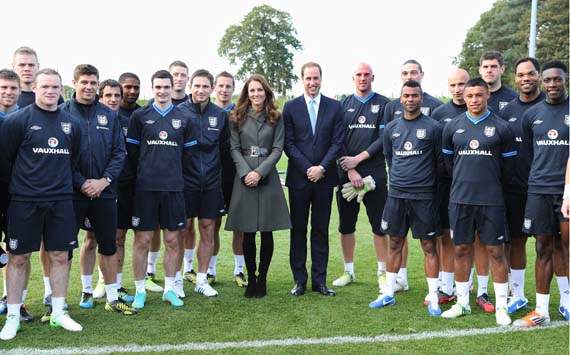 Not pictured: Grant Holt furiously spitting tea all over his TV: "THEY got called up ahead of me too?"

Manchester City are addicted to spending
After a transfer deadline day on which they completed the signings of no fewer than five players, forgive
WWLTW
for taking Patrick Vieira's emphatic talking-up of their intention to groom youth with a pinch of salt.
"Our philosophy will be to try to bring in young players from the academy," the City executive told
Goal.com
when asked about the possibility of Radamel Falcao.
"Clubs like us, Manchester United, Chelsea, Arsenal will always try and bring in one exceptional player because that is the way it is, but the majority we want to come from the academy."
We have always known that City enjoy spending but the signs are too obvious now that the entire club is addicted. They have a buying problem and somebody needs to help them. Roberto Mancini is a shopaholic.
"Well ... we'd pay out for an
exceptional
player," is just football-speak for "I'm only allowed a treat on special occasions" or "if I
really need
a drink". They suggest infrequency but suddenly they'll have filled in half of a Sudoku puzzle and be rushing off for a doughnut to celebrate ... er,
WWLTW
hears that there are people who do that sometimes.
What we will learn this weekend...


After six years of total world domination, Spain have earned the right to showboat - now we will discover just how good at it they are. After England's grindingly mediocre 4-0 win over San Marino, WWLTW will be disappointed with anything less than La Roja outcasts Juan Mata and Mikel Arteta tiki-taka-ing their way through the bustling Saturday crowd on Oxford Street. Without losing possession once. All the while pointing and laughing at every single English person who they pass.
City will splash out approximately £1 billion on Falcao in January, just you watch. Then they'll start feeling really guilty about it, so they'll also snaffle Carl Jenkinson for £5m "to cheer us up". Then, maybe, they will seek the help that they need.
It Wonga wrong
Worry not, people of Newcastle. The Magpies' adoption of a "legal loan shark" as its shirt sponsor, disingenuously renaming the stadium to its popular original to avert general uproar, will pose no risk whatsoever to regular fans.
Even if gullible supporters are hoodwinked by their team's endorsement of the "payday loan" service and find themselves in debt with a 4214 per cent APR, help is at hand.
After all, why did Newcastle introduce official club superhero Whey Aye Man just a week previously*? To steal from the rich and give to the poor, of course! It all fits together and is in no way a depressing gesture from an important figurehead institution to a community with widespread financial struggle. Not at all.
*Yes, this really did happen. You'd be forgiven for thinking
that WWLTW made it up seven days ago
. But it's true. Whey Aye Man. They did it. Football is brilliant, isn't it?
Follow George Ankers on