By
George Ankers
Stoke are the new Liverpool
As Michael Owen's joyless free transfer to Stoke City was completed,
WWLTW
was compelled to research a trivial statistic. It couldn't possibly be relevant, of course, but once idly suggested it had to be followed up.
Only it turns out that there really was something to be found. You see, with Owen now on their books, the Potters are almost ready to become Liverpool.
What Falcao learned this week...


Welcome to the wonderful world of the high-profile transfer rumour circuit, Radamel. Prepare to enjoy at least four months of everyone - including your own dad - hawking you to every club and their dog. Before, inevitably, joining Manchester City. Or Chelsea. Or Real Madrid. Or - SHOOT WWLTW NOW.
The total number of goals scored for Liverpool by players who currently play for Liverpool, it emerges, is 218. Following the addition of the former Reds striker, the total number of goals scored for Liverpool by players who currently play for Stoke is 203. It's eerily close.
That Stoke can boast such a record with only four players on their books who used to ply their trade at Anfield – Owen, Peter Crouch, Jermaine Pennant and the other summer recruit, Charlie Adam – is all the more impressive as almost all of Brendan Rodgers' squad have also played for Liverpool (Stewart Downing, of course, being the exception).
It's a fascinating comparison, watching the Potters quietly (though bruisingly) establish themselves as Premier League mainstays while Liverpool fritter themselves into mediocrity at a rate of knots. Reports that Tony Pulis is a power-sapping managerial Sith Lord are, as yet, unconfirmed.
When Rodgers shuffles the obsolete Steven Gerrard onto the first bus to the Britannia Stadium in January, though, the transformation will be complete. Reds fans, if you're unhappy with the way in which your club is being run, you know where to turn.
Photo of the week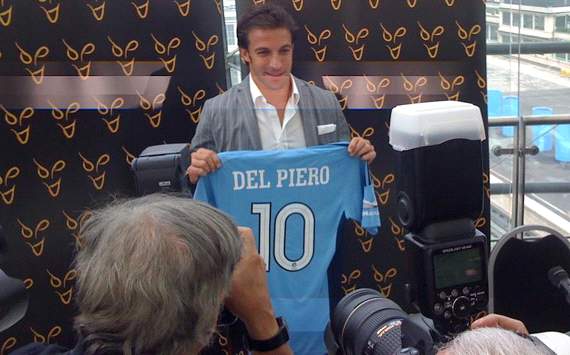 "I'm so glad to be standing here next to all of the other great players in Sydney FC's proud history"

Ousting Xavi et al is precisely as hard as it looks
Oh, Cesc. Come on, now. Hand on heart, you knew that this was exactly what was going to happen.
It's all very well and good now saying that "I came to Barcelona to play, not to sit wracking my brains" now but this was what you signed up for with your glorious homecoming and you knew it.
A great player you may be, but are you going to start ahead of Lionel Messi? No. Are you going to start ahead of Xavi and Andres Iniesta, the two-headed robotic passing hydra, one of whose heads is only now starting to eye the other up with a threatening "I could eat you and take all the power for myself" glare? No.
You had a choice, dear Cesc: Stay at Arsenal and start every game, though perhaps not win anything for a while and/or ever, or succumb to homesickness and contribute a bit towards shedloads of success. You chose to anoint yourself Lord Fabregas of Benchington.
What we will learn this weekend...


Steven Gerrard and Frank Lampard each contributing a sluggish pass in a move that leads to Jermain Defoe shinning in a goal to beat Moldova 1-0 will cause Roy Hodgson to declared himself vindicated. "They can play together after all," he will state, but nobody will hear him because they will all be too busy ramming their heads against the Concrete Wall of Inevitably Crushed Optimism.
Footballers, it is increasingly clear, are all very alike. They don't mind sitting on the bench ... until they do. That homecoming honeymoon can't last forever.
Bullied Kean is a victim of his own barmy army
Everybody stop laughing at Steve Kean. He needs our help.
It's difficult, WWLTW knows. Goodness, is it difficult. But more ridicule is the last thing that the manager recently described to WWLTW as "not so much a yes man as a yes potato" needs.
For the Blackburn boss revealed this week that he had signed not one but three players on transfer deadline day without having seen a single one of them play.
"That's weird, but not insane," you might say. "Just because he's demonstrably bad at his job that doesn't mean that he's not relying on his trusted assistant, who knows his tactics, philosophy and vision inside out, to scout the right players."
Fair enough. The trust that Kean has put in this mystery scout's judgement is reminiscent of the army, in which a soldier must be ready to trust each and every one of his squadmates with his life to make sure that lives are saved. It is for this reason that WWLTW has reluctantly abandoned its plans for a guerilla invasion of Ewood Park.
Well, you'd be wrong. Kean's main running point on the signings of Diogo Rosado, Nuno Henrique and Grzegorz Sandomierski was none other than Shebby Singh, Rovers' "global advisor" (whatever that means) who recently described 30-year-old Morten Gamst Pedersen as "a pensioner" in a shocking attack on his own player.
Singh, of course, is also the man who had only shortly before threatened to sack Kean (approximately 10 months too late) if he met the entirely arbitrary and ignorant criteria of losing the first three matches of the season.
Poor, scared Steve is taking a poorly justified verbal battering at the least appropriate time of the season from the mouthy older boy before being forced to spend money on his mates and weakly defend his aggressor when anyone asks any question. WWLTW can't help but feel that we are watching a classic case of school bullying and that somebody should really step in before he writes some terrible adolescent poetry about it.
Or you could buy into the wacky conspiracy theory of Kean staging a hilarious play-fight with Singh while comprehensively assassinating the club's future for motives unknown. Yeah, on second thoughts, let's just go with that.
Follow George Ankers on