By
George Ankers
Admission is the first step to recovery
Aaaaand breathe out. That felt good, didn't it, Liverpool? There you go. Just get it out of your system.
The worst part of the come-down is over. Admitting that you have a problem is the first step towards solving it and, though it might hurt and there could well be plenty of shame and embarrassment involved, it'll get better in the end.
So hats off to the Reds' patient sponsor, Brendan Rodgers, for holding the club's hand, smiling warmly at them as they finally told the world: "Andy Carroll and Stewart Downing were massive, massive mistakes," before falling into the Ulsterman's arms, sobbing violently at the dawning realisation of how much it had cost them.
Both parts of the £55 million muck-up have been dealt with differently but with equal ruthlessness by Comrade Rodgers, who completed his Soviet Russia-style purge of the old Tsar's regime by practically kidnapping Carroll and bundling him into a prison van bound for West Ham, while exiling Downing to the cold Siberia of left-back.
Carroll, for his part, has probably got the best result possible. The playful rabbit can now safely be let loose to get caught in slightly dimmer headlights and will be all the more foot-thumpingly happy for it.
What we remembered this week...


...Richard Wright is still a professional footballer! In the oddest transfer of the window so far, Manchester City signed the former Arsenal, Ipswich and Preston reserve - a move whose only achievement is likely to be the narking-off of half-decent Faroese third-choice Gunnar Nielsen.
Downing, though ... on the plus side, he's probably just become the most expensive reserve full-back in history (one for the grandchildren, that), but this is one hell of a demotion.
No amount of comparisons to Jordi Alba will be able to convince
WWLTW
that the 34-cap England international (Sweet Odin's beard! Thirty-four!) is any more likely to justify his £20m price-anvil in defence than in midfield. Seriously, Brendan? Jordi Alba?
Versatility's a lovely word but ineffective crossing and passing is just as ineffective from 30 yards further back, only you need to be able to tackle as well, a skill at which Downing is, by general consensus, "OK for a winger".
It might be the sheer incredulity of the notion of Downing at left-back, or just metaphor motion sickness from the top of this column but
WWLTW
, frankly, needs a lie down.
Photo of the week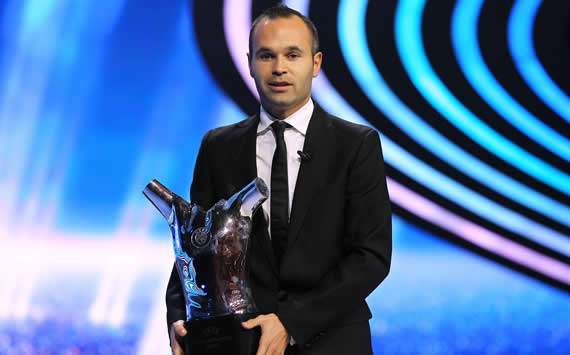 The proud winner of the 'Desperate to Give Somebody Else an Award for a Change' Award with his prize: The skull of an elk.

What we will learn on transfer deadline day...
08.14
- Tottenham chairman Daniel Levy rings Real Madrid out of pure habit to inform them that he is rejecting their latest bid for Luka Modric.
10.01
- Andy Carroll takes his first touch in a West Ham training session. The paragraph on the Hammers' official website describing the loanee as being "blessed with excellent technical ability" is deleted.
10.45
- After Thursday's satirical signing of former Arsenal goalkeeper Richard Wright as their third choice between the sticks, Manchester City secure the arrival of Francis Jeffers on a two-year deal.
11.31
- Unable to contain himself, Harry Redknapp applies for the vacant Coventry City job, hastily signing a contract to work for free before immediately hopping into his car and hurtling towards the nearest camera. He then gives a lengthy interview about players he "can't discuss" before rushing through the signings of 50 new players, 17 of whom are Jermain Defoe, and resigning at midnight, leaving the Sky Blues to a thrilling decade-long plummet into financial oblivion.
What Stoke City forgot this week...


The Britannia Stadium is supposed to be a fortress! This is the ground at which, only two days previously, the stars of Arsenal had been fed into the grinder and dished out as another steely 0-0. So, erm, nice job losing 4-3 to League One's Swindon Town in the League Cup. For a club whose logical next progression is minor silverware, the Potters didn't look very forward-thinking.
12.57
- "Big Mac, please," says Reading boss Brian McDermott. "That'll be £3.70," replies the cashier. The horde of roving reporters who immediately bombard the beleaguered manager with questions about his new "bargain target man" are promptly thrown out of McDonald's.
14.49
- At the press conference announcing his signing for the sickeningly corporatised semi-professional club, a peaky-looking Owen Hargreaves interrupts Wembley FC chairman Brian Gumm to tearily announce his retirement from football before passing out. Several years later, he is spotted in Munich's Hellabrunn Zoo, trying to teach the chimpanzees to speak English and track back, crying silently.
15.12
- Man City announce the arrival of 1990s Arsenal midfielder David Hillier.
16.28
- 'ITK' Twitter account
Agent MTW
posts a foul-mouthed, gloating rant revealing himself as Emile Heskey. His previous revelation that "Heskey will join #Leeds" later turns out to be true - except it's non-league Leeds City.
17.10
- Chelsea announce the £35m purchase of Mario Gotze from Borussia Dortmund.
17.14
- Roberto Di Matteo finds out about the £35m purchase of Mario Gotze from Borussia Dortmund.
18.50
- Man City confirm that they have recruited 1970s Arsenal forward Frank Stapleton to provide cover for the injured Sergio Aguero.
19.51
- The Arsenal team bus pulls up outside the Etihad Stadium. One by one, the entire Gunners squad are pushed roughly onto the tarmac by a crazed Arsene Wenger. "YOU'VE MADE YOUR POINT," the Frenchman shrieks, coat akimbo. "JUST TAKE THEM! TAKE ALL OF THEM!" Two days later, Wenger fields himself next to Steve Bould in an unorthodox 2-0-0 formation as Liverpool win 116-1, burying a last-minute penalty before emotionlessly whispering to the press about "taking the positives".
20.16
- Manchester United set Twitter ablaze by calling a snap press conference to announce "a long-awaited midfield signing".
20.30
- The press conference consists of Sir Alex Ferguson, alone, silently staring down the TV camera with his middle finger outstretched for 15 solid minutes before getting up and leaving.
22.23
- After Chelsea's Radamel Falcao-inspired Super Cup defeat to Atletico Madrid, Eden Hazard changes his mind again and makes a £40m transfer to the Vicente Calderon.
22.59
– Levy's unblinkiest-ever glare secures him the just-in-time acqusitions of Hugo Lloris, Yann M'Vila, Kaka, Loic Remy, Nani, Theo Walcott, Scott Sinclair, Michael Owen, Andres Iniesta, Harry Redknapp and Pele for a combined fee of £5.99.
23.01
– A disheveled Jim White bursts into the
Sky Sports News
studio, panting and screaming "My engine died! I had to run! Tell me I'm not too late!" before being told the bad news and shaking with such furious despair that it causes a small earthquake which cuts off the channel's signal.
23.07
... or so we think. QPR manager Mark Hughes wakes up with a start. He is sitting at his desk in his underwear, covered in biscuit crumbs and staring at his computer screen, which is running a game of 'Football Manager' in which he has signed Julio Cesar, Esteban Granero, Park Ji-Sung, Jose Bosingwa, Junior Hoilett and 30 other players. His digital alarm clock informs him that the date is May 15, 2012. Reality is restored and we all get to do this again; but properly this time.
Follow George Ankers on