The Frenchman's nefarious scheme to make Manchester United spend £73 million solving a problem they don't have comes to fruition, while Michael Carrick proves to be the Messiah
By
George Ankers
Arsene knows
"We finished 19 points behind Manchester United this season," said Peter Hill-Wood to Arsene Wenger in Arsenal's debriefing meeting at the end of the 2011-12 Premier League campaign. "It can't happen again. What can we do to close the gap?"
"Don't worry," replied Wenger. "We can muck up their entire summer by convincing them to
spend a total of £73 million
in order to sign a nearly-out-of-contract player from us who will solve a problem that they don't have."
"Nice one," said Hill-Wood. "Now have another biscuit and talk to me about Santi Cazorla."
None of the above actually happened (probably), but the point stands. Robin van Persie's defection to Old Trafford is a blow to the Gunners that damages their ego much more than their Premier League position.
Convincing Sir Alex Ferguson to fork out over £24m – and then nearly £50m more to the striker himself in wages, image rights and a record deal for three albums under the stage name 'RVP R&B' – even after first signing the Bundesliga player of the year, Shinji Kagawa, and watching the attacking midfielder show promise behind the main striker in pre-season, liberating Wayne Rooney in the process? It's quite some feat.
What we will learn this weekend...


Ten minutes into the first day of the Premier League season, Lukas Podolski will shoot comfortably wide against Sunderland from 15 yards out.

Pundits all across the land will then gleefully inform us that Arsenal as we know it has died, never to be reborn. In the Sky Sports studio, Gary Neville will play a mournful melody on the violin at ever-so-slightly too fast a pace.
Still, at least United, who put eight past Arsenal in one game last season and only four fewer than Manchester City overall, have solved that tricky goalscoring conundrum. Who needs a decent tackler in midfield? And Dimitar Berbatov (49 goals in 108 league games for the Red Devils) just sits around, twiddling his thumbs and practising the oboe.
Meanwhile, Lukas Podolski and Olivier Giroud are excellent forwards, Cazorla's even better and Wenger has had a whole summer to get ready for this, unlike last season's mad trolley-dash for players and the resulting months-long malaise.
Oh, and
Alex Song's off to Barcelona for £15m
. So now Arsenal can buy a defensive midfielder who can actually defend properly. Easy. Arsene knows.
Photo of the week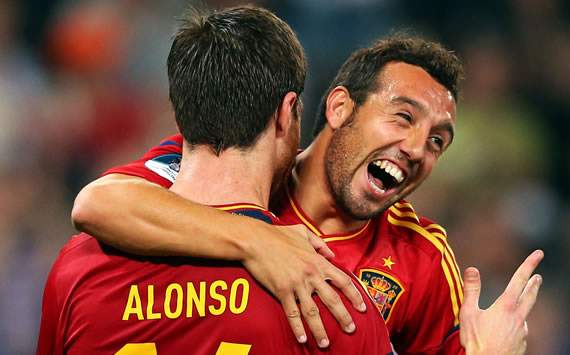 "Santi, the club you just joined to win trophies with are selling their best player tonight."
Someone's calendar is wrong at the FA
The Premier League and Football League seasons are finally upon us. Hurrah! We can all settle down for the football to start, because everyone's got their teams ready and the business of business is behind us ... wait, what? The transfer window's still open?
What we remembered this week...


Yes, yes, it's a terrible shame that the Olympics are over. WWLTW couldn't be more gutted if it were a fish on a factory conveyor belt.

But football's actually not that bad either! Such would be the testimony of anyone who watched Scunthorpe battle from 4-1 down to draw 5-5 with Derby in the League Cup before winning on penalties. Welcome back, beautiful game.
Leaving aside the debate over whether a set transfer window makes sense in the first place, having it shut two weeks after the season starts is sillier than a frog on a motorbike. Tottenham, for instance, will be kicking off their campaign with a fascinating away trip to Newcastle, but there'll still be the giant Croatian rumour-cloud of Luka Modric's future hanging over every minute of the match if he hasn't yet finalised his switch to Real Madrid. Every time that Jermain Defoe misses a 20-yard snapshot, all the talk will be of which striker is yet to come in to take his place.
There'll be actual ruddy football going on in front of our eyes and we'll still be talking about the summer, trapped in some hellish limbo-state where nothing that we see can yet be truly real.
Meanwhile, there'll be just enough time for some of the world's best players to come off the bench with five minutes left in a Champions League qualifying round which will rule them out of an entire season's competition for whoever might want to rescue them from their current team. All this because we apparently have to leave the deadline until the end of the month.
WWLTW
understands that footballers can be a little slow and are probably big fans of things like round numbers, but the suits upstairs shouldn't be having that problem. Have the window slam shut on Friday night and let's get on with the game - which is, as far as this column is aware, the whole point of the transfer exercise.
Twitter was right: Carrick is the Messiah
England without Michael Carrick: Lost on penalties to Italy. England with Michael Carrick: Beat Italy 2-1. There's probably more to it than that (
WWLTW
didn't pay much attention to the friendly international - that paint wasn't going to watch itself dry) but the bottom line is that the great and good of Twitter got it bang on this summer when Roy Hodgson named his squad for Euro 2012 and they screamed and shouted that the Manchester United metronome wasn't in it.
So, after caving in to the unrepentant furies of the Internet (which is definitely the reason behind the recall rather than a hapless intern not communicating properly between Carrick and the FA), everyone's favourite owl football manager can fly off into the night and hunt a mouse for supper knowing that he's solved all of England's problems in one fell swoop. It's coming home!
Follow George Ankers on