By
Jamie Dunn
Sir Alex sour as Manchester United miss out on Lucas Moura
After weeks of speculation approaching the monotony of that of the Eden Hazard transfer saga earlier this summer, Lucas Moura finally made a move to Paris Saint-Germain, who trumped the likes of Inter and Manchester United with a double whopper of a £36 million bid.
Lucas, like Thiago Silva and Zlatan Ibrahimovic before him, instantly bought into the 'project' on offer in Paris. The reported mammoth wages on offer had nothing to do with it, of course.
Sir Alex Ferguson was suitably unimpressed to have missed out on his man and let the rest of the world know in no uncertain terms earlier this week.
"I find it quite amazing that a club can pay £36m for a 19-year-old boy," the Scot said.



Tweet of the Week

"With my friend Borini in the bus. He score today!!! For sure!!!!!"

- Jose Enrique is clearly in possession of a time travelling device. He's been to the future.

"To make a mark on everyone - to tell everyone that PSG are here - they've signed Thiago Silva from Milan and Zlatan Ibrahimovic.
"They must have spent about £150m in the last month. As you know, the only deterrent to that is Uefa.
"In my day, you could get a brand new strike force and a 15-goal-a-season midfielder for two shillings and tuppence and still have enough change for a bag of toffee," Sir Alex may or may not (definitely not) have continued.
Naturally, observers were quick to point out the hypocrisy – a certain Wayne Rooney cost Manchester United £25.6m when he was just an 18-year-old with no Stereophonics tattoos or a wife with a clothing line.
Rio Ferdinand, similarly, was only a few years older when he arrived at Old Trafford from Leeds for a fee eventually passing £30m.
And then there was Anderson. All this before football was completely overrun by mega-rich oil barons, too.
Liverpool could actually be good again
What we will learn this weekend...


After his testimonial goal against AEK Athens, Tony Hibbert scores again.

The footballing world, therefore, is now forced to reconsider what it deemed to be reality and rethink everything it once thought to be true.

He bites, he pulls hair, he makes naughty finger gestures at supporters – not to mention the allegations of something
WWLTW
refuses to speak of – but Luis Suarez isn't half good.
After a few weeks of playing pantomime villain in front of supporters during the Olympics, before Uruguay's premature elimination from the tournament at the hands of the now-defunct and quickly forgotten Team GB, the striker was back in action for Liverpool on Thursday night.
Suarez twisted and turned the Gomel back four into a collection of pretzels and contortionists at Anfield, playing a part in two of the three goals in an easy win for Brendan Rodgers in his first competitive game in charge on home turf.
Meanwhile, Steven Gerrard dispelled all the myths that players suffer from burnout after major tournaments by looking every bit as spritely as the younger players in the squad, or more spritely than some, in the case of second-half substitute Charlie Adam.
Elsewhere, Fabio Borini scored his first goal for his new club, Jonjo Shelvey continued to prove that, for a 20-year-old particularly, he is a tidy player and Daniel Agger showed no sign of letting the transfer speculation surrounding his future undermine his performance.
For all
WWLTW
knows, FC Gomel could be a bunch of part-time postmen and bus drivers, but Liverpool fans must have wondered what stadium they had strolled into on Thursday evening.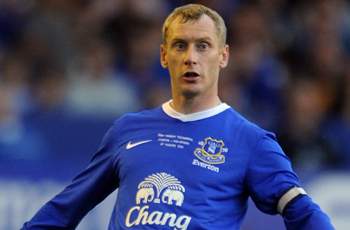 Quote of the Week

"What we've got now with the ability of Steven Naismith and Steven Pienaar is frightening."
- There is no brilliance to these words at all. What is brilliant, however, is that Tony Hibbert scored his first goal for Everton after a decade and said little to nothing about it. Legend.

Joe Allen just might be joining Liverpool
Up in the stands, meanwhile, the worst-kept transfer secret in history was playing out before our very eyes, as Joe Allen sat and watched the Liverpool victory.
WWLTW
doubts this was a massive coincidence and that Allen is merely a well-wisher of Rodgers or was in the area and decided to sample some of the local football.
But, after the game Rodgers and club captain Steven Gerrard were giving very little away.
"I think it would be very disrespectful of me to talk about Joe Allen as a Liverpool player just now, but he's a very good player," the expertly media-trained Gerrard said, diplomatically.
"I'm sure if we do manage to get his signature on the paper he'll bring a lot to our team but at the moment I've got to be very careful."
Rodgers - as if he has never met Joe Allen before, despite the Welshman playing under him at Swansea - added: "The deal is obviously imminent but I haven't heard the total latest because I've been preparing for the game.
"But if he's up here then it's obviously a sign that there's been good communication with Swansea and hopefully over the next 24 hours we can conclude that."
If Joe Allen is not posing with a Liverpool scarf at Anfield come the close of play on Monday,
WWLTW
will eat its hat. And it is a big hat as well, one of those 10 gallon Stetsons.
WWLTW
doesn't do anything by halves.