By
Jamie Dunn
Stewart Downing is Liverpool's top scorer
Thousands, nay, millions of Liverpool fans must be waking up this morning in an entirely confused state regarding the events that took place in the Europa League qualifying first leg against FC Gomel of Belarus.
WWLTW understands coverage of the tie was extremely limited, so just to confirm, no, it was not a dream, and the rumours you have heard are in fact correct: Stewart Downing scored Liverpool's first competitive goal of the new season in a 1-0 win.
It was a real 'Where were you when…' moment, as the left winger collected the ball, cut inside and blasted from 20 yards past the Gomel goalkeeper, who must not have been expected to be tested when he saw who was on the ball. More fool you, Vladimir Bushma.



Tweet of the Week

"Morning #geezers ! Have a great day my friends! Big hug"

- Why can't we all be a bit more like David Luiz?

The Brendan Rodgers effect has taken immediate, erm, effect, it seems. It took Downing over 20 games, spanning five months to score last season, and that was in an FA Cup thrashing of League One side Oldham. In this new campaign, Liverpool had notched just over an hour before the £20 million – yes, £20 million – man registered in one of Europe's lesser known footballing regions.
Kudos are in order for Downing, who must feel like the only way is up after a season of staunch criticism. Of course, the road back from expensive flop in a forgettable season in a decorated club's history to dangerous Premier League creator is a long one, and nobody will be taking a goal against Gomel too seriously, but at least there's something to build on.
And, if Downing starts racking up the assists this year, all that nasty business from last season will most likely go away rather quickly.
Olympic football has saved us all
What we will learn this weekend...


We prepare for the launch of the Goal.com 50 on Monday. Our readers prepare their scathing swipes and vociferous disagreements with the placings of every single player.

For more on the Goal.com 50, click here.

Liverpool's victory over Gomel was Rodgers' first taste of competitive action on Merseyside, but it was not the country's first look at a serious football match in recent weeks.
Even in tournament years, us football fans are left twiddling our thumbs for around six weeks, wandering aimlessly around the streets of the towns in which we live, looking for something to keep us occupied that does not involve fixing the boiler or paying attention at work.
But this year, we have been rescued by London 2012, and a thoroughly enthralling football tournament involving a Team GB side that WWLTW did not think had the smallest hope of advancing beyond their group.
And while it has not been particularly spectacular or convincing, Stuart Pearce's side have topped their group, knocked out Uruguay and set up a quarter-final, despite shoe-horning two left-backs AND Danny Rose into the team at various points so far.
Spain are out too, but rest assured Team GB doom-mongers, because Brazil look every bit as impressive as the price tags placed on their players suggest they should be and will surely deny us the gold at some stage. Even Danilo, the one attacking player who has not been linked with a shedload of top European sides this summer, dared to get on the score sheet in their last game.
Meanwhile, in altogether more impressive fare, Team GB women not only dispatched Brazil in a tight affair, but also finished top of their group with three wins out of three and will face Canada in a quarter-final on Friday, so goodwill all around.
If only Joe Allen was English…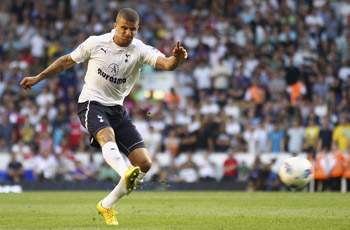 Quote of the Week

"The reason for it is simple - he is jealous as Gareth is such a good player"
- "Nerr nerr, nerr nerr, nerr you're just jealous," says Kyle Walker after Charlie Adam 'stuck one on' Gareth Bale last weekend. Handbags at 10 paces.

'Two Moussa Dembeles…there's only two Moussa Dembeles!'
Team GB star Allen could be Liverpool-bound come the end of London 2012, and he may be joined at Anfield by Fulham forward Clint Dempsey, who has not taken part in his club's pre-season trip to Switzerland and is a wanted man by Rodgers.
But fear not, Fulham fans, because your manager Martin Jol has come up with a revolutionary way to replace the American.
While Dempsey was the Londoner's most potent goal threat over the course of last season, Moussa Dembele is just as highly regarded around Craven Cottage as arguably the club's most naturally gifted player.
And so, rather than enter the transfer market for a new player to replace Dempsey, Jol has simply signed Dembele again, only this time he is 16 and plays for Paris Saint-Germain. A bit like when you are playing a popular football management simulator for so long that retired players start to regenerate elsewhere as promising teenagers.
But in all seriousness,
Fulham have genuinely signed another player called Moussa Dembele
. What are the chances?
Arsene Wenger must wish he had two Robin van Persies – then he might be able to convince one of them to stay.*
*Dear Arsenal fans – this joke was not meant to offend you. In the interest of fairness, please feel free to substitute the name 'Arsene Wenger' for 'Andre Villas-Boas' and 'Robin van Persie' with 'Luka Modric' if you would prefer.