By
Jamie Dunn
The Oscar goes to Chelsea – and so might everything else
The pot of gold at the end of the Champions League rainbow must be so massive and overflowing with cash and new opportunities for revenue that a whole army of leprechauns could not carry it, because Roman Abramovich has been spending his cash like it is going out of fashion so far this summer.
The Chelsea transfer window spree continued on Wednesday, when the Blues added Brazilian sensation Oscar to their list of acquisitions which already includes Marko Marin, Kevin De Bruyne, Eden Hazard and his brother Thorgan, who presumably has been signed to carry Hazard the elder's bags around, keep him company and just do general dog's body stuff.
What is that you say? Thorgan Hazard is really rather good too? Potentially better than Eden?
WWLTW
had better get on the old YouTube for a look. Anyway, back to business…
That Champions League victory is understood to have netted Chelsea around £50 million, while their spending is hurtling towards almost double that figure – not to mention the money spent in previous years on Juan Mata, Gary Cahill, David Luiz and Fernando Torres.



Tweet of the Week

"Succumbed again. Arrived at Euston Station bursting for a wee. Paid 30p to relieve myself. It's the principle that infuriates me."

- Michael Owen is forced to compromise his integrity, or risk soaking his trousers on the way to Battersea Dogs Home to carry the Olympic torch

How the Stamford Bridge higher-ups plan to explain that to Financial Fair Play regulators is anyone's guess. Then again, there was always the FA Cup win, which must have garnered some pocket money, and if the new signings slot together, like so many expensive pieces in a Hamleys jigsaw puzzle, Chelsea might just end up taking the lot next season.
The task now falls to Roberto Di Matteo to pick a creative starting XI for their Premier League opener against Wigan on August 19.
WWLTW
hopes it looks something like this:
Cech; Terry; Ramires, Lampard, Meireles; De Bruyne, Oscar, Hazard, Mata, Marin; Torres.
Balance.
David Beckham still has a "small part" to play in London 2012
What we will learn this weekend...


Gareth Bale, who pulled out of the London 2012 Olympics through injury but scored against the LA Galaxy, will mysteriously be absent from the Tottenham squad to face Liverpool in a pre-season friendly on Saturday.

Chelsea sign Klaus Marin and Alan De Bruyne, the fictional brothers of signings Marko and Kevin whom WWLTW has literally made up just now.
If you ask
WWLTW
- which of course you did not, and never do - not only was it a shock that Stuart Pearce did not call David Beckham up for Team GB at the London 2012 Olympics, it was a pretty big shame as well.
The former England international – an extremely wealthy man with little need to put himself out for personal gain or otherwise – had to travel all over with the likes of Sebastian Coe (urgh), convincing others our capital city was the place to be, while so convinced was one of his sponsors that he would be a part of Team GB that his face has been plastered all over campaigns.
And what does he have to show for it now? Little more than condolences from Harry Redknapp and Sir Paul McCartney – actually that last one is pretty cool.
This column would love a condolence from Sir Paul, or any kind of acknowledgment. Ringo Starr would do, to be honest.
But all that rejection has not stopped our man D-Becks getting involved in the Games as much as possible. This week, the LA Galaxy man has been popping his head into photo booths to surprise the unsuspecting public in a move which, in any other circumstance, would surely have you booted out of a shopping centre by security.
That is not all, either. Beckham lifted the lid about a quarter of a millimetre on his continuing involvement in the Games this week, too, revealing he has a "small part" to play in the opening ceremony.
THE GOAL LINE | EPISODE 26
Balotelli throws a javelin while Neymar and Sandro start a band in our London 2012 speciaL!
What could it possibly be? The back end of a pantomime-style horse? Understudy for stereotypical Beefeater #1? Watch this space…
Bale's back angers Brits
Beckham may have been left out of the Team GB squad, but that did make him available for selection for a MLS All Stars team, for which he stamped a massive carbon footprint to get to from Stratford to the States and back again.
Chelsea are far from the only Premier League team out in the USA at the moment. Aston Villa, Liverpool and Tottenham have all been involved in pre-season brand maximising exercises - or friendlies, to you and I – with one Spurs player in particular catching some rather unwanted column inches.
For there was Gareth Bale in the Los Angeles sunshine during the wee hours of Wednesday morning, playing 74 minutes and banging in an early goal against the Galaxy, showing no signs of the back problem that made him unavailable for Team GB at the Olympics.
"Outrage!" cried the Team GB fans, who seemingly sprung up from the earth overnight in support of a team that has not existed for over 50 years, and will not exist after the Games. "How dare he shun our fair kingdom?!"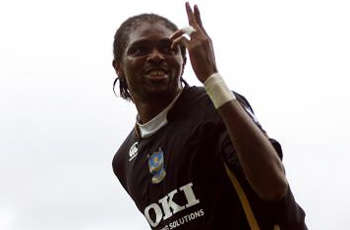 Quote of the Week

"I will be ringing Kanu today to see if there is anything I can do"
- Harry Redknapp will contact Kanu in a bid to help Portsmouth stay afloat, leading WWLTW to ask the question: is Kanu now an administrator?

Bale, it seems, is Welsh on most Saturdays, when opposition fans want to liken him to a certain furry jungle animal, but British when there is a chance he would be Team GB's best player. Not entirely unlike Scottish tennis player Andy M… sorry, that is Britain's Andy Murray.
Still, Bale does not need
WWLTW
to fight his battles for him, because he has Tottenham, who were quick to defend their man.
"For the avoidance of any doubt and on a point of absolute clarity and transparency: Gareth sustained an injury as he built up his fitness ahead of joining up with Stuart Pearce's side. MRI scan reports were sent to the FA medical team on 29 June," read a club statement.
"He was subsequently not selected on the basis of this injury and the inability to predict recovery time. This decision was not taken lightly and made only after consultation with Team GB's medical team, who were in agreement after seeing the medical reports."
So there. And if you still do not like it, do not worry, because Sepp Blatter is on the case, so if there is any cause for complaint, good will surely win the day…