By
Jamie Dunn
Don't retire Ledley King: We can rebuild you
The day we all knew was coming finally arrived on Friday when Tottenham defender Ledley King was forced into retirement after a long-running battle with a knee injury. Yes, after years of little more training than a dip in the swimming pool, the famous No.26 has been forced into the backrooms of White Hart Lane.
And so began the clamour to see who could pour the highest praise on the one-kneed wonder by announcing what he could have achieved had it not been for those injuries. He would have been an England regular! We'd have won the World Cup at least twice! There'd be a statue of him parked next to the great Bobby Moore outside Wembley Stadium! He'd have beaten Usain Bolt's 100-metre world record!
Ledley King was good. In fact, Ledley King was very, very good indeed. How good Ledley King might have been, unfortunately we will never know. Partly because of his knee, and partly because he spent some of his best years being undermined by such journeymen as Pascal 'Gloves in Autumn' Chimbonda, Anthony Gardner and Gary Doherty (remember him?), among many, many others.



Tweet of the Week

"Shoreditch! This is the place !!! Luv it!!! LoL"

- Benoit Assou-Ekotto is down with the hipsters! The Tottenham defender is understood to have dominated the table football at a trendy bar in east London for almost two hours. LoL indeed, Benny!

WWLTW
blames Spurs chairman Daniel Levy. Back in the seventies, The Six Million Dollar Man was reconstructed entirely at a cost of… well, six million dollars. One knee must only cost a fraction of that. What are the regulations on bionic footballers in the Premier League? Put your hand in your pocket, Levy! Save this man!
You know what they say: If you don't laugh, you'll cry. All the best, Deadly Ledley.
Leslie Davies for Best Player in Europe 2011-12
What we will learn this weekend...


Paris Saint-Germain will follow up their double signing of Zlatan Ibrahimovic and Thiago Silva with a seven bazillion pound move for Lionel Messi - if that's even a real number.
Uefa announced its shortlist for nominees to win the Best Player in Europe award – whatever that is – on Monday afternoon, and the usual star names were on display, including no fewer than eight members of Spain's Euro 2012-winning squad, and of course, inaugural winner Lionel Messi.
The rest of the list was a veritable feast of fantasy football stars. There were Champions League winners Didier Drogba and Frank Lampard, Manchester City goalkeeper Joe Hart, Wayne Rooney, Cristiano Ronaldo, Leslie Davies…
"Hang on; who on earth is Leslie Davies?" this column hears you ask. And to be fair to you,
WWLTW
didn't know either. If you Google 'Leslie Davies' he's not even in the first 10 search results.
Leslie Davies – or Les Davies to his friends, and people who know who he is - it turns out, is a winger who plays for Bangor City and is affectionately known as 'The Truck' after dumping 16 goals into the net for the Welsh side in 32 games last season. That's Best Player in Europe 2011-12 form.
The shortlist for the Michel Platini-birthed (not literally, that would be disgusting) award becomes much shorter next month, when 32 names are dwindled down to just three. Just imagine: Messi, Iniesta, Davies.
The last time
WWLTW
checked, Davies was out at 10,000-1 with some bookmakers to take the prize. What are you all waiting for? Lump on!*
*
What We Learned This Week
advises that you gamble responsibly. Voting for Les Davies to win the Uefa Best Player in Europe award would not be responsible.
Nottingham Forest might need to rethink their five-year plan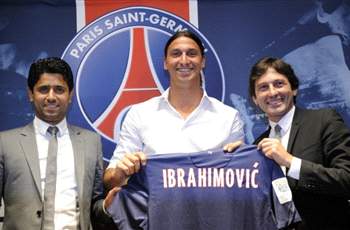 Quote of the Week

"I do not know a lot about Ligue 1 and its players... I will learn who they are, and they know who I am."
- No introductions required for Zlatan Ibrahimovic after his multi-million move to Paris Saint-Germain.

The football world - or at least the Football League fans of England - was abuzz this week as former European champions Nottingham Forest continued their search for a new manager under the watchful eye of fresh owners the Al Hawasi family, the Kuwaiti businessmen who have promised to return the club to their rightful place.
Forest fans can be forgiven for expecting a lot from their new owners' search for a manager after they knocked back suggestions they were speaking to Glenn Hoddle and claimed to be searching for the "best in the business" in order to challenge for top honours once again.
Who could the Al Hawasi family possibly be lining up? Harry Redknapp was installed as the favourite in the early going after losing his job at Tottenham and seemingly rejecting the opportunity to take charge of the Russian national side.
But it wasn't to be for Redknapp and Forest, who seemed to have taken something of a sideways step when they entered into talks with Mick McCarthy, who has been without a club since he was sacked by Wolves having left them cut adrift at the foot of the Premier League table come February.
McCarthy, though, eventually ruled himself out of the running. Surely all was not as it seemed if Big Mick was prepared to turn down a fairly swift return to the game? Sven Goran-Eriksson was naturally undeterred by the prospect – his CV has passed through more offices than that of a post-graduate student with a useless degree in, oh, let's say Sports Journalism – but it wasn't to be for the Swede.
Instead, Forest opted for Sean O'Driscoll, who was put in charge of Crawley Town only five months ago only to leave the League One team before a competitive ball had been kicked due to his previous affiliation with the Championship side.
Respected and lauded as O'Driscoll is for his dedication to attractive football, this isn't quite what the people were expecting. The owners might have to rethink their three to five-year plan.