By
Jamie Dunn
Andy Carroll falls victim to the start of 'silly season'
WWLTW
has spent the majority of this week with its head stuck firmly in the sand, so as to avoid the biggest on-going story of the past seven days – yes, that court case – and the legal repercussions making light of such a subject potentially produces. But fear not, dear reader, for news has been in anything but short in supply.
The dust may have settled on Euro 2012, but, with it being summer, our attention shifts to the transfer market. That's right, it's silly season again and nobody is safe – especially not Andy Carroll.
After a promising end to a difficult season which even culminated in a goal in his one start at Euro 2012, Carroll – or 'Wor Andy' as he's known at home – finds himself leading the race for transfer column inches after Liverpool boss Brendan Rodgers suggested a loan spell elsewhere next season might be best for player and club.



Tweet of the Week

"Things not going well. Large floater in pool has led to closure. With my past history I fear being made prime suspect"

- Oh dear - it's Italia '90 all over again for Gary Lineker

Cue a number of reports linking the striker with a host of clubs of all shapes and sizes. West Ham want Carroll, said one, as another suggested Martin Jol might use Clint Dempsey as bait to tempt Liverpool into a deal with Fulham, while Alan Pardew wouldn't rule a reunion at Newcastle in or out.
Even AC Milan – also once rumoured to have enquired over the availability of Peter Crouch – want Carroll, say some. That, presumably is because he has a ponytail, and the Italians are about to part ways with their own long-haired front man Zlatan Ibrahimovic, who, bafflingly, appears to be bound for Paris Saint-Germain.
WWLTW
is rooting for you, Andy. Here's hoping that, should the striker find himself away from Anfield next season, it is for glamorous Milan, and not rooming with former Newcastle team-mate Kevin Nolan again.
Everything must go in Milan
What we will learn this weekend...


Very little. For the first time in a long time there is no football... unless you live in the Americas or selected European countries.

Where exactly 'the football' has been hidden, we're not exactly sure, but WWLTW suggests we all just sit tight. The Olympics will be along soon enough.
And yes, before
WWLTW
moves swiftly away from the subject, you read that correctly. AC Milan are looking increasingly like selling this column's modern hero Zlatan Ibrahimovic to PSG. Quite why anybody wouldn't want the Zlat-Attack in their side is anybody's guess – don't even get
WWLTW
started on Barcelona. Look where it got them… oh yeah. Actually, never mind that.
But that's not all! Not only are Milan set to let Ibrahimovic leave, they're also going to throw mountainous defender Thiago Silva into the mix, for a combined fee of around £47 million. "Surely not,"
WWLTW
hears you cry. Well, club president Silvio Berlusconi has even confirmed it, so it must be true…
Just to put that figure into context, the £47m deemed sufficient for Milan to part ways with the mighty Zlatan and arguably one of the best centre-backs in the world at this time would only have fetched you just over half a Cristiano Ronaldo back in 2009, or one-and-a-bit Andy Carrolls just over a year ago.
So, while super-rich PSG set up for world domination under the watchful eye of former Milan coach Carlo Ancelotti, the Serie A runners-up have allowed Alessandro Nesta, Gennaro Gattuso, Clarence Seedorf, Offsidesman Filippo Inzaghi , Mark van Bommel and potentially Ibrahimovic and Thiago Silva leave in one crazy, crazy summer, with reigning champions Juventus only likely to get stronger.
Still, at least Antonio Nocerino remains at San Siro. With the power stored in the midfielder's exceptional beard, Milan can't go far wrong next season, with or without Ibrahimovic and Thiago Silva. Not that one man's beard alone can deliver Milan back to Serie A title glory, of course. Two, maybe.
From Russia to Robin Hood: The weird and wonderful world of Harry Redknapp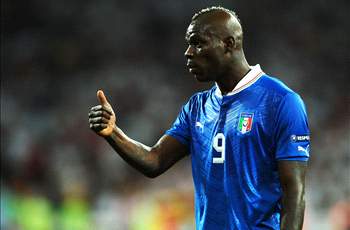 Quote of the Week

"My son spoke to me over the phone and asked if he could have Balotelli's haircut, something I wouldn't allow to happen."
- Good parenting from Antonio Di Natale here - you'd never get a proper job with that mohawk

Back in England, husky-voiced new Tottenham manager Andre Villas-Boas posed in front of Spurs' impressive new - if a little motorway service station-esque - training complex and faced the press this week, while Gylfi Sigurdsson and Jan Vertonghen displayed the club's shirt for next season.
Meanwhile, former Spurs boss Harry Redknapp was being linked to a couple of vastly contrasting new roles.
First, the man who only months ago looked certain to take over as England manager was named on a shortlist to take over as Russia boss alongside Fabio Capello.
And then, shortly after the sacking of Steve Cotterill, Redknapp was installed as the bookies' favourite to be handed the reins at Nottingham Forest following their takeover by Kuwaiti businessmen.
Redknapp, though, is expected to turn down both jobs, and with good reason. For starters, would you fancy the daily commute from Sandbanks to Nottingham, let alone Moscow, in your 4x4 every day? And what about the golf courses in Russia? There would be absolutely no chance of sneaking in an afternoon round with Joe Jordan or Kevin Bond.
Reporters at
Sky Sports
were understood to be relieved upon hearing the news that the Russian FA were set to meet with Capello and Redknapp was not interested in the post, thus avoiding a potential relocation to eastern Europe in the hopes of catching a few words with the former Spurs boss out the window of his car as he entered the training ground.