Portugal's penalty shoot-out defeat to Spain left Ronaldo wondering what might have been, while there was no doubt who Italy's hero was in the victory over Germany
By
Jamie Dunn
Sergio Ramos does a 'Pirlnenka' & Ronaldo waits
in vain
As the inquest continued into England's exit at what can only be described as the 'expected' stage from Euro 2012 and the deploying of 'negative' tactics under Roy Hodgson, which we were all well aware of prior to the tournament, the rest of the world was gearing up for a mouth-watering semi-final clash between Spain and Portugal.
They called it the Iberian
Clasico
, and it bored more than a passing resemblance to the real thing: cagey for long spells, with bookings for Sergio Busquets and of course Pepe, who took to the introduction of Barcelona forward Pedro like a red rag to a bull, and stampeded into him like said bull in a china shop.
"It's like a game of chess," BBC colour commentator Martin Keown proclaimed (there's a 'face for the airwaves' joke in here, but we'll rise above it), which is what people say when some of the game's leading lights underwhelm to the point where they assume there must be a much bigger, tactical genius at play. There was also substitutions and diving - neither of which, the last time WWLTW checked, are tolerated in the noble sport of chess.



Tweet of the Week

"@Pele Thank you very much my friend! You are the best ever!"

- Are you watching, Maradona? Franz Beckenbauer shows Pele some love

Of course, Spain eventually turned up in extra time but couldn't find a goal. And, in the end, for all the surprise inclusions and 'false nines' the game was settled by one ruddy great big spank against the crossbar from 12 yards by Bruno Alves, who initially stuttered towards the penalty spot like an elderly pensioner before being sent back by Nani.
Alves was put under pressure by Sergio Ramos' cheeky Panenka – or 'Pirlnenka' after Italy's quarter-final win over England – and Cesc Fabregas scored the winning penalty.
And where was the Ballon d'Or hunting Cristiano Ronaldo in all of this? Stranded in the centre circle, waiting for a big moment which never came to arrive. The mind boggles.
Balotelli stole the show... obviously
What we will learn this weekend...


To quote ITV pundit Roy Keane: "Listen." This weekend is going to be dominated by Euro 2012 final pre-amble. Some of it will be brilliant, moving and though provoking, while some of it will be absolute dross, most likely hosted by Adrian Chiles.

Either way, Mario Balotelli is likely to play a part. Between now and Sunday, let's all just wish really hard for a ruddy good final, agreed? OK, great.
And now, inevitably, WWLTW dedicates a section to Mario Balotelli, who, once Italy reached the semi-final of Euro 2012, was always going to make his way into the column this week. The only question was, would WWLTW be praising the striker for his brilliance, or condemning him for another frustrating act of naivety.
Thankfully, on this occasion, it was the former. Balotelli was at his best on Thursday night, scoring two goals of superb quality to knock much-fancied Germany out of the tournament.
The first was a clinical header from close range which would - and probably did - make the usually-lethal Mario Gomez blush. Gomez, who statistically hasn't even touched the ball in Poland or Ukraine and still managed to find the net on a few occasions, could not get a sniff against Italy and was replaced at half time.
For his second goal, the Manchester City man sprung the offside trap to the point where you could easily have mistaken Philipp Lahm for a labouring John Terry, only this time, Balotelli made no mistake. Rather than dilly and dally as he had done against Croatia previously, the striker just opted to thump the ball beyond Manuel Neuer. Boom.
Did our hero ever afford himself a smile, or any overt elation after scoring twice to send his country through to the final of Euro 2012 to meet Spain? What do you think? No, of course he didn't, but, of course, he did manage to pick up a yellow card for removing his shirt.
Why always you, Super Mario? On nights like these, it's easy to see why.
Never mind David Beckham… here's the Team GB squad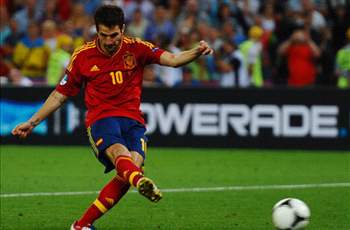 Quote of the Week

"I was given the second penalty, but I asked to be fifth. I wanted life to give me this opportunity. I told the ball not to let me down.
- Something of a 'Sliding Doors' moment for Ronaldo. A glimpse of what might have been, courtesy of Cesc Fabregas

It just hasn't been a good week for football's poster boys at all. First, Ronaldo failed to seize his own destiny, and then David Beckham was handed the blow of exclusion from the Team GB squad for the 2012 Olympics at the hands of the evil, ruthless tyrant Stuart Pearce.
And there has been such a patriotic, positive feel about the place lately, too. Ever since the Queen's Diamond Jubilee, our nation has kept their bunting up in front of their houses for all to see, because they're proud of Great Britain, not because they're too lazy to take it down at all!
It seemed only logical then, that in a few weeks, when the Olympics takes centre stage in London, Beckham, the man who did so much to show the authorities that our capital city was the best for a financially lucrative… err, sorry, flagship spectacle, would lead Team GB out in a football tournament we don't usually enter.
But none of that mattered to Pearce, because he is so punk. The former England left-back, a lover of the Sex Pistols, who wrote the anti-monarchy anthem 'God Save The Queen', has decided Beckham just doesn't fit the bill - but not without making a few cheeky trips to sunny Los Angeles first though, of course. Thorough research indeed.
Meanwhile, Micah Richards must have some dirt on Pearce. Shunned by a handful of managers to have hit higher highs in their careers than the once-caretaker England boss, including Fabio Capello and current incumbent Hodgson, the Manchester City defender appears to have got himself a look-in on the international stage at long last with Team GB. Presumably on the promise that he won't release those incriminating photos.*
*To the best of WWLTW's knowledge, there are no incriminating photos of Team GB boss Stuart Pearce.