Roy Hodgson's side have impressed (sort of), the Swedish star finally turned on the style for all of the United Kingdom to see and Leonardo Bonucci gagged Mario Balotelli
By
Jamie Dunn
What is that smell?
Can you smell that? It is an unfamiliar air of positivity wafting around England at the moment, and it smells refreshing – a vast improvement on the usual stench of failure, disappointment and over-the-top hot air from talking heads in the media at this stage in an international tournament.
It hasn't necessarily been pretty, or too convincing at that, but Roy Hodgson's side have advanced to the quarter-final stage from Group D, picking up seven points and going unbeaten against France, Sweden and Ukraine thanks to a little help from their old friends, the match officials.
Yes, all the talk post-match was about another goal that never was, after Marco Devic's shot plodded over the line but was not spotted by the fifth official, who was staring the ball down intently from a matter of yards away. "Justice for 2010!" proclaimed some. "Artem Milveskiy was offside anyway!" proclaimed WWLTW.



Tweet of the Week

"Getting to sleep about 4.30am and waking up at 10am (Polish time) is doing nothing for my eyes. Feels like they've got sore dust in them."

- Somebody help Joleon Lescott - his dust is sore. Don't worry, Joleon, a bit of revitalising moisturiser under the eyes and nobody will be any the wiser - that's what WWLTW has heard, anyway...

Still, England are through, and suddenly, every other team apart from Germany – scary, scary Germany – look below par and fairly beatable. Even Spain, though they amassed seven points in Group C, have yet to get going. In fact, it could so easily have been Croatia advancing to the quarter-finals rather than the defending champions.
WWLTW is refusing to get carried away, though. All this column will allow itself to say is that, in the context of this tournament, England look slightly less average than everyone had given them credit for. And that's good enough for us. For now, at least.
Zlatan Ibrahimovic finally 'did it' on the 'big stage'
What we will learn this weekend...


Lionel Messi will respond to Cristiano Ronaldo's sarcastic kiss-blowing goal celebration by mooning a camera, with 'I LUV RONALDO' scrawled across his cheeks. Admittedly that's unlikely, but it'd be funny, wouldn't it?

Mario Gomez will add a whopping five seconds to his infamous time on the ball stats during Euro 2012, but still score two goals. Predator.

Mario Balotelli will dominate the headlines on Monday after doing something of some description - good or bad - on Sunday when Italy face England. Come on, he just has to.
If a tree falls in the forest and nobody is around to hear it, does it still make a sound? If Zlatan Ibrahimovic scores a series of brilliant goals in Italy and Spain but the majority of people in England do not see them, did they actually not happen?
In the eyes of some, yes. For years, despite winning league title after league title with some of Europe's biggest clubs, the Swede has had the accusation levelled at him that he is unable of producing the goods at the very highest level.
But fear not, Zlatan sympathisers, for on Tuesday night our hero gave us some much-needed ammunition against France when, in the blue and yellow of Sweden, Ibrahimovic took to the air like Bananaman himself and unleashed an unstoppable flying volley. End the competition for goal of the tournament now, it won't be beaten.
Ibrahimovic's goal also struck a significant blow in the battle of the ponytails, a sub-text of the contest in which the striker was the unanimous victor over Philippe Mexes, the France centre-back who, well, is just having a mare in general in the fictional host nation which has come to be known as 'Polkraine'. It is unlikely Mexes will be going back there on his holidays, mainly because Polkraine doesn't actually exist.
That Zlatan's goal also did England a huge favour in ensuring they topped Group D and will face Italy rather than Spain in the quarter-finals will do the striker's reputation in this country no harm. Sure, it could be argued that the game was a dead rubber for Sweden, and thus the pressure was off Ibra. But instead, let's just marvel in the glory of a fantastic goal, shall we? Good.
Manchester City should sign Balotelli gagger Bonucci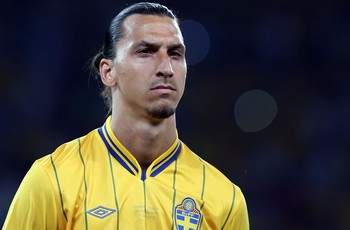 Quote of the Week

"I don't give a s**t who wins it now. I'm going on holiday."
- ZLATAN: OUT

From one enigmatic striker to another now, with the man, the myth, the…well, the man and the myth, Mario Balotelli, who simply can't stay out of the media limelight – possibly because everyone is just waiting to see what he'll do next.
And it all started so positively as well. Balotelli, coming on as a second half substitute in place of Antonio Di Natale, displayed decent strength to hold off an albeit barely existent challenge from defender John O'Shea, before firing a nonchalant volley past Shay Given to seal a 2-0 victory for Italy over the Republic of Ireland, whose fans have earned better reviews than their players following their exit from the tournament with approximately zero points.
What followed in Balotelli's celebration was a gagging order the likes of which you wouldn't ordinarily associate with the football world, as Leonardo Bonucci, fearing the striker was about to land himself in hot water with coach Cesare Prandelli, covered his fellow substitute's mouth with his hand.
"What he said he said in English and I didn't understand it," Bonucci said of Balotelli later on. "I put my hand in front because Mario is instinctive and that's also his strength."
Manchester City could surely afford to hire someone like Bonucci, to walk a step or two behind Balotelli at all times and cover his mouth, just in case the Italian looks likely to say something untoward. Apparently he plays a bit at centre-back, too. So that's two birds with one stone taken care of there.
Next up for Italy and Balotelli, of course, is a quarter-final tie with England. The presence of the notorious City striker and the prospect of him coming up against some of his domestic team-mates, including Joe Hart and Joleon Lescott, is sure to make this an... er... interesting one, to say the least.