The Latics get knocked down but they keep on getting up again, the FA have had a nightmare seven days & Maxi Rodriguez reminded us he is still at Liverpool
By
Jamie Dunn
Football's governing bodies have lost the plot
It has been three days, but
WWLTW
is still trying to figure out which decision the Football Association got the most horribly, horribly wrong.
After QPR midfielder Shaun Derry's ban was upheld for his non-challenge on Ashley Young against Manchester United, Manchester City's less and less lovable rogue Mario Balotelli faced no further action for his shin breaker on Arsenal's Alex Song.
It is hard to know where to begin, but let us start with Derry, who was sent off by match official Lee Mason for denying Young a clear goalscoring opportunity, if that is what you can call laying a soft hand on an opposition player who was offside in the first place.
Mason's assistant got it wrong, he was duped by Young and as a result Derry had to miss QPR's meeting with Swansea City. Not that the Hoops showed any sign of needing their grey-haired stalwart as Joey Barton returned to the side and scored in a 3-0 drubbing of on Wednesday.
Meanwhile, the excuses are running out for Balotelli. This column might have let friends set off fireworks in the bathroom, if filthy rich and living in a massive mansion at 21, but a near knee-high horror tackle on an opposition midfielder? Never.
WWLTW
is not that type of player.
The Italian avoided any further punishment for his lunge on Song on this occasion because the incident was seen by one of the match officials and, as a result, could not be punished retrospectively.
So basically, because whoever saw the tackle deemed it legitimate at the time, Balotelli cannot be banned, despite this particular challenge being worse than either of the two which saw him sent off. Common sense, it seems, shall never prevail.



Tweet of the Week

"I've been locked in a room -110 degres for 3 min. Nearly naked. I never felt so cold. But now i feel refresh and ready for the last 5 games"

- Thanks for sharing, Demba Ba. We'll never be able to shake that image. Hope your syrup didn't freeze.

But we must not blame the match officials and the FA, but rather the independent review panel which presides over appeals and retrospective decisions. Which is fully endorsed by the FA. So, actually, yes, we should blame the FA.
The independent review panel did get one right, though, as Chelsea defender Branislav Ivanovic was hit with a violent conduct charge for landing a punch on Wigan's Shaun Maloney that his fellow Eastern Europeans Wladimir and Vitali Klitschko would have been proud of.
And a day later, Blackburn's Anthony Modeste had a three-game ban reduced to just one for his half-kick at West Brom's Billy Jones, who had clattered into the striker.
You can say one thing for the review panel. At least they are consistent in their inconsistency.
Perhaps the only decision more baffling this week was that of Uefa, who fined Manchester City more for being a minute late onto the pitch against Sporting Lisbon in a Europa League match than they did Porto for their fans' racial abuse of Balotelli. That Michel Platini is never one to be outdone. The mind boggles.
Wigan are the Premier League's Hulk Hogan
What we will learn this weekend...


In the ultimate nod to Moneyball, Liverpool will appoint a confused Jonah Hill as their new director of football after the departure of Damien Comolli.

Managerless Wolves will name Steven Fletcher as their new boss, following the example set by Shanghai Shenhua, who are believed to be set to hand Nicholas Anelka a player-coach role.

Almost each of Wigan's seasons in the Premier League reminds
WWLTW
of one of 'The Immortal' Hulk Hogan's wrestling matches.
Roberto Martinez's side spend the bulk of every campaign being knocked from pillar to post, getting thrashed on occasion and generally taking a pummelling.
Then, when it matters, they rally and body slam Andre the Giant.
Well, not literally – that would be ridiculous, and Andre the Giant is dead, God rest his legendary soul – but Wednesday night's defeat of Manchester United, courtesy of a Shaun Maloney goal was the equivalent action.
What are you gonna do, brother, when Maloneymania runs wild on you?
Of course, this analogy does not stretch as far as
WWLTW
would like. Hogan was a multiple-time champion and the figurehead of wrestling's biggest company, so in that respect he is more Manchester United, while Wigan are thoroughly likable and - away from his in-ring persona - the Hulkster, by all accounts, is not.
But you get the idea, as Wigan look set to once again defy the odds and come out on top at the very last.
And it would not be the first time. Since promotion to the Premier League in 2005, Wigan have fought relegation virtually to the bitter end of every season but two. Martinez in particular is more used to this battle than he would like to be.
Like a cockroach in a nuclear explosion, the Latics simply will not die.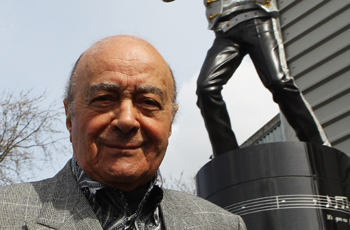 Quote of the Week

"It is time for the Premier League to wake up. They have been in a coma for a long time. Lots of clubs are suffering from such stupid decisions."
- It's not all Michael Jackson statues for Fulham chairman Mohamed Al-Fayed.

Where has Maxi Rodriguez been?
Forgive
WWLTW's
ignorance, dear reader, but where has Kenny Dalglish been hiding Maxi Rodriguez this season?
Frankly, this column is too scared to ask the man himself through fear of frostbite, after seeing several of the Scot's press conferences and TV interviews.
But the Argentine made a telling contribution in his first appearance since the FA Cup victory over Stoke almost a month ago, scoring twice in a 3-2 victory over Blackburn.
Maxi has missed some of the season through injury and illness, but played the majority of his football in the cup competitions, despite netting four goals in eight Premier League games and six overall – just one less than Andy Carroll. Maxi has played 16 games in total this season, compared to Carroll's 41.
If you cast your mind back to almost 11 months ago, too, the former Atletico Madrid man was scoring seven goals in three games against Birmingham City, Newcastle and Fulham. The Kop faithful have even got a song for him.
And he was signed for a relatively low fee, though perhaps tellingly, not by the now departed director of football Damien Comolli or Dalglish.