The former Chelsea boss has already carried out the Blues' pre-Barcelona team talk, while the usually-cool-as-a-cucumber Sam Allardyce has lost his head with West Ham fans
By
Jamie Dunn
Jose Mourinho is doing Roberto Di Matteo's dirty work for him
Real Madrid will not meet Barcelona in the Champions League this season until the final – if they beat Bayern Munich at the semi-final stage.
But Jose Mourinho has already decided his side will not be facing his former club in Munich, after Chelsea defeated Benfica to set up a meeting with Pep Guardiola's men.
"It could be Bayern or Barcelona, I just don't think it will be Real Madrid v Chelsea and we know why," he said.
"Barcelona aren't the favourites, they are super-favourites."
He may have left Chelsea several years ago now, and managed two clubs in that time, but it's almost as though Mourinho jumped back into the Stamford Bridge hot seat last night to do Blues manager Roberto Di Matteo a favour.



Tweet of the Week

"Who is Samantha Brick?"

- It doesn't matter, Gary Neville. Trust WWLTW, you're better off not knowing.

The Special One, who guided Madrid beyond Champions League minnows APOEL with an all-too predictable 8-2 aggregate victory during which the television pundits sought to patronise the Cypriot side to within an inch of their being, is practically daring Uefa to give Chelsea a fighting chance against Barcelona.
And anyone who watched Barcelona and Chelsea on Tuesday and Wednesday – or any other time this season – will know Di Matteo has very little chance of engineering a victory.
On the Tuesday, Zlatan Ibrahimovic was paving the way for a move to whatever club Mourinho will be managing next season – presumably a mega-rich outfit which could afford to pay mammoth wages, Real Madrid or otherwise – as AC Milan suffered a Champions League exit at the hands of Barcelona.
What we will learn this weekend...


Liverpool will surely, surely, hit the back of the net against Aston Villa at Anfield on Saturday after a bad run of form. Surely.

TV audiences will have switched off before the end of Stoke City vs Wolves at the Britannia Stadium on Saturday evening.

"The game is not about the man in green," a hard-done-by Ibrahimovic said, bemoaning the referee's decision to give a penalty against his side.
"It's a shame. I couldn't believe he called a penalty when the ball wasn't in play.
"It seems like Uefa wants a certain two teams in the Champions League final. Now I understand how Mourinho feels every time he comes to Camp Nou."
Ibrahimovic boasts Juventus, Inter and Barcelona among his former clubs, and has consistently won league titles with every one of them. He could do with adding a Real Madrid or Chelsea to his CV, and more trophies to his already ridiculously bulging bag.
Big Sam has lost his cool over West Ham criticism
He's usually a picture of suave, debonair cool.
But, after weeks of criticism from West Ham fans, part-Marcelo Bielsa, part-Brian Clough tactical genius, Sam Allardyce finally lost his head.
The Hammers faithful, it appears, are accustomed to a certain style of football - you know, 'unbelievable tekkers' and all that – and have been left unsatisfied by Allardyce's unpalatable offerings.
"You get opinions about our results like, 'James Tomkins shouldn't be playing in midfield because he is a centre-half.' You get that b***ocks that goes round," Allardyce said in an outburst, unbefitting of one of the finest tacticians of his generation.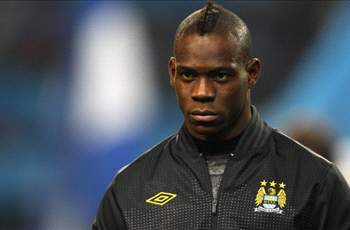 Quote of the Week

"Sometimes Mario is a fool and at other times he is a genius — there are two sides to him"
- Mario Balotelli has had a busy week. Nigel De Jong pretty much sums it up here.

"What happens is I look at the performance of every player and say to everyone who says that, 'You're talking b***ocks'.
"He played in that holding role for three games with 10 men, so that is how short memories people have. That is how much b***ocks is talked about in football.
"I don't listen to that drivel because what bothers me is that James Tomkins plays well."
To be fair to Big Sam, West Ham are sat third in the Championship table after an awful season under Avram 'how do I keep getting jobs?' Grant which ended in relegation and
WWLTW
thought Paolo Di Canio and Joe Cole left the club in 2003, and took most of the flair with them.
But, to be fair to West Ham fans, they were comfortably sat in the automatic promotion places earlier in the season, and it can't be all that entertaining watching Carlton Cole, or Big Sam's namesake Big John Carew attempt to pluck a high ball out of the sky every week.
At least they have Kevin Nolan, and he does the chicken dance when he scores, so it can't be all bad.